BWW REVIEW: New Australian Musical Showcases Australian Talent With An Account Of The Incredible Life of Dame Nellie MELBA
Tuesday 15th August 2017, Hayes Theatre Potts Point
Nicholas Christo and Johannes Luebbers intriguing new musical MELBA sees opera and musical theatre come together to celebrate the legendary Dame Nellie Melba. The latest production to be developed under the New Musicals Australia program shares a special part of Australia's artistic history whilst celebrating a strong woman who pursued her career in an era where women were supposed to stay home, raise children and obey the men in their lives.
Whilst many will have heard of Dame Nellie Melba, Australia's famous opera singer, MELBA seeks to shine a spotlight on the Soprano's rise from modestly successful Melbournian singer to leading lady who graced stages in London, Paris, and many other cities around the world. The musical, based on Ann Blainey's book "Marvellous Melba", highlight Melba's struggles with balancing her career with her role as a mother, dealing with a vindictive and abusive alcoholic husband and engaging in a scandalous affair with an exiled heir to the French throne. With the older Melba (Emma Matthews) performing her 1902 Australian Concert Tour, the first time she returned to her home country, the singer's life is presented as a series of flashbacks to the start of Nellie's (Annie Aitken) international career from her begging to be heard by acclaimed teacher Madame Mathilde Marchesi (Genevieve Lemon) in 1886 to being taken under the wing of friend and benefactor Lady Gladys de Grey (Caitlin Berry) and her husband Frederick de Grey (Blake Erickson).
Director Wayne Harrison keeps the staging tight with the aid of Mark Thompson's set design which focuses on a slanted circular stage surrounded by an assortment of Victorian and Edwardian chairs including a chaise lounge. Whilst the stage is often lit with playbills and newspaper headlines to highlight the time and events, the backdrop evokes memories of the thousands of flowers thrown on to the stage at the end of Melba's performances. Through these rose lined drops, the audience is given a glimpse in to the real worlds that sat behind the drama that was Melba's life, from the ever-present dressing rooms to the halls and fireplaces of the domesticity Melba gave up in favour of her career. In addition to the chairs and the period posters, the era of the late 19th Century is reinforced with the costuming which sees Nellie evolve from the mismatched Antipodean fashion to a Parisian Blue suit and perenniAl Pearls which are retained to her older self's expression during her homecoming tour. Nellie's young son George is presented in sailor suit, reminiscent of archive photos of the child. To allow for his aging from a timid child to a teen, Harrison utilises a slightly unsettling puppet to represent the youngster, manipulated by the older George (Samuel Skuthorp). The rest of the ensemble take on a number of roles with generally small costume variations to signify the different characters.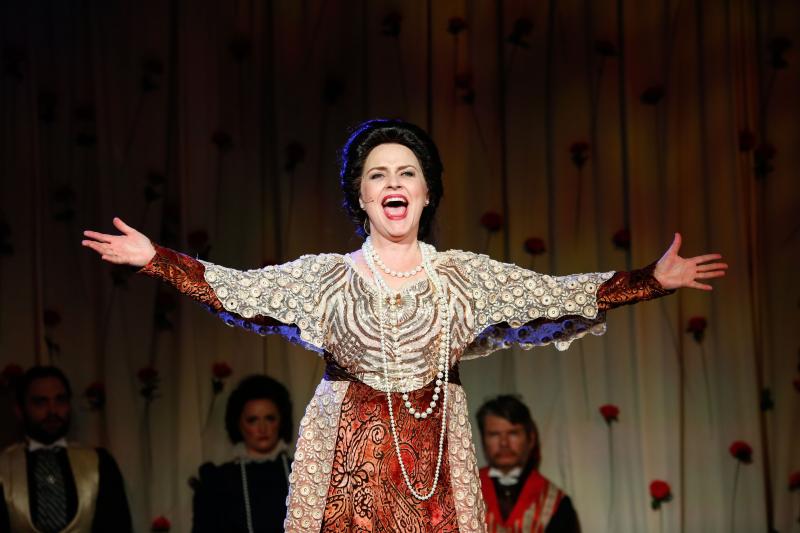 The role of the older Melba, returning to Australia for a successful tour, is a perfect fit for multiple award winning Australian lyric coloratura soprano Emma Matthews. With the older Melba presenting excerpts from a number of Arias that weave in with her younger self's stories, Matthew's role is more tied to the music which she uses to emphasise the emotion that is playing out in Nellie's life. Matthews ensures that she is presenting the songs from Melba's concerts as more than just beautiful music, capturing the energy and sensitivity to ensure the meaning is understood even if it is too dark to read the translations provided in the 'playbills'. Whilst Matthews is more than capable of filling the intimate Hayes theatre without amplification, Sound Designer Caitlin Porter has opted to fit Matthews with a body mic to allow the mixing with the off stage band and to balance the sound with the rest of the ensemble.
The younger Melba, referred to as Nellie, sees relative newcomer Annie Aitken step into her first leading lady role and she handles the challenge beautifully and the physical similarities with Matthews doesn't hurt either. With the addition of the black updo, Aitken and Matthews could be sisters. Whilst Matthews gives Melba a gravitas, Aitken gives Nellie an innocence blended with a delicious confidence and courage that makes the audience cheer for the young mother fighting for custody with her obnoxious ex-husband. It is wonderful to see a strong woman, challenging the norms of society, which were even more rigid in Victorian times, and Aitken conveys this rebellion and determination whilst still expressing Nellie's love for her son. Aitken handles the more dramatically demanding role of Nellie whilst also delivering fabulous vocals which Christo and Luebbers have created as a blend of musical theatre stylings and classical operatic technique.
Other stand out performances come from Caitlin Berry as Nellie's best friend and benefactor, the gossipy socialite Gladys de Grey and Adam Rennie as Nellie's love interest Philippe D'Orleans. Berry has a delightful playfulness as the influential young woman who helps secure Nellie's position with Covent Garden. She also doubles as Blanche Marchesi, the daughter of Madame Marchesi, the teacher Nellie seeks out in Paris. As Blanche, Berry gives a fabulous performance as the sour daughter trying to be a gate keeper to her in demand mother, eventually pushed aside by her own mother as Madame Marchesi sees Nellie's potential. Rennie returns to the Hayes stage after his wonderful season in BIG FISH and his gentle warmth is perfect for the protective Philippe D'Orleans who sings of love and devotion despite his being promised to another in an arranged union.
For opera fans and musical theatre fans alike, MELBA will definitely satisfy. A combination of classic works and new compositions, it is refreshing to see Australian stories told on Australian stages by an Australian cast and creatives. It is also encouraging to see stories of strong women presented with an honesty around her struggles but ultimately proving that she could achieve success. Go see this new Australian work and support new Australian musicals.