BWW Review: The MUNY's Incredible and Heartfelt A CHORUS LINE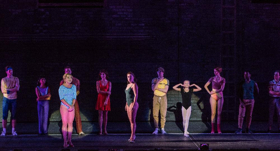 A CHORUS LINE was the creation of Michael Bennett, one of Broadway's finest choreographers, who held a series of workshops in the mid 1970's to explore a way to examine the life that dancers lead. Then book writers James Kirkwood, Jr. and Nicholas Dante crafted a musical from the wealth of material collected to tell the story of Broadway's "gypsies", the singers and dancers of the chorus that make their living by moving from production to production. And, it's how those stories are often vividly brought to life that distinguishes the current production at The MUNY. Instead of just relying solely on the compelling reasons that each character became a dancer, although some are left to stand alone in truly dramatic fashion, younger versions of themselves, whether through video projections or by using actual younger performers to act out their recollections as they speak, are incorporated. It's an utterly charming touch that really stands out in stunning fashion. It makes this version particularly special, and when you combine that with a very talented ensemble, and an orchestra that sounds superb, you wind up producing a must-see show!
The plot follows a group of dancers that are vying for eight parts, four men and four women. The director, Zach, and assistant choreographer Larry, put the assembled dancers through their paces to winnow them down to the ones that remain. From there he has them work on the big number in the show, but also has them talk about themselves and their lives. Set to a memorable score by Marvin Hamlisch (music) and Edward Kleban (lyrics), it's provides a peek inside the world of these performers.
The intense desperation of "I Hope I Get It" allows the entire company to bring a full voice to the opening number, and it's a great beginning. Afterwards, as the dancers are cut, we get to meet each of the remaining ones. The slightly squirrely Mike(Sean Harrison Jones) starts things off with nutty stories of his childhood and sings "I Can Do That.", and it's here that we see our first visual reenactment. The rush of "And" finds Bobby (Evan Kinnane), Richie (Sharrod Williams), Val (Mackenzie Bell), and Judy (Kiira Schmidt) wondering just what they should say when their number is called. Mackenzie Bell later sings "Dance: Ten, Looks: Three, a naughty little number that sums up how superficial casting can be, and how she was able to get around the process. Sheila (Holly Ann Butler), Bebe (Caley Crawford), and Maggie (Bronwyn Tarboton) share a moment with their younger selves in "At the Ballet." where they were first inspired to take up dancing. "Sing!" finds married couple Kristine (Madison Johnson) and Al (Rick Faugno) explaining how Kristine is tone deaf, and can't sing a lick. "Hello Twelve, Hello Thirteen, Hello Love" is a company song, but it's where we learn about Mark's (Drew Redington) first wet dream and the diminutive Connie (Jolina Javier) struggles because of her lack of height, "Nothing" explores Diana's (Hannah Florence) struggles in High School acting class.
As the group are led offstage to learn their lyrics, Cassie (Bianca Marroquin) is left behind. Zach (Ivan Hernandez) was once her lover, and they discuss why she would trying to join a chorus line when her talents would seem better suited for better roles. But, that's the point, those roles didn't last and opportunity abandoned her, and with the dramatic "The Music and the Mirror," she displays her gifts. Paul (Ian Paget) comes on stage alone to speak about his sexuality, and how he'd worked in a drag club before moving forward with his career. It's the longest speech, and easily the most poignant. "One" returns everyone to the stage to do a test run, and it's clear from the start that Cassie doesn't blend in. Larry, John T. Wolfe, leads them through"The Tap Combination" , and during it Paul is injured, quashing his chances at a part. The next song, and one of my personal favorites, "What I Did for Love" is lovingly sung by Florence (Diana), and expresses the very reason that dancers put themselves through this process. They all come together for a sparkling version of "One" to close the show. Though they don't have their own specific songs, Victor Wisehart (Greg) and Justin Prescott (Don) also contribute. In fact, all the performers are excellent, bringing their characters to life with considerable skill and passion. They all dance divinely, and the songs sound absolutely wonderful. This is truly an ensemble piece, and everyone gets their chance to shine.
Director/Choreographer Denis Jones' conception of this show is startling, and adds a welcome element that I've never encountered in a production of A CHORUS LINE before. Ben Whiteley's music direction is simply sublime, and the orchestra injects a great deal of excitement into this work. Paige Hathaway's scenic design is simple and stark, but still larger than life to fit the vast stage, with huge mirrors reflecting the dancers and the audience. Nathan W. Scheuer's video designs add another dimension to the stories being told, and Rob Denton's lighting keeps each story and dancer in clear focus. Andrea Lauer's costumes fit the characters well, and deftly recreates the vintage look of the flashy costumes that close the show.
A CHORUS LINE is given vibrant new life with The MUNY's current production, and should not be missed! It's the best take on A CHORUS LINE that I've ever seen. This wondrous and touching show continues through August 4, 2017.
Chris has been active in the local theatre scene for over 30 years and reviewing local theatre for over 11. In addition to his acting (read more...)