Hope and Home Anchor Pangdemonium's 2018 Season

Pangdemonium presents an exciting lineup centred around the theme of HOPE & HOME. The Season opens with the thought-provoking drama THE FATHER is followed by the encore performance of DRAGONFLIES, a piece commissioned by the Singapore Festival of Arts (SIFA) in 2017. Closing the season on a high is critically acclaimed, multiple Tony Award winning play, PETER AND THE STARCATCHER.
The Pangdemonium's 2018 Season Ticket is the first of its kind in Singapore. Patrons can get advanced tickets to all 3 shows by getting the Pangdemonium 2018 Season Ticket, while saving up to 25% off standard ticket prices. With three different price categories to suit every wallet, it also entitles the holder to Pangdemonium's annual VIP Party, priority booking, premium personalised services and, show date and seat flexibility. Tickets can be purchased at www.sistic.com.sg.
THE FATHER
Written by Florian Zeller
2 - 18 March 2018 | Victoria Theatre
A Singapore Premiere
THE FATHER is a theatrically thrilling exploration of a 70-year-old man's deteriorating mind as he sinks under the frightening weight of dementia. Walk in Andre's shoes as his perception of the world around him starts to warp and crumble.
Nominated for Best Play at the Olivier and Tony Awards, the part family drama and part mind-bending puzzle, THE FATHER is told with gripping suspense and brutal honesty as it illustrates who Andre becomes as his mental faculties start to fracture.
THE FATHER stars Lim Kay Siu, Tan Kheng Hua, Janice Koh, Frances Lee and Keagan Kang and directed by Tracie Pang.
DRAGONFLIES
Written by Pangdemonium's Playwright in Residence, Stephanie Street
18 May - 3 June 2018 | Victoria Theatre
While dragonflies migrate halfway across the world, we, the human race, struggle to embrace our nomadic heritage, our need to move to greener pastures in order to survive. And as global warming, the resurgence of far-right politics and worldwide paranoia make us burn bridges and build walls between communities, families and individuals, we have to ask ourselves: Where do we go from here?
Dragonflies is the story of a family fighting for survival in a hostile world, looking for somewhere to call home, and something that might look like hope.
Starring Adrian Pang, Tan Kheng Hua, Benjamin Chow, Frances Lee, Fanny Kee, Victoria Mintey and Jamil Schulze. Directed by Tracie Pang.
Commissioned by the Singapore International Festival of Arts. First performed at the Singapore International Festival of Arts 2017.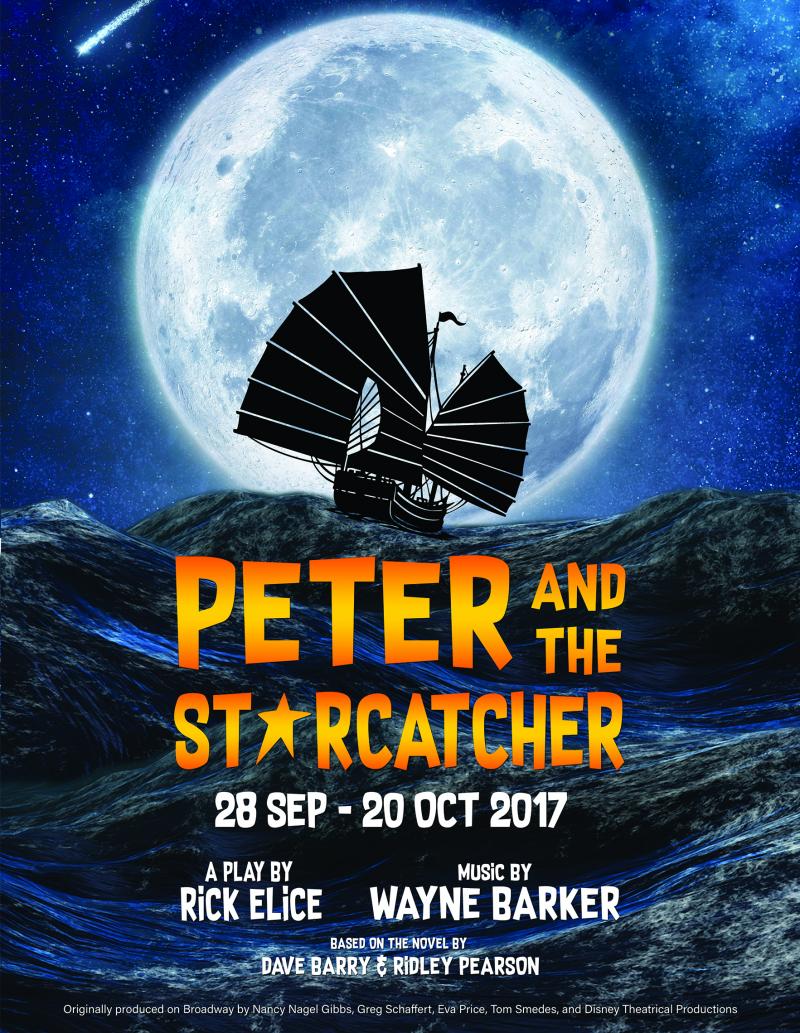 PETER AND THE STARCATCHER
written by Rick Alice and music by Wayne Barker
28 September - 20 October 2018 | Drama Centre Theatre
A Singapore Premiere
Winner of five Tony Awards, PETER AND THE STARCATCHER is a hilarious, hair-raising, and heart-warming prequel to the Peter Pan legend, and a celebration of the innocence, imagination and resilience of the Child.
Singapore, 1885: we join Molly, a precocious young Starcatcher-in-training, and three orphans (including a homeless, nameless lad known as "Boy") on a secret mission - a perilous voyage across seas infested by treacherous pirates, fearsome savages, and dubious mermaids, to a faraway is land ruled by the evil King Zarbo.
All for the sake of the mystical, mythical "starstuff", a celestial substance so powerful, it must never fall into the wrong hands. With the dastardly Black Stache in hot pursuit, the vengeful Fighting Prawn and Hawking Clam lurking in the deep, and the mysterious Mr Grin hungry for his next meal, will the children survive the dangers, find the elusive Neverland and live happily ever after?
Featuring a dozen actors portraying more than 100 unforgettable characters, Pangdemonium's production of PETER AND THE STARCATCHER will be specially adapted to an Asian setting, incorporating elements of South East Asian art forms. Full of wit and wonder, colourful characters, and fabulous musical numbers, this is an exhilarating, magical adventure for all the family, and a powerful statement on empowering every child with self-belief and hope.
Starring Thomas Pang, Andrew Marko, Carina McWhinnie, Adrian Pang, Benjamin Chow, Daniel Jenkins, Erwin Shah Ismail, Zachary Ibrahim, Juwanda Hassim, Crispian Chan and Salif Hardie. Directed by Tracie Pang.
ABOUT PANGDEMONIUM
Pangdemonium is a proudly Singaporean theatre company with a mission to tell stories which are challenging, inspiring, relevant, accessible, and above all, of the highest artistic, entertainment and production value. It also focuses on actively uncovering new talent and to give opportunities to aspiring artists and technical practitioners to work in a professional, challenging and nurturing environment in our productions.
Related Articles View More Singapore

Stories

Shows
Originally from Jakarta-Indonesia, Yuliani graduated from Journalism and Media Studies in 2009. Aside from her busy schedule freelancing in various events, she also done some (read more...)