by BWW News Desk - Sep 11, 2018
Original TV Director of Batman, Robert Butler commented, 'They say you can't go home again . Well, I just did. Between the Batman 66 Exhibit on the third floor of The Hollywood Museum and spending time with Burt and Donna it was like going home again. I enjoyed my visit back to Gotham city and the Batcave!'
by Jeffrey Ellis - Aug 3, 2015
Westchester Broadway Theatre is taking audiences back to the glory days of Hollywood's Golden Age with its upcoming production of Lynnette Barkley and Christopher McGovern's Backwards in High Heels: The Ginger Musical, running August 13-September 20. As the cast, under the leadership of director/choreographer Jeremy Benton, got into the serious business of rehearsals, photographer Jake Primmerman was on hand to commemorate the work that goes into bringing the world of the 1930s movie musical to life onstage at WBT.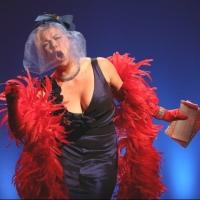 by BWW News Desk - Sep 24, 2013
UnsungMusicalsCo. presents the new Off-Broadway production of the 1950 musical revue Bless You All! with sketches by Emmy Award winner Arnold Auerbach ('The Phil Silvers Show,' Call Me Mister) and a score by acclaimed songwriter Harold Rome (Fanny, Destry Rides Again). Emilee Dupre (Venice, Chaplin), Jacob Hoffman (I'll Be Damned), Aaron Kaburick (Billy Elliot), Brent McBeth (White Christmas),Christopher Ryan (Young Frankenstein) and Clifton Samuels (Follies) join Jeremy Benton (Anything Goes), Jennifer Lee Crowl (Young Frankenstein), Ruth Pferdehirt (Finding Nemo: The Musical), Lindsay Roberts (Memphis) and Billie Wildrick (Scandalous) in the cast. Directed by UMC artistic director Ben West (The Fig Leaves Are Falling, At Home Abroad), the limited three-week engagement will run now through Oct 5 at The Connelly Theatre (220 East 4th Street). BroadwayWorld has a first look at the cast in action below!