Seattle's Favorite Grown-up Holiday Tradition Returns This Winter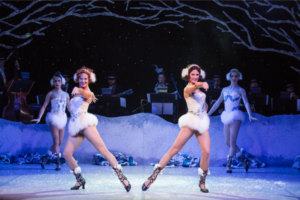 Favorite characters like the light-juggling magic of Babette La Fave, Lily Verlaine's Sugar Plum Fairy, Tory Peil's "toreadora" Hot Chocolate, and the ever-lovable Snowflakes are back at The Triple Door for the wildly popular holiday spectacular Land of the Sweets: The Burlesque Nutcracker. This year's production features a live onstage nine-piece jazz orchestra, professional dance talent, opulent bespoke costuming by Stephanie Seymour (formerly of Teatro Zinzanni) and original choreography from the classically-trained burlesque superstar Lily Verlaine. This Land of the Sweets is set to snowstorm into the illustrious Triple Door December 7-30 for 34 performances. For tickets and information, call the Triple Door box office at (206) 838-4333 or visit their website at www.thetripledoor.net.
Verlaine and McCann are well-loved in Seattle for giving the traditional Nutcracker ballet a bawdy makeover - and this season is sure to not disappoint. After last year's successful debut of an all-new jazz score, the team is back. Musical Director Jasper McCann collaborated with local musicians Kate Olson (Seattle Rock Orchestra; Seattle Jazz Composer's Ensemble) and Michael Owcharuk (Seattle Jazz Composer's Ensemble; Book-It; 14/48 Project), to arrange an all-original score for a mid-sized jazz orchestra. Some of the finest improvisational jazz musicians in the Pacific Northwest will accompany the dancers on stage for one of Seattle's most treasured holiday engagements.
"When I decided to embark on this endeavor, I wanted the music to be more diverse than swing arrangements we've heard before," McCann said. "I reached out to my friend, multi-instrumentalist Kate Olson for her ear for detail and composition style. As we neared the end of the process, we brought composer/arranger/pianist Michael Owcharuk on board as a finishing arranger and invaluable resource. Of course we all began exchanging ideas and what you're about to hear is the result - a lean, bawdy, bop/cool-influenced re-imagination of ballet's original music."
When asked about what audiences should expect, McCann was excited. "We've created the opportunity for something unique to happen every night as the musicians and dancers interact, creating art in the moment that will never be replicated... it's electric! The audience, newcomers and fans of Land of the Sweets, will experience this first hand, and, they better hold on to their hats."
Land of The Sweets has a history of attracting strong dance talent and this year is no exception. The entire cast from the 2017 season is returning for 2018 including Tory Peil, Marissa Quimby, Scotty Flores, Alice Cao, musical theatre actor Patrick Jeffrey, Molly Levy and the fabulous Paris Original. "I am so thrilled to be working with these artists," Verlaine comments. "I have had the pleasure of working with Patrick in Minneapolis from 2015-2017, and Alice and Molly graced my dance company House of Verlaine over the summer. I am so excited they are returning to our winter wonderland!"
The live orchestra (dubbed "The Nutcracker Nonette" by Jasper) features Kate Olson (Band Leader) on Woodwinds; Michael Owcharuk on Piano; Dave Pascal on Bass; Jason Goessl on guitar; Jacques Willis on Percussion; Dexter Stevens on Woodwinds; Robert Beasley on Trumpet; Haley Freelund on Trombone; and Josiah Boothby on French Horn.
The Land of the Sweets cast features Lily Verlaine as The Countess of Coffee, The Snow Queen, Sugar Plum Fairy, and Prima Calla Lily; Jasper McCann as Charles Drosselmingus; Paris Original as Tea Twin and Peacock; Tory Peil as Hot Chocolate, Volga-Gal, and Snowflake; Trojan Original as Coco the Toreador, Peacock, Volga-Guy; Babette La Fave as The Sleepytime Reveler and Snowflake; Red Delicious as The Housekeeper; Dreamy Tangerine as Janet the Snowflake ; Moscato Extatique as Rosette the Snowflake; Alice Cao as Marzi the Shepherdess and Tea Twin; Elektra Luxe as Crystalina the Snowflake: Janeé Enchanté as a Petal and Snowflake; Tova de Luna as The Aerial Angel; Marissa Quimby as Volga Gal and Snowflake; Patrick Jeffrey as King Of The Rats, Volga Guy, and Snowflake; and Viola Vector as a Petal. For complete bios, please visit VerlaineandMcCann.com.
Verlaine & McCann are the progenitors of the "Spectacle of Ecdysiastic PageantryTM," a professional-grade variety entertainment that incorporates elements of burlesque, ballet, musical theatre, and vaudeville. Following the traditions of the great musical revues of Ziegfeld and the vaudeville and burlesque of Minksy's, Verlaine & McCann provide entertainments for the discerning audience who understand and appreciate the style and glamour of that by-gone era. Throughout the year, their work can be seen primarily at The Triple Door, and around the Northwest.
For more information, visit VerlaineandMcCann.com.
Related Articles View More Seattle

Stories

Shows
More Hot Stories For You