Review: THE MURDER OF ROGER ACKROYD at Book-It Repertory Theatre
Now through March 5th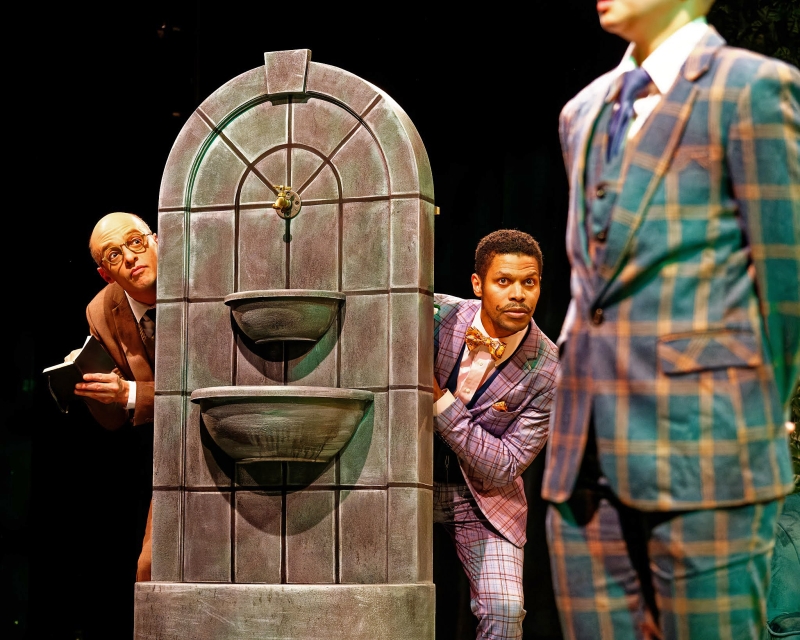 THE MURDER OF ROGER ACKROYD at Book-It Repertory Theatre is a delightful romp through the mysterious world of Agatha Christie. The characters are sly with many hidden agendas. The clues are both interwoven in the dialogue and hidden in plain view. Connecting the dots has never been more fun. Audiences will be treated to the familiar tropes enhanced through non-traditional casting and modern touches.
THE MURDER OF ROGER ACKROYD is set in the English village of Kings Abbott where there have been two mysterious and untimely deaths. The story centers on the investigation into the murder of the wealthy Roger Ackroyd who just before his death revealed that he was being blackmailed. His sister, niece, and step-son all have motives for his demise. There are several servants who would also benefit from his death. And in a twist, a stranger is seen asking directions to the house not long before the murder took place. Along with the local Inspector, the famous detective Hercule Poirot is called in to assist with the investigation. They take you through twists and turns of plausibility and deniability to arrive at the truth.
The cast of THE MURDER OF ROGER ACKROYD is a tight-knit ensemble with many members transitioning smoothly between two or three characters. Lisa Viertel gives us a nontraditional Roger Ackroyd that retains his worldliness and command. Brandon J. Simmons' portrayal of Dr. James Sheppard is unassuming with a touch of old school charm. He presents an air of authority mixed with a doctor's good bedside manner. Aaron Pitre's Hercule Poirot is thoughtful and poised. His mannerisms and affectations are classic Poirot while his charm is all his own. Sydney Maltese pulls double duty as John Parker and Ursela Bourne. As Parker, she delivers a commanding presence mixed with undertones of a servant's disdain. As Bourne, Maltese is fresh and sassy and sporting a completely different accent. Rhys Daly also pulls double duty as Captain Ralph Paton and Major Hector Blunt. His shifty eyes hint at the secrets his characters hide. The crisp stiffness of Blunt contrasted nicely with the eager, openness of Paton. Megan Ahiers portrays Mrs. Cecil Ackroyd, Inspector Raglan, and Miss Russell, and it's impossible to tell which character the audience liked best as Ahiers pulled in the laughs as all three. As Mrs. Cecil Ackroyd, her long diatribes were delivered with acute precision and dripping with hauteur. As Raglan, Ahiers produced an affable charm that hit every humorous note on the page and then some. Riley Gene had the monumental task of portraying Miss Flora Ackroyd, Geoffrey Raymond, and Charles Kent. For all three, the characters were distinct in tone, mannerism, and expression. Miss Flora was floating with grace and demure coquettishness. The stuttering insecurities of Raymond extended into their every movement and gesture. And the devil-may-care attitude of Kent was layered with insouciance and a touch of swagger. Gene's disappearance into each character made at least one audience member wonder why the actor for Charles Kent hadn't taken a bow, not realizing that the part was also played by Gene.
The production team for THE MURDER OF ROGER ACKROYD took a classic mystery, retained all the charm and intrigue of Christie's original, and added modern touches that gave it a freshness and sense of playfulness. It was a reminder that theater is supposed to be fun. Director Jasmine Joshua used nontraditional casting to force the audience to focus on the essence of the characters rather than superficial characteristics. The movement kept a brisk pace punctuated with moments of stillness to keen effect. Scenic design by Robin Macartney provided areas for movement and activities without needing constant set changes. Brief outdoor scenes were framed by simple coverings of columns and patterned designs on the floor. Each provided just enough detail to support the scene without cumbersome pieces. The sound design of Johanna Melamed and the lighting design of Richard Schaefer worked in seamless dance of coordination. They carried us through transitions and provided the cues for changes in time. The remixing of modern music into the vintage style of the time was an unexpected but much appreciated touch. A tip of the hat to Maren Kleinpeter, the dialect coach, who helped the cast produce multiple dialects that stayed true. Jocelyne Fowler's work as costume designer was full of intention and stylistic choice. With multiple actors playing, multiple parts, and often multiple genders, the costumes needed to work for quick changes while holding distinguishing looks for each. I think she succeeded on all accounts and had even more detail and richness than should have been possible.
Playwright Danielle Mohlman brings us a fresh, thoughtful, and innovative adaptation of an Agatha Christie masterpiece. Enter the labyrinth of deceit and secrets and see if you can puzzle out the murderer from the many suspects. A classic whodunnit with modern sensibilities and a splash of panache, the show is sure to please even the most curmudgeonly guest. THE MURDER OF ROGER ACKROYD provides a great life lesson that we should keep what works, let go of the rest, and have fun making things new.