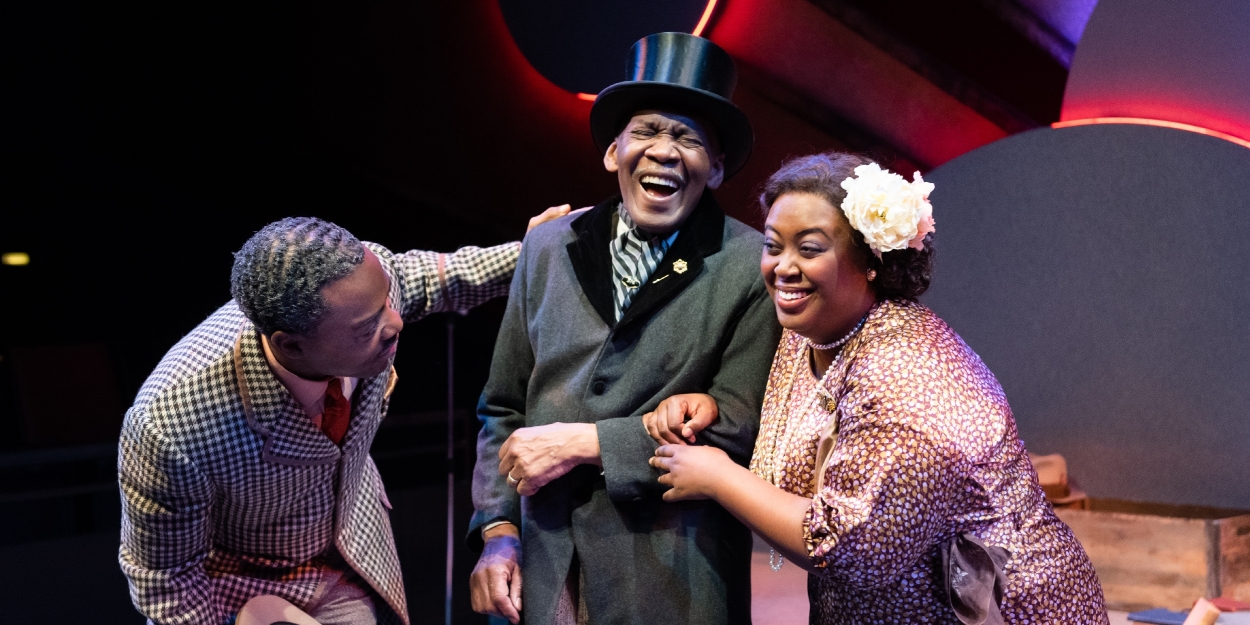 Review: HISTORY OF THEATRE: ABOUT, BY, FOR, AND NEAR at ACT Theatre
Now through Feb. 12th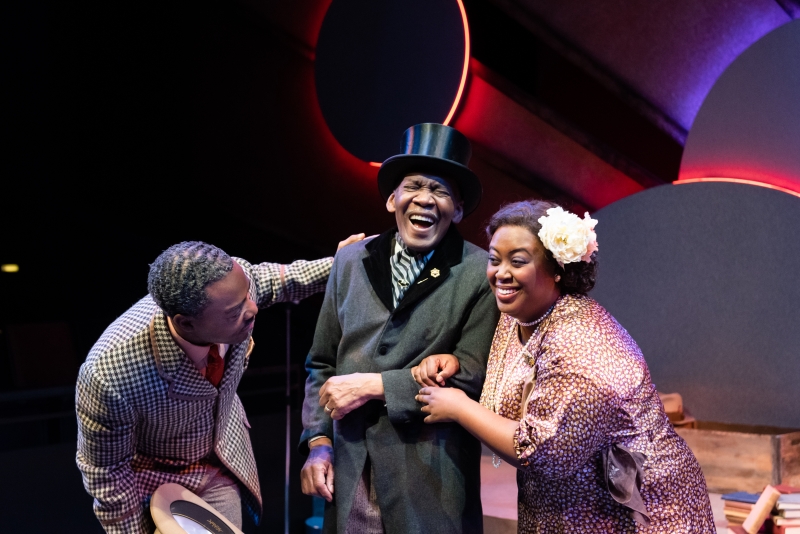 A new work by ACT Theatre and the Hansberry Project, HISTORY OF THEATRE: ABOUT, BY, FOR, and NEAR will take you on a journey through time and space to meet the people who forged the foundations for Blacks in theater. The show dispels myths about minstrelsy, delves into the hows and whys of black face, and covers key players of early theater in America. Unheard voices are released, forgotten stars are remembered, and a rich legacy is revealed.
The story begins in modern times when Sister Blacknell receives an invitation to create a show about the history of Black people in American theatre. Overwhelmed with this daunting task to cover times and people that were not properly documented and recorded, Blacknell receives the gift of a time machine. Her first stop takes her to 1930s Seattle where she recruits the members of the Negro Repertory Company to help her tell this most important story. There is some push and pull over who to include as the voices of the past rise up insisting that they be remembered. The threads of divergent pasts and experiences began to be woven together into the tapestry of American theatre that is far richer than ever imagined. The stories neither begin nor end where you think they do, and the journey of exploration abounds with surprises, sorrows, and triumphs.
Dedra D. Woods portrays Sister Blacknell, and is the only actor to portray only one character in the show. She is the unifying thread of the show as she steers the project where she thinks it should go. She has brought her own perceptions and misconceptions with her to the project, and I hope future iterations of this work will give us more of a glimpse into her psyche and how it affects her leadership of the project. Tracy Michelle Hughes and Be Russell play two members of the Negro Repertory Company and various stars of early theater. They give a compelling performance as the Hyer sister, Anna and Emma. The sisters had to navigate the perils of theater life along with a controlling father and the constant forces of discrimination. Hughes and Russell bring life, vitality, and vulnerability to their story. Hughes also takes on the role of Matilda Sissieretta Joyner Jones, a powerhouse soprano who became the first Black woman to perform at Carnegie Hall in 1892. Hughes reveals the discontent beneath the success and brings this character into three dimensions. But what a lost opportunity to not have her sing. Russell also makes a splash with her portrayal of Aida Overton Walker. Her demonstration of the Cake Walk was a personal and audience favorite. Although truth be told, I could watch Russell anytime, anywhere, in any role. She has the most radiant smile of anyone currently on the Seattle scene, and you just can't help but smile back.
Arlando Smith plays various characters including Charles Gilpin who has to fight to even be part of his own story. His career was fraught with controversy and conflict, and Smith brings those frustrations to the forefront while still insisting that these elements were not his whole story and shows us that people's lives should not be reduced to a few bullet points. Smith's energy is quick and explosive, jumping at opportunities to flow freely. Malcolm J. West gives the show its depth with his generational knowledge that he drips into every character he plays. His is the slow, quiet wisdom that is dispersed for those who will take the time to listen and really hear. More than any other, West makes you feel the struggle of artists who had so much to share but had to constantly toe the line and stay in their lane. He perfectly demonstrated the art of bowing your head without bowing your spirit. Occasionally his lines were lost in the space, and I hated to lose any of his nuggets of truth. Amy Thone and R. Hamilton Wright are the trusted pair of ACT regulars who play every white villain, producer, and several historical figures throughout the show. Their performance as supporting cast was both well planned and well executed. I especially enjoyed Wright's performance illuminating the evolution of Jump Jim Crow. Thone had several significant moments, but I admit to being wowed by her W.C. Fields impersonation the most.
The artistic team of HISTORY OF THEATRE: ABOUT, BY, FOR, AND NEAR guides the show to a great beginning. Scenic Designer Jennifer Zeyl and Projection Designer Juniper Shuey combine to create a visual space that helps give a framework and clarity to the show. The projections are not only a critical part of the storyline representing the voices in Balcknell's head, but all give us real names and faces of the historical figures as they are uncovered. Costume Designer Cathy Hunt provides definition for each of the historical figures through simple additions of accessories on stage which allows the pacing of the show to not drag. The pieces she selects are rich in detail and have reflected authenticity in the show's projections. Also, check out the footwear. There are some killer shoes in this show. The show is helmed by Valerie Curtis-Newton who steers the show toward success. The blocking of movement and creation of vignettes is visually interesting, and the show has a steady pace, punctuated with moments of excitement that provide needed variety.
The show is a beginning. It is a multi-year project, and they make no attempt to provide all the answers, but rather recount the importance of whether or not we are asking the right questions. The show is also a challenge - for other theaters to take up the cause of telling the untold stories and for the audience to demand that all parts of the past be included. The show leaves you a bit unsettled and unsatisfied, but perhaps in an intentional way. You want to know more, but it is not spoon fed to you, but rather a QR code can lead you into the beginning of more exploration. The show will require you to think, to listen, to questions, and to be patient.