Comedy Queen Christine Deaver Serves Laughter on a Platter in Teatro ZinZanni's All-New Limited Engagement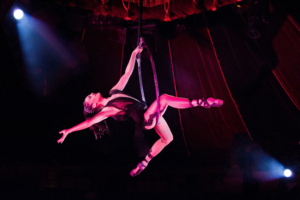 Since opening at its new home last fall, Teatro ZinZanni has returned to presenting a rotating cast of international circus talent and is announcing the last of its 2019 limited engagements, A Night Like This. In the latest twist of cirque, comedy, and cabaret, the one and only Christine Deaver returns to the tent with a reprise of her popular character Penelope Wilde. Joining her as Mr. ZinZanni is Seattle-raised musical-crooner Cunio (of Postmodern Jukebox fame) who has, more than once, been described as the spawn of Freddie Mercury and Janis Joplin.
The show is directed by Artistic Director Reenie Dufflong-time head of Teatro ZinZanni's casting and the multi-talented Tobias Larsson, last seen performing in Teatro ZinZanni's Dinner at Wotan's and Tommy Tune's Bonsoir Lilliane!. A Night Like This runs September 12 - February 9, 2020 at Teatro ZinZanni's world headquarters in Woodinville, Washington.
Tickets are on sale now at zinzanni.com/seattle.
"A Night Like This is a celebration of timeless elegance and an explosion of beauty; an evening filled with madcap comedy, powerful vocals, evocative dance, stunning feats of athletic prowess.....and as always we are thrilled to present some fresh new faces in our magical tent," said Duff when describing the new production.
Deaver and Cunio are joined by first-time Teatro ZinZanni performers Nathan & Isis, a gravity defying dynamic hand balancing duo and roller skating act sure to make audiences jaws drop. Speaking of exceptional partner acts, A Night Like This welcomes back the seductive Seattle based trapezists Duo Madrona to the tent. The cast also features internationally recognized contortionist Vita Radionova, prima ballerina turned hoop aerialist Ariana Lallone, and jaw-dropping strap aerialist Ling Rui.
Beyond the tent, the company has been hard at work building out the remaining of its world headquarters where the organization not only houses its administrative offices and costume and prop shops, but will also operate a new restaurant, a flexible event space and a premiere training facility. The training facility will be utilized by its world-class artists but also serve as an education center for youth camps and public classes focused on cirque arts. More about the restaurant opening, campus development, tent permanent structure, and the grand re-opening will be announced at a later date.
Step back into a time where glitz and glamour reign supreme, and the entertainment takes place both on stage and off! Returning from a trip abroad, the larger-than-life Christine Deaver as Penelope Wilde spins tall tales from her exotic travels to the Seven Seas. As the staff dreams big, two star-crossed lovers find magic in the air, hoops spin, ballerinas dance, the chef longs for a 5 star review, and Master of the House, Cunio of Postmodern Jukebox, pulls you in with his powerhouse vocals. A Night Like Thisis filled with classic elegance, show stoppingentertainment, and mouthwatering bites wrapped in an evening so enchanting you may never want to leave!
Tickets start at $99.
Box Office: (206) 802-0015
Group Sales: (206) 802-0013
Teatro ZinZanni engages, transforms, educates, and delights audiences with a unique celebration of cirque, comedy, and cabaret in its beloved Belgium spiegeltent. Since its founding in 1998, Teatro ZinZanni has produced over 60 shows in the Seattle area featuring dozens of artists from around the globe. In 2000, it began operating a second tent in San Francisco with plans for a new home on the Embarcadero slated to return in 2021. The company will open a third location in the heart of Chicago's Theatre District in July 2019.
Photo Credit: Teatro ZinZanni