Cast Complete for 5th Avenue Theatre's New Staging of RAGTIME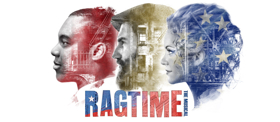 The 5th Avenue Theatre has announced full casting for its evocative new production of Ragtime, which begins rehearsals today. A tale of family, heart and perseverance at the turn of the 20th century, Ragtime is a vital story about the headstrong and determined individuals and their families who helped make the United States a diverse and thriving nation.
Returning to The 5th Avenue stage to join the previously announced cast are Andi Alhadeff as Emma Goldman, Eric Ankrim as Harry Houdini/Willie Conklin, Lauren Du Pree as Sarah's Friend, Hugh Hastings as Grandfather/Henry Ford, Richard Peacock as Coalhouse's Friend, Billie Wildrick as Evelyn Nesbit and Ty Willis as Booker T. Washington. Previously announced casting includes Joshua Carter, Kendra Kassebaum, Douglas Lyons, Danyel Fulton, Matthew Kacergis and Louis Hobson.
Ragtime plays October 13 - November 5 (press opening Friday, October 20) at The 5th Avenue Theatre (1308 5th Avenue, Seattle). Tickets start at $29 and may be purchased at www.5thavenue.org, by phone at 206-625-1900 or at the Box Office at 1308 5th Avenue in Downtown Seattle.
"Ragtime is one of the most moving and inspirational musicals of the modern era", said Executive Producer and Artistic Director David Armstrong. "Like other great American musicals this show addresses big, important subject matter and themes and is able to present them in thrilling and highly engaging ways. Ragtime is about what it means to be an American, and who gets to sit at our societies table. I feel certain that there could not be a better moment to bring this rich and rewarding musical to our stage and our community."
Set in the volatile melting pot of New York City, this musical theater masterpiece weaves together three distinct American stories: an upper-class wife, a determined Jewish immigrant and a daring young Harlem musician, all united by their desire and belief in a brighter tomorrow. Ragtime's glorious Tony Award-winning score has scintillating music and an intensely compelling story of love at its core. Ragtime features a Tony Award-winning book by Terrence McNally and a Tony Award-winning score by Stephen Flaherty with lyrics by Lynn Ahrens.
The 5th is excited to bring Peter Rothstein back to Seattle to continue to develop an intimate 19-person staging of the sweeping epic, which is based on his previous direction of the musical at Theater Latté Da in Minneapolis. Rothstein, whose previous 5th Avenue credits include Guys and Dolls and Oklahoma!, has been developing this new staging of Ragtime for several years.
ABOUT THE ARTISTS:
Joshua Carter returns to The 5th to star as Tateh. He was previously seen at The 5th in Little Shop of Horrors, Spamalot and Guys and Dolls. He performed in the first national tour of ONCE. Carter has been seen onstage in Seattle in Pump Boys and Dinettes, Writing Kevin Taylor, Trails, Fiddler on the Roof and It Shoulda Been You (Village Theatre); Mary Stuart, A Christmas Carol and Das Barbecu (ACT Theatre); Uncle Vanya, Richard III and Titus Andronicus (Intiman). His studio guitar credits include Common Jack, Stuart Ward, and RYan Link and he has played as a pit guitarist for Jesus Christ Superstar, 9 to 5 and Murder Ballad. Carter is currently, and proudly, pursuing a Registered Nursing degree.
Danyel Fulton makes her 5th Avenue debut as Sarah. She was seen in the Off Broadway production of Jasper in Deadland (Prospect Theater Company) and toured nationally with Hair. Her regional credits include Darling Grenadine (Goodspeed Opera House), The Trip to Bountiful (Capital Repertory Theatre), Beehive (Flat Rock Playhouse) and A Night With Janis Joplin (Capital Repertory Theatre/Barter Theatre). Fulton's New York Theater credits include The Wiz (Harlem Repertory Theatre), Ain't Misbehavin' (Harlem Repertory Theatre) and A Time To Love (National Black Theatre). Fulton received Audelco nominations for her performances as Dorothy, Charlayne and Aisha.
Louis Hobson returns to The 5th to perform the roles of Father and J.P. Morgan. He was seen in the 5th Avenue productions of Assassins, A Room with a View, West Side Story, Miss Saigon and Hair. Hobson performed on Broadway in the Pulitzer Prize-winning Next to Normal, Bonnie & Clyde, Leap of Faith and People in the Picture. His film and TV credits include Captain Fantastic (Oscar Nomination/Sundance/Cannes 2016), Laggies (Sundance 2014), Lucky Them (TIFF 2014), C.O.G. (Sundance 2013) and The Man in the High Castle (Amazon). He produced Tenors of Rock Vegas.
Matthew Kacergis joins the cast as Mother's Younger Brother. He most recently starred as Prince Eric in The 5th's local and national touring production of Disney's The Little Mermaid. He has performed regionally in Les Misérables (Marius), Billy Elliot (Tony), Chasing Nicolette (Aucassin) and Anne of Green Gables (Gilbert Blythe) at Village Theatre and in Pride and Prejudice (Mr. Wickham) at La Mirada Theatre. Other stage credits include Parade (Frankie/Young Soldier) and The Civil War ("Tell My Father") at Ford's Theatre and Spring Awakening (Melchior) and Cinderella (Prince Christopher) at Olney Theatre Center. His TV and film credits include Veep and he can be heard on the cast recording of A Walk on the Wild Side. Kacergis is a proud AEA and SAG-AFTRA member.
Kendra Kassebaum returns to The 5th to star as Mother. She has been previously seen at The 5th in The Secret Garden, A Little Night Music, Company, Cinderella and ELF, and 5th Avenue/ACT Theatre co-productions of Assassins and Jacques Brel is Alive and Well and Living in Paris. She originated the role of Janice in Come From Away on Broadway following her performance in the same role at Seattle Rep and La Jolla Playhouse. She also performed on Broadway in Wicked (Glinda), RENT (Maureen), Assassins (Ensemble) and Leap of Faith (Sam). She performed in New York in Manhattan Theatre Club's The Receptionist (Lorraine) and Roundabout Theatre Company's A Little Night Music with Vanessa Redgrave (Petra). Her touring credits include Come From Away (Helen Hayes Nomination), and the original cast of the first national tour of Wicked, for which she received a Helen Hayes Nomination. She is featured on the original cast albums for Leap of Faith, Assassins and Come From Away and can be seen in the film The Other Woman.
Douglas Lyons makes his 5th Avenue debut as Coalhouse Walker, Jr. He performed on Broadway in the original cast of Beautiful: The Carole King Musical and in The Book of Mormon. He has toured nationally with Dreamgirls, RENT and the first national tour of The Book of Mormon. Some of his favorite regional credits include Jesus Christ Superstar at The Muny and To Kill a Mockingbird at Hartford Stage Company. As a composer-lyricist, Lyons was awarded the Bully Free Communities Spotlight Award for Polkadots: The Cool Kids Musical, which will arrive Off-Broadway at The Atlantic Theater Company this fall. Upcoming world premiere: Five Points at Theater Latté Da. His work has been commissioned by The 5th Ave Theatre, Prospect Theater Company and Casa Mañana Theatre.
Andi Alhadeff, Eric Ankrim, Lauren Du Pree, Hugh Hastings, Richard Peacock, Billie Wildrick and Ty Willis return to the 5th Avenue stage as Emma Goldman, Harry Houdini/Willie Conklin, Sarah's Friend, Grandfather/Henry Ford, Coalhouse's Friend, Evelyn Nesbit and Booker T. Washington. They are joined by Coleman Hunter as Little Boy and Tatum Poirrier as Little Girl; Asa Adams and MarrSean Sonko, who will alternate the role of Coalhouse Walker III, and Emily Hamilton and Apollo Jones as Gliding Dancer/Understudy for Little Girl and Understudy for Little Boy.
Peter Rothstein (Director) is delighted to return to The 5th where he directed Guys and Dolls and Rodgers and Hammerstein's Oklahoma! He is the Founding Artistic Director of the Twin Cities-based Theater Latté Da, where he staged 57 productions, including nine world premieres. Other recent collaborations include the Guthrie Theater, Children's Theatre Company, Minnesota Opera, Minnesota Orchestra, Ten Thousand Things and the Utah Shakespeare Festival. He is the creator of All Is Calm: The Christmas Truce of 1914. Rothstein has received eight Ivey Awards for overall excellence, and was named the 2015 Minnesota Artist of the Year by The Star Tribune. He has been awarded grants and fellowships from the National Endowment for the Arts, Theatre Communications Group, Minnesota State Arts Board and the McKnight Foundation. He holds a B. A. in Music and Theater from St. John's University and a Master of Fine Arts in Directing from the University of Wisconsin-Madison.
Kelli Foster Warder (Choreographer) is thrilled to be making her 5th Avenue debut. Foster is from the great state of Minnesota and has performed, taught and choreographed for a variety of companies including Theater Latté Da, Chanhassen Dinner Theatres, Theater for the Thirsty and Mixed Blood Theater. She has worked as a choreographer, teacher, diversity coordinator and coach for over 25 years at a number of Minnesota schools and has directed and choreographed internationally in both La Paz, Bolivia and Panama City, Panama. Foster is currently the Director of Education for Hennepin Theatre Trust and runs their Community Engagement, Education and Access programs.
Ben Whiteley (Music Director) returns to The 5th, having previously music directed for Damn Yankees. His work has been seen on Broadway in Cats (conducted final performance of original production), The Addams Family and A Christmas Story (Madison Square Garden). His national tour credits include Spamalot, The Addams Family, The Full Monty, A Christmas Story, Falsettos, Grand Hotel and Big. Whiteley recently conducted the New York City Center Encores! production of 1776. Carnegie Hall: Sail Away (with Elaine Stritch) and Carnegie Hall Salutes Comden and Green. His work has also been heard at St. Louis Muny in 16 productions including the restaging of A Chorus Line. Choral direction credits include My Fair Lady and Carousel (NY Philharmonic/PBS). He was the Associate Music Director and Chorus Master for 29 productions including Paint Your Wagon, The Most Happy Fella and this season's The Golden Apple at City Center Encores! Other credits include Paper Mill Playhouse, University of Michigan, and Three Irish Tenors. His work can be heard on the recordings of Allegro (Sony), Boardwalk Empire (Grammy Award) and Merrily We Roll Along.
The creative team includes Michael Hoover (scenic design), Trevor Bowen (costume design), Duane Schuler (lighting design), Christopher Walker (sound design) and Mary Pyanowski Jones (hair and makeup design). This production of Ragtime will feature new orchestrations by Bruce Monroe and arrangements by Kat Sherrell and Albert Evans. The team also includes Cathan Bordyn (fight director) and Alyssa Keene (dialect coach).
Additional staff includes Malika Oyetimein (assistant director), Nikki Long (associate choreographer), Josh Archibald-Seiffer (associate music director), Michael Notestine (costume design assistant), Connie Yun and Matthew Webb (assistant lighting designers), Brendan Patrick Hogan (assistant sound designer), Erin B. Zatloka (production stage manager) and Rachel Bury and Catherine Costanzo (assistant stage managers).
Terrence McNally (Book) was awarded the Dramatists Guild Lifetime Achievement Award in 2011. He is the winner of Tony Awards for his plays Love! Valour! Compassion! and Master Class and his books for the musicals Ragtime and Kiss of the Spider Woman. In 2010 The John F. Kennedy Center for the Performing Arts presented Terrence McNally's Nights at the Opera, a three-play festival of his work. His other plays include Frankie and Johnny in the Clair de Lune, Lips Together, Teeth Apart, A Perfect Ganesh, Corpus Christi, The Ritz, It's Only A Play, The Lisbon Traviata, Some Men, The Stendhal Syndrome, Where Has Tommy Flowers Gone?, Bad Habits, Deuce, Dedication or The Stuff of Dreams, Unusual Acts of Devotion, Next, Sweet Eros, Witness and his first play, And Things That Go Bump in the Night, which was produced on Broadway in 1964. He has written the librettos for the musicals The Full Monty, A Man of No Importance, The Rink and The Visit and the opera Dead Man Walking. He won an Emmy Award for Best Drama with his teleplay Andre's Mother. He wrote the screenplays for Frankie and Johnny, Love! Valour! Compassion! and The Ritz. Among his many awards are a Citation from the American Academy of Arts and Letters, the New York Drama Critics Circle Award for Best New Play, four Drama Desk Awards, three Hull-Warriner Best Play Awards from the Dramatists Guild, two Obies, two Lortel Awards and two Guggenheim Fellowships.
Lynn Ahrens (Lyrics) won Tony, Drama Desk and Outer Critics Circle Awards and received two Grammy nominations for the score of Broadway's Ragtime. For Twentieth Century Fox's animated feature film Anastasia, she was nominated for two Academy Awards and two Golden Globes. Her Broadway credits include Once On This Island (London Olivier Award, Best Musical; Tony nominations, Best Book and Score), Seussical (Grammy nomination), Madison Square Garden's A Christmas Carol (composer, Alan Menken), Rocky, My Favorite Yea, Chita Rivera: The Dancer's Life, and Anastasia. Other theater credits include Lincoln Center Theater premieres of Dessa Rose, The Glorious Ones (both Drama Desk-nominated) and A Man of No Importance (Outer Critics Circle Award, Best Musical) and Lucky Stiff and Little Dancer, which premiered at the Kennedy Center. For her numerous film and television credits, which include A Christmas Carol (teleplay, NBC- TV), Camp (IFC Films), Lucky Stiff and the renowned animated series Schoolhouse Rock (ABC-TV), she received the Emmy Award and four nominations. She is the first Lilly Award recipient for Lyrics. In 2014, she and longtime collaborator Stephen Flaherty received the Oscar Hammerstein Award for Lifetime Achievement, and in 2015 they were inducted into the Theater Hall of Fame. They serve on the Dramatists Guild of America's Council and co-founded the Dramatists Guild Fellows Program for Emerging Writers.
Stephen Flaherty (Music) is the composer of the Broadway musicals Ragtime (Tony, Drama Desk, OCC Awards, two Grammy nominations), Seussical (Grammy, Drama Desk nominations), Once on This Island (Tony nomination, Olivier Award, Best Musical) and Rocky. Additional Broadway includes Chita Rivera: The Dancer's Life (original songs) and Neil Simon's Proposals (incidental music). Flaherty has also written four musicals at Lincoln Center Theatre: The Glorious Ones (OCC, Drama Desk nominations), Dessa Rose (OCC, Drama Desk nominations), A Man of No Importance (OCC, Best Musical, Drama Desk nomination) and My Favorite Year. Other theater includes In Your Arms (Old Globe), Little Dancer (Kennedy Center), Lucky Stiff (Playwrights Horizons) and Loving Repeating: A Musical of Gertrude Stein (Chicago's Jefferson Award, Best New Musical.) Film includes Anastasia (two Academy Award and two Golden Globe nominations), the documentary After The Storm and Lucky Stiff. Mr. Flaherty's concert music has premiered at the Hollywood Bowl, Boston's Symphony Hall, Carnegie Hall, the Guggenheim Museum and Symphony Space. This year celebrates Flaherty's 32-year collaboration with lyricist-librettist Lynn Ahrens. Both are members of the Dramatists Guild Council and co-founders of the Dramatists Guild Fellows Program. In 2015 they were inducted into the Theater Hall Of Fame. His most recent work is the stage adaptation of Anastasia. AhrensAndFlaherty.com.
The non-profit 5th Avenue Theatre is the nation's premier incubator for new musical theater. Since 2001, the Seattle-based company has produced 18 new musicals. To date, nine (including the sensational hit Disney's Aladdin) have moved on to Broadway premieres, earning a combined 15 Tony Awards, including two for Best Musical (Hairspray and Memphis). The 5th Avenue Theatre is also known for its world class, critically acclaimed productions of musicals chosen from both the contemporary canon and the Golden Age of Broadway.
Unique in its Chinese-inspired design, this exquisite theater opened in 1926 as a venue for vaudeville and film. Today, under the leadership of Executive Producer and Artistic Director David Armstrong, Managing Director Bernadine C. Griffin and Producing Artistic Director Bill Berry, this non-profit theater company attracts an annual attendance of more than 300,000, including over 20,000 subscribers-one of the largest theater subscriptions in North America.
In addition to its main stage productions, The 5th Avenue Theatre is also committed to encouraging the next generation of theatergoers through its extensive educational outreach programs. For more information about The 5th Avenue Theatre, its season and its programs, visit www.5thavenue.org.