BWW Review: Seattle Shakes and Upstart Crow Bring Down the House Again with RICHARD III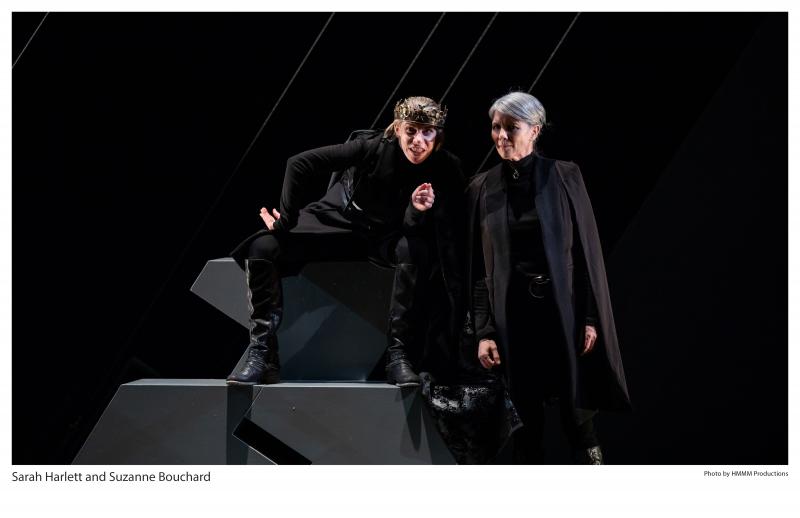 Dear Readers, if you were lucky enough to catch Seattle Shakespeare Company and Upstart Crow's all female epic productions of the "Henry VI" Trilogy that they dubbed "Bring Down the House" and showed in two parts a few years back then you know of the power that they brought to the stage with some of the best female actors sinking their teeth into those traditionally male cast characters. And you also may have had the same wish that many others had, including myself, that they'd keep that train going especially once they'd seen the remarkable Sarah Harlett play the young hunchback Richard, Duke of Gloucester, with such malevolent zeal. Who wouldn't then want to see her go on to play him in the sequel, "Richard III"? Because we all love a sequel. Well, wish granted. The hunchback is back and scheming around the boards of the Leo K. Theatre at the Seattle Rep and is just as glorious as before.
From the moment you set foot in the theatre you find that the world is a little off kilter thanks to Shawn Ketchum Johnson's beautifully bleak and angular set. But the world is in chaos and about to be more so thanks to Richard who dutifully presents King Henry IV to the people but then stunningly switches to an inner monologue describing his own desires to be king and laments his deformities. It's an incredibly sinister moment they've concocted and just the first of many to come. You see Richard is sixth in line to be the king himself so why not set out to eliminate the competition?
Richard does so with schemes and lies each time resulting in the death of another friend, colleague or relative. But while in most productions those deaths are merely spoken of, we get to see them utilizing this angular set that's a series of blocks an steel cables all of which are amplified, thanks to sound designers Meghan Roche and Robertson Witmer, so that every death, march, battle, etc. can be accompanied by percussion on the blocks and playing of the cables like a large stage sized bass. It's a fantastic addition to the creepy nature of the piece that you almost don't even notice is happening on stage the first few times but then glory in its presence throughout. And when coupled with Geoff Korf's lighting the world becomes quite grim.
But the world is not a complete downer for 2 and a half hours. I, for one, never remembered that "Richard III" had so many laughs in it. But I'm sure we can thank much of that to director Rosa Joshi and the brilliant ensemble of women who not only found and played the intent of the piece but found new and interesting ways to communicate that intent. Harlett is, as before, a revelation as the Machiavellian ruler and with her irrationality and lack of conscience horrifyingly reminded me of a certain modern-day ruler. But I digress. Harlett manages the crazed aspects of the man, sure, but then also has moments of supreme clarity as she kills with incredible comedic timing. Mari Nelson is once again on hand as the Duchess of York, Richard's mother, and once again brings in a riveting performance as a woman who knows she spawned a monster. But then she also turns around and plays one of the most hilarious murderers ever. Also back is the incomparable Suzanne Bouchard but this time as the Duke of Buckingham bringing in some fantastic scheming alongside the crazed hunchback. And there's Kate Wisniewski who has some thrilling moments as the mad grieving widow Margaret trying to warn the others of Richard's danger. But with all of the familiar faces we have some new one's as well like the stunning portrayals from Porscha Shaw as she in one moment astounded as the widow turned forced wife Anne, only to turn around and become another of the hysterical and reluctant murderers and then to come back later as the stalwart savior and would be ruler Richmond. This is someone to keep an eye on.
I could go on for days on the wonderful cast and crew involved once again in this endeavor but that might prevent you from going out and getting tickets. And so, with my three-letter rating system, I give Seattle Shakespeare Company and Upstart Crow's production of "Richard III" a pleasantly equally thrilled as the last ones YAY+. The last time, their productions became an event that you simply did not want to miss, and people still lamented missing them years later. Don't make the same mistake.
"Richard III" from Seattle Shakespeare Company and Upstart Crow performs at the Seattle Rep through October 7th. For tickets or information contact the Seattle Shakespeare company box office at 206-733-8222 or visit them online at www.seattleshakespeare.org.
Born and raised in Seattle, WA, Jay has been a theater geek for years. He attends as many shows as he can around the country (read more...)