BWW Review: Seattle Rep's LAST OF THE BOYS Delivers an Emotional Gut Punch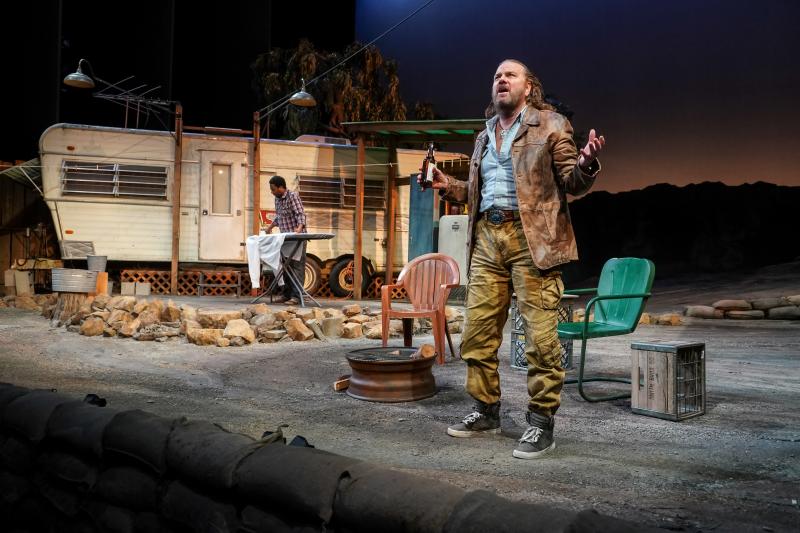 Steven Dietz is touted as being "one of America's most successful, prolific living dramatists" (The Seattle Times, 2018) and it's no surprise given his rich, engaging characters, raw, honest dialog, and stories that feel effortless as they slip in the emotional knife before you know it. Such is certainly the case with his 2004 work, "Last of the Boys", currently showing at the Seattle Rep.
In this tale we meet Ben (Reginald André Jackson), a Vietnam vet who's lived in a run-down trailer near a toxic waste dump for the thirty years since the war. Enter his war buddy Jeeter (Kevin Anderson) who's shown up with his new girlfriend Salyer (Emily Chisholm) fresh from Ben's estranged Father's funeral. Jeeter's arrival not only brings up issues from the past about his Dad but also ghosts from the past surrounding the war, both in things that Ben did as well as things that were done with the war in a larger sense by the then secretary of defense, Robert McNamera.
As you may expect, the show takes you on quite an emotional ride with plenty of twists and turns you may or may not expect as several differing viewpoints of the war are examined both in what happened and its aftermath. And Director Braden Abraham manages to keep you guessing at each turn without it ever becoming frustrating or tiresome. And when the reveals do hit, they hit with full force, but you never see them coming. Such is the beauty of Dietz's writing.
The set from G.W. (Skip) Mercier manages to tell its own story of the area and the man living there, setting a perfect tone for the piece right down to the sand bags lining the front of the stage. And when coupled with Ben Zamora's evocative lighting and Victoria Deiorio's pitch perfect, haunting sound design and compositions the audience is easily transported back in time.
Jackson's performance is a stunning one of complex layers peeled away one painful bit at a time especially considering the fact that by the end he's playing two people, both with severe guilt for what they've done. Anderson brings in, what appears to be, the affable best friend but when he lets the cracks in his armor show through you can see the vulnerability and honesty of his performance shine. Chisholm adds in her own damage to the piece with this younger woman peripherally affected by the war and her final reveal will blow you away. Kate Wisniewski comes in as Salyer's mother yearning to bring home her broken daughter, but you can see how broken she is as well. And Josh Kenji keeps appearing as an ethereal memory of a young soldier that's both haunting and hopeful.
Simply put, it's a beautiful piece told by a stunning team and it begs to be seen. And so, with my three-letter rating system, I give Seattle Rep's production of "Last of the Boys" a "you'll be discussing this one all the way home" YAY. Don't let it pass you by.
"Last of the Boys" performs at the Seattle Rep through February 10th. For tickets for information contact the Seattle Rep box office at 206-443-2222 or visit them online at www.seattlerep.org.