BWW Review: Seattle Rep's A THOUSAND SPLENDID SUNS Shimmers with Tragic Beauty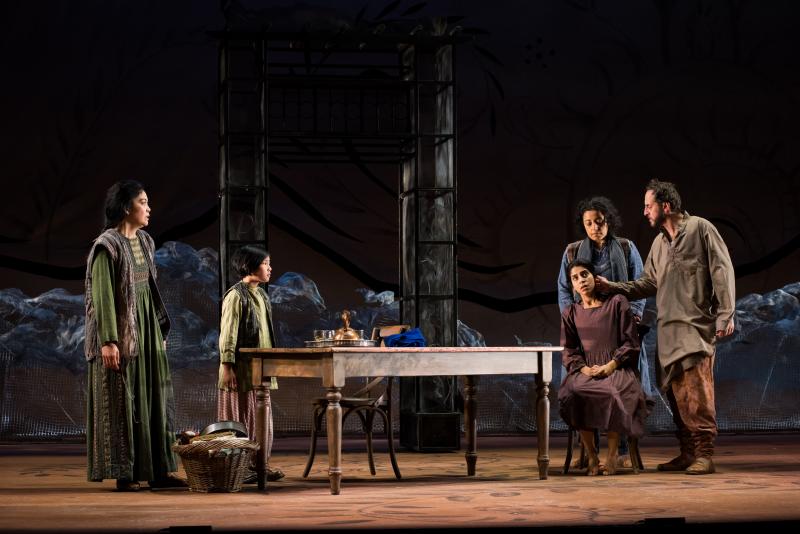 Dear Readers, in the past you may have heard me refer to what I call "theatrical alchemy". It's where all the right elements seem to magically come together in just the right ways to form pure theatrical gold. Well, the Seattle Rep currently has a bunch of alchemists working with them with their joint production with the American Conservatory Theater and their presentation of "A Thousand Splendid Suns", a riveting tale filled with so much tragic beauty that you'll be left breathless.
Based on Khaled Hosseini's novel, the play by Ursula Rani Sarma begins with such a positive happy family that you're shocked to see all the terror around them as young Laila (Rinabeth Apostol) helps her family pack up to leave their home in Afghanistan as bombs drop around them. But when tragedy strikes, and Laila is left injured and alone she's rescued by Rasheed and his wife Mariam (Haysam Kadri and Denmo Ibrahim). What appears to be a safe place soon shows its true colors as Rasheed convinces Laila to abandon her search for her childhood love Tariq (Antoine Yared) and become his second wife. The relationship between Laila and Mariam is strained to say the least until Laila intervenes on Mariam's behalf to save her from the abusive Rasheed. What follows is a stunning Mother/Daughter-like story as the two women do whatever they can to save themselves from this horrible man. A man who's merely falling in line with the attitudes of most men in the turbulent and oppressive region.
To add to this already stunning script is the beautiful underscoring written and performed by David Coulter. He sits, visible, just below stage, adding a truly ethereal element to the piece. Which when combined with Ken MacDonald's fantastic set, Linda Cho's wonderful costumes and Robert Wierzel's vibrant lighting, the world comes alive in a flowing, poetic way that fills the entire theater.
Carey Perloff's direction as she leads these two women through their journeys is stunning. She never forces a moment or the pace but simply lets them unfold creating a raw and honest tone and lending a sense of realism to the actors who are stunning. Apostol and Ibrahim walk away with this show as their arcs in the piece are amazing. Even as we see Apostol get beaten down she still retains her hope and optimism which infects Ibrahim's performance opening her up to their relationship which is a thing of beauty. And Ibrahim's final scene, alone, is worth the price of admission. Kadri brings in an honest and real bad guy who I can't say I empathize with, but I can say I can see how he was created in this world through his performance. And the rest of the ensemble is equally on point with some incredible moments such as Lanna Joffrey as Mariam's broken Mother or Yared as the young and lovestruck Tariq.
I could say you don't want to miss this one as it's such a gripping look into the lives of a culture so far removed from our own but in our current political and societal climate, the relationships and treatment of women resonates with everyone, no matter the culture. Add that resonance to this gorgeously captivating production and that's why you don't want to miss this one. And so, with my three-letter rating system, I give the Seattle Rep's production of "A Thousand Splendid Suns" a transcendent YAY+. WARNING: The viewing of this play may result in the desperate urge to call your Mother ... or Sister ... or Daughter ... or at least need generous amounts of tissues.
"A Thousand Splendid Suns" performs at the Seattle Rep through November 10th. For tickets or information contact the Seattle Rep box office at 206-443-2222 or visit them online at www.seattlerep.org.