BWW Interviews: BENDELACREME On DRAG BECOMES HER, Future Shows, and THAT Elimination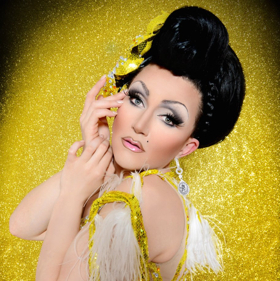 Between All Stars 3 airing and rehearsals of Drag Becomes Her, it's been a busy week for BenDeLaCreme. Although it's been nearly two weeks since the jaw-dropping episode, all eyes have remained on Benjamin Putnam. He keeps pushing forward, all smiles and work, premiering the new Peaches Christ production Drag Becomes Her last weekend with Seattle friend, Jinkx Monsoon. The terminally delightful queen just cannot stop performing, growing, and exceeding the expectations fans lay out for her - DeLa is a force of nature at this point
Fortunately, I got the opportunity to ask Ben some questions about the Peaches Christ process. Between the San Francisco premiere and her return to Seattle, DeLa answered questions about her shows, camp queens, and what's next for the so-called martyr of All Stars 3.
---
BWW: This isn't going to be the first time you've worked with Peaches Christ. What makes Drag Becomes Her different from what's come before?
BenDeLaCreme: Working with Peaches is always a blast, but adapting Death Becomes Her is something that Jinkx and I have been talking about since long before either of us appeared on Drag Race, so this is fully a dream come true. I am also honored that Peaches asked me to write all the song parody lyrics in this show, so the entire show is sung live, and at least Jinkx will be good at it. I love being part of a process that is truly collaborative.
BWW: Your Inferno-a-Go-Go was a great solo show, as were Terminally Delightful and Cosmos. When working with people like Jinkx or Peaches, what's different?
BDLC: Thanks you! Well, when I'm making solo work it's completely all under my control. I write, direct, perform, and even make most of my props and puppets. This process is a blend of all of our sensibilities. Plus, whenever Peaches writes a script I'm guaranteed to say "felch" a lot more than I would otherwise.
BWW: Is getting to work with some of your old friends on Drag Becomes Her a therapeutic experience after the highly public Drag Race return?
BDLC: Haha... you know, when we were scheduling this I knew it would land RIGHT after my dramatic departure from the show, and I didn't know how that would be received. Either way, I knew I wanted to be amongst friends and submerged in something fun. Fortunately, it turned out to be a celebration!
BWW: Once upon a time, you told ThinkProgress that "drag creates an opportunity [...] to improve the ways that we can be kinder and treat each other better." You put your money where your mouth is in All Stars this season. How do you always manage to be so congenial, so honest, in tough times?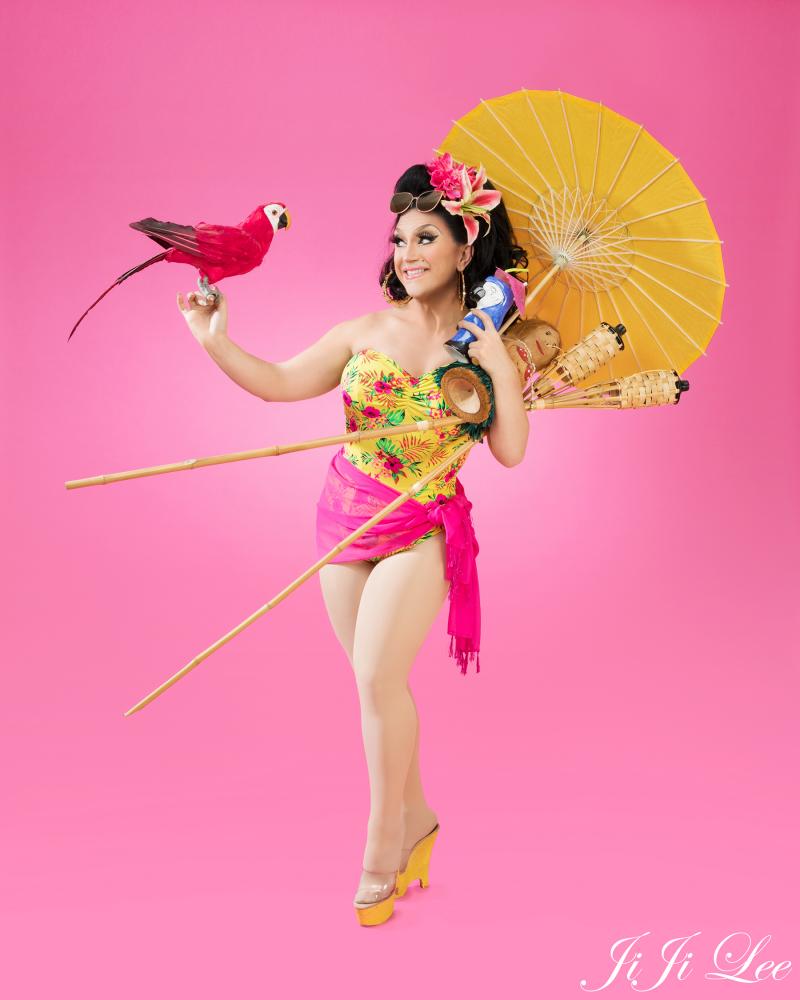 BDLC: Yeah, you know, I'm discovering the term "congenial" is too vague. It's like "nice." It's too pat and easy to dismiss as an inherent quality someone is or isn't born with. Perhaps a more useful way to think of it is the idea of striving to be kind. It's work. It doesn't come naturally. You have to work at it the same way you work at makeup skills or dance skills or other non-drag related skills I'm less familiar with.
BWW: Your decision to step down on All Stars 3 was brilliant and radiant, and echoed what you told The Stranger in 2016 about your friendships coming before reality show dramatics. You also said that contestants, "may have to work through that experience for years." Has this decision weighed on you heavily, or is the love you felt for your friends keeping your head high?
BDLC: Oh my gosh, I feel amazing. The part that weighed heavily on me was everything that came BEFORE the decision. It wasn't even a decision really. It was more like a discovery. Something in my brain suddenly unlocked and I could see this larger picture in which I had so many more choices than i had been provided with. And it's changed my whole life perspective. Since filming I have bucked so many of the rules I thought I had to live by in my real life, and it's LIBERATING. I've realized that our potential is only limited by our own thinking. Oh, and institutionalized racism, sexism, and transphobia. That shit's real.
BWW: Drag is a term being redefined almost daily now - there's the more mainstream sources such as Drag Race or Dragula, there are newer outcroppings of performance genre popping up internationally, and you yourself have helped bring cheery theatre and performance to life. What do you think is next?
BDLC: You know, I'm not sure if any of it's new. Certainly what I do isn't. I belong to a long lineage of performance artists and camp queens making non traditional theater. And as far as the gender conversations happening- trans and cis women have been part of this community forever too. What I think we'll see is people continue to blend and reference all of these histories in exciting new ways. There's no shame in expanding on the past. It's beautiful that we have that sense of history.
BWW: I'm personally excited to see what's next on your list in 2018. What can fans hope to see next from DeLa?
BDLC: This year I'll be continuing to tour my one woman show Inferno A Go Go, as well as Peaches Christ's Drag Becomes Her with Jinkx Monsoon, which has been a really fulfilling collaborative process. I'll be remounting my play Beware the Terror of Gaylord Manor this fall in Seattle, and touring all over the US, Canada, the UK, and Australia over the coming months. I am working on one new piece of writing. A super secret project coming in December... so keep your eyes peeled!
BWW: Not to brown nose too hard, but you're really one of the more inspiring performers out there. Your openness regarding your history of depression and your battles with mental health have helped some of my friends through dark times. What's your advice to young artists going through those troubles now?
BDLC: Ha! Brown nose away! My words are these: struggling with mental health is the flip side of a very shiny coin that we are lucky to possess. It means you're a complex thinker. It means you feel deeply. Simple people have simple problems. So when you're in it deep, and you're weighed down, breath. It may feel endless, but feelings are not facts. You will come out of it, and when you do you will remember that you are one of the gifted ones. All the greatest artists and thinkers who have inspired millions are people with these same struggles. These struggles go hand in hand with greatness.
BWW: Finally, is there anything you want to say to BenDeLaCreme fans, or newcomers just starting to tune in to your life?
BDLC; Hi! Welcome to being my fan! I'm so glad you are! But also, if you like me, you'll LOVE live performance! 'Cause that's what I love! Don't just watch TV and stare at your phone... go see live shows! Yes, drag of course; but also theater, dance, performance art. There is no more electrifying exchange of human energy. I'll see you there!
---
Drag Becomes Her opens in Seattle tonight, March 13th - tickets are available online or at the door. Drag Becomes Her next opens in Portland on March 15th. Information on upcoming BenDeLaCreme events can be found here.