Review: BURNS, Edinburgh Playhouse
Review of the premiere of Burns at the Edinburgh Playhouse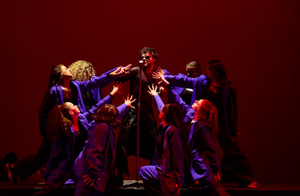 Burns is a new musical written and composed by Trish Tindall. The concept is based on an idea by Michael Jackson and David Gest about the life and works of Robert Burns. Trish Tindall also acts as the narrator and onstage pianist for the show.
What if Robert Burns was alive in the modern world? Burns has been given the Six treatment and the history is brought to life in a modern way with catchy songs. At times, it tries almost too hard and the introduction of mobile phones and Whatsapp to the story of the bard can be a little bit cringeworthy and unnecessary.
Robert Burns is played by Elijah Aspinall who takes on a rockstar persona as he receives the same attention as modern-day boybands. Burns was a known womaniser but this is amplified in the production as he seems to be solely motivated by his ego. The show blurb states that he feels torn between his duties to his family and his philandering ways but this doesn't come across clearly and makes the character quite unlikeable.
There's a lot to enjoy in this production. The original songs are good as are the musical performances. It feels like this could be a really promising fringe production and as it only has a short debut run at the Edinburgh Playhouse, it is clear some things could be tweaked across a longer run. The idea of Burns trying to crack the American market is interesting as there is debate over whether to alter his Scots dialect but this is overshadowed slightly by a bizarre creative decision to make Burns a Michael Jackson superfan.
The core idea of Burns is good and the songs definitely give it a decent backbone. I found some of the narrative a little confusing and although my knowledge of Robert Burns' personal life isn't quite up to scratch, I found myself having to Google some of his backstory afterwards as it wasn't overly clear during the show.
This show is clearly a labour of love and the cast certainly give it their all. There is definitely the potential for something really good to come of this show, it just needs to work out a few of the storytelling kinks and decide whether they're looking for Burns to come across as a tortured genius or just plain arrogant.