EDINBURGH 2019: BWW Review: URINETOWN, Central Hall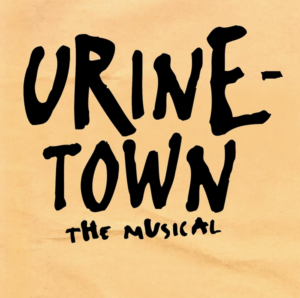 Climate change is a hot topic at the moment, and potential future water shortages provide rich material for Urinetown, a metatheatrical dark comedy musical.
In the world of Urinetown, private toilets and public urination have been forbidden, with all citizens having to pay to spend a penny, with the profits going to the totalitarian Urine Good Company. Stealth puns like that abound in the witty script, as we see dashing hero Bobby Strong, inspired by his father's arrest for freely peeing in public, take a stand for freedom while aiming to win the love of a tyrant's daughter along the way.
From amusingly genre-savvy ingenue Hope (Emmy Huchley) to delightfully hammy cameo roles like scenery-chewing Hot Blades Harry (Joel Morel), this young cast got fully into the spirit of this clever, zany show.
Vocals are strong throughout, under the musical direction of Catherine Snider, though on occasion, the principal actors need greater physical presence, particularly in the large Central Hall venue.
In the bigger numbers, however, the ensemble's excellently executed choreography (by Katie O'Bryon Champlin) really brings the show up a notch with plenty of Broadway pastiches. In particular, a parody of the "Bottle Dance" from Fiddler on the Roof was a special highlight for a showtune-savvy audience. But one irritation does come from the lighting, with the follow spot massively overused, seemingly on every solo segment.
Nevertheless, this is a rare chance to catch an entertaining production of a lesser-known Broadway gem, with plenty of laughs, catchy tunes and committed performances. Just make sure you've used the facilities beforehand!
Urinetown is at Central Hall until 7 August
Related Articles
Amy Hanson is an Edinburgh-based director and drama teacher. Her theatrical interests range from anything that shouts about politics to the cheesiest of musical theatre. (read more about this author...)