EDINBURGH 2018 - Review: SQUARE GO, Roundabout @ Summerhall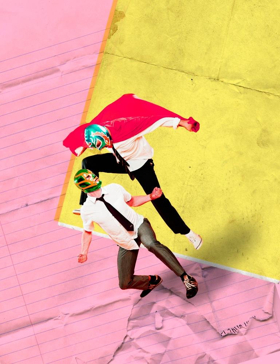 Max is hiding in the school toilets. There's only an hour left before he has to face a huge rite of passage in the form of a school gates fight with terrifying teenage tough guy Danny Guthrie.
With best pal Stevie there to pump him up - or, more realistically, warn that he's in for a pounding - the two 13-year-olds explore what it means to be a man.
Frequently hilarious, the script by Gary McNair and Kieran Hurley perfectly captures the braggadocio of teenage boys, complete with the irresistible inventiveness of the Scottish vernacular.
Beyond the jokes, this is a piece that neatly explores the casual violence that masks deep insecurities, and the performative nature of young masculinity, intersecting with class and sexuality along the way. Even the elements of audience interaction serve to further demonstrate the overwhelmingly social construction of macho identities.
The Roundabout proves an ideal venue for Square Go, with the audience surrounding the action in the manner of a wrestling match, further suggested by gaudy lighting and thumping music (with score contributions from members of Frightened Rabbit).
The production elements all combine to support this self-aware, showy style, from Max's gaudy sequinned robe as he heads out to do battle, down to Stevie's ever-present strawberry laces being shared with the audience. Finn Den Hertog's direction keeps the action moving, seemingly effortlessly, carrying us along with its youthful buzz.
Scott Fletcher and Gavin Jon Wright have just enough obnoxiousness to be convincing as their young characters, but are highly endearing, with their wide-eyed nervousness betraying a desperate wish to connect, sadly overridden by a crippling fear of showing weakness.
We root for them in thumb wars and arm wrestling, but most of all, in hoping they break free of the vicious cycle of toxic masculinity.
A truly satisfying theatrical experience, Square Go has the feel of a new Scottish classic.
Square Go is at Roundabout @ Summerhall until 26 August (not 14 or 21).
Image Credit: Thread Design and The Other Richard.
Related Stories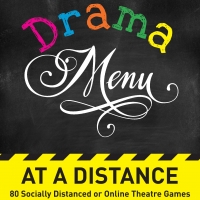 Book Review: DRAMA MENU AT A DISTANCE, Glyn Trefor-Jones

October 6, 2020

Every drama teacher, youth theatre director or community arts worker knows the value of a good drama game.  Luckily, a new book from Glyn Trefor-Jones,  'Drama Menu At A Distance', published by Nick Hern Books, sets out to help those trying to keep lessons and rehearsals both active and safe in the era of social distancing.
---