Click Here for More Articles on Shutdown Streaming
Sarasota Youth Opera To Offer Online Summer Camp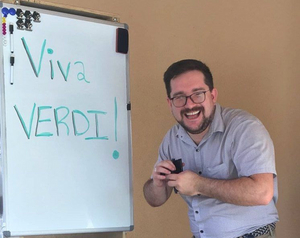 Sarasota Youth Opera's annual Summer Camp will be held online this year, and plans are under way for a variety of programming to engage young people in the magic of opera. All skill levels are welcome, and no audition is required. Interactive and participatory YouTube and Zoom sessions in singing, acting, props, wigs, make-up, and costumes will be led by professional singers, artists, directors, musicians, and technicians. Camp sessions will take place from 10am to 2pm, Monday through Friday, between June 8-19. Tuition is only $25 for the two-week virtual camp experience. Camp requirements include either a cell phone, computer, laptop, or tablet with a working camera and microphone.
The deadline for registration is Monday, May 25, 2020. To register: https://form.jotform.com/201145391019144. For more information call 941-328-1307 or email youthopera@sarasotaopera.org.
Since 1984, Sarasota Youth Opera has given thousands of young people an opportunity to experience opera first-hand through participation in after-school choruses, Sarasota Opera mainstage productions, summer workshops, and fully staged Youth Opera productions. As the only program in the United States committed to presenting annual full-scale opera productions for young voices, accepting all who wish to participate regardless of skill level or ability to pay, Sarasota Youth Opera is a national model for opera education.
Youth Opera Choruses: Beginning at age 8, singers are placed in one of two chorus levels. Each chorus provides a setting for everyone to participate and progress at their own level as they gain greater skills and experience. Selections performed are made up of classical music, which includes opera and choral pieces in different languages. The choruses perform throughout the community in formal concerts and outreach events.
Opera Mainstage Season: Members of the Youth Opera are selected to join Sarasota Opera's Winter Festival season, appearing in the mainstage children's chorus, as supernumeraries (extras who perform non-singing roles) and for special roles written by the composer for children's voices. In recent seasons these have included roles in La bohème, Tosca, Carmen, and-in the upcoming 2021 Winter Festival-Tosca and Attila. Singers are involved in the complete production process - from early music and dramatic rehearsals to performing alongside opera professionals.
Youth Opera Productions: Part of Sarasota Opera's commitment to young people includes the commissioning of new operatic works written for children and young adults. Six new works have been presented as part of this mission: Deadline (1989), Polly Pen's Her Lightness (1993), Tom Suta's Eye of Ra (1998), John Kennedy's The Language of Birds (2004), Daron Hagen's Little Nemo in Slumberland (2012) and Rachel J. Peters' Rootabaga Country (2017). Members take part in the making of each opera, complete with professional staging, costumes, lighting, sound, and orchestral accompaniment.
Related Articles
More Hot Stories For You