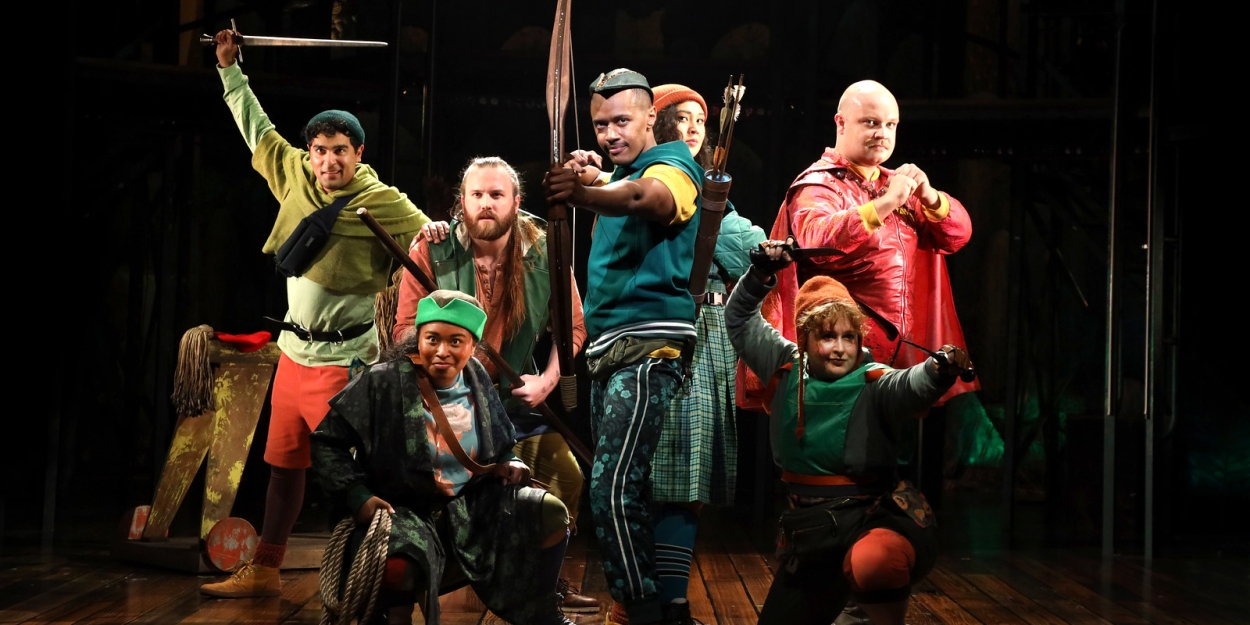 Review: HOOD at Asolo Repertory Theatre
A new musical, the production runs through June 26.
Created by Tony-nominated playwright Douglas Carter Beane and composer/lyricist Lewis Flinn, Asolo Repertory Theatre's production of "Hood," directed by Mark Brokaw, has now finally made it to the Asolo Repertory Theatre's stage after being delayed since 2020. Preview performances ran from June 3-10, followed by production dates from June 11-26 in which, according to Beane and Flinn, the show has been adjusted after the previews' audience responses to amp up the show's comedy and emotional impact.
This new musical reimagines the more than thousand year-old tale of Robin Hood for contemporary theater. Pre-show, actors warm up onstage and wander through the theater conversing with audience members. This combined with the cast's athleisure wardrobe and the almost DIY aesthetic of the set design (coffee cans serve as footlights, for example) create a welcoming, engaging informality.
The first four musical numbers of show pass by in an expositional blur, chaotically recounting the events leading up to Robert of Loxley's relocation to the forest and progression into the fabled Robin Hood, played by Anthony Chatman II. Then, guided by his old friend Meg (played by Aury Krebs), Robin assembles his Merry Band (a departure from the traditional Merry Men, as this production has diversified the group) to redistribute wealth and, eventually, rescue Marian from the dastardly sheriff and liberate the kingdom from injustice. Punctuated with music influenced by Celtic, folk rock, and soul (orchestrations by Flinn and Justin Goldner), "Hood" maintains the momentum it built at the top of the show until its conclusion.
Rather than dull moments, this show contains almost more pandemonium than can easily be ingested, its cast of twelve bounces energetically between over twice as many characters. With such a fast-moving plot and so many larger-than-life storybook personas, some portrayed by cleverly designed and skillfully performed (literally larger-than-life) puppets, the stage, at times, feels too small to contain it all.
Not that playable surface area is lacking in this production. The stage is dominated by a three-story scaffold-like structure that the cast scampers up and down throughout the show, all while dodging the handful of musicians that perform from positions on it above the stage. The combination of strings of Christmas lights dangling from the ceiling, LED strips outlining a castle for scenes taking place in Nottingham, and even the props built from household objects work together in a harmoniously eclectic mix.
The process of watching a hero come to life on stage is an undeniably entertaining one, as is watching members of the Merry Band be introduced. The story and production design play with iconic Robin Hood-isms, like his green hat and each of the Merry Band's weapon of choice. Scenic and costume designer Adam Rigg also masterfully provides just enough iconography in the cast's costumes while staying cohesive with the show's overall aesthetic and historical setting. Of particular note is the use of knitwear to serve as chainmail, a symbol of Merry Band membership, and even the Friar's bald head.
Equally eclectic are the storytelling methods employed throughout the show, particularly the variety of puppetry (designed, coached, and staged by Nick Lehane). Reminiscent of both Monty Python and Rankin-Bass' antagonists and further lending to the show's handcrafted muse en scéne, "Hood'"s upper-class characters (such as the King, Prince, and bishop) are towering, paper-mache'd puppets operated by one or two cast members. Action sequences or emotional moments are amplified by use of shadow puppetry, where the actors backlight one another behind large swaths of fabric to great effect.
Less effective were the quieter moments, particularly those with singular characters; the energy tended to stall without truly engaging the audience into what felt like an authentic emotional experience. This sometimes stuttering pacing also led to the show's well-intentioned themes and tone to be less impactful, as does the disparity between these emotional messages (anyone can "be Robin Hood," "there's a hero in your heart") and the facts contained within the plot (the sheriff that replaces the one Robin Hood defeats is reported by townspeople to "be worse than the last one"). While a truly fun bit of theatre, "Hood" lacks a certain freshness that contemporary musicals also based on similarly antique material (such as "Hadestown," "Godspell," and "Ever After") have achieved.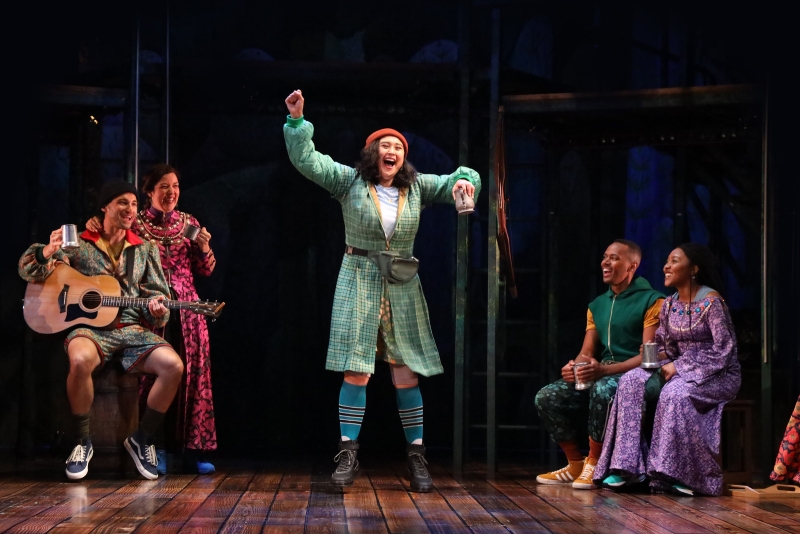 In a talkback after the show, cast members (who both deliver standout performances in their many roles) Aury Krebs and Luke Antony Neville shared the freedom they felt throughout the rehearsal process to imbue the characters they play with parts of themselves and discover their character's superpower. The cast's performances thus also embody that this production is a "show-within-a-show," like the costumes they don over their modern, casual attire, their characters aren't opaque and all-encompassing, allowing the audience to see and connect with the performer beneath.
The joy that this production seeks to impart upon the audience is palpable, and understandably necessary after the past two years. While Sarasota audiences may not be ready to leap up from their seats after the show's conclusion and become heroes themselves, the well-intentioned themes have potential to inspire as this new musical continues to mature and develop.
"Hood" runs June 3-26 at the Asolo Repertory Theatre, 5555 N. Tamiami Trail, Sarasota.
Photos by Frank Atura.