Review: 76 Reasons to See THE MUSIC MAN at the Asolo Repertory Theatre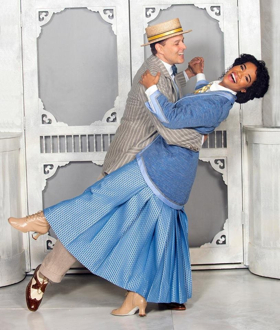 "It makes you feel so happy, doesn't it?" --A man to his wife, overheard after THE MUSIC MAN
If you're like me, then you probably rolled your eyes and groaned to yourself, "Not another MUSIC MAN!" the moment you heard that the Asolo Repertory Theatre was tackling the Meredith Willson classic. Has the show become so ubiquitous that we can't help but think that we don't need to see this overcooked masterpiece yet again? But the Asolo is THE Asolo, and this is not your typical, cobwebbed MUSIC MAN. This production is infused with more tapping than The Tap-Dance Kid and is given an A+ treatment. It's so full of life that I didn't want it to end. So, in honor of its most famous song, "76 Trombones," here are 76 reasons to venture to this must-see Asolo production...
1) It's timeless but also timely. We need this show, escapism at its very best. It's a tap-tastic retelling of the American classic, as alive as any new musical, infusing new life in an old-fashioned story and rejuvenating Meredith Willson's work. It's strikingly entertaining, and as we exited after the show, I bumped shoulders with so many jubilant audience members, all of whom were smiling widely, on a post-MUSIC MAN high, forgetting their troubles and getting happy.
2) Jeff Calhoun, best known for directing Newsies on Broadway, has outdone himself here. This is one exquisite show, gorgeously paced and never dull. You may have seen THE MUSIC MAN a number of times before, but really, you haven't seen it until you've seen this joyous production.
3) Steve Orich's music direction, starting with the Overture. We immediately knew we were in good hands.
4) The opening number, "Rock Island," is considered by many to be the first rap song. Although it has elements that would be later utilized in hip hop, it's quite a stretch to go from Meredith Willson to the Sugarhill Gang. (I can never imagine Nas or Juice WRLD covering the number, but such an idea is giddy-fun to think about.) Still, this is the finest, tightest version of the song, done simply with miraculous timing and the most creative use of chairs. We feel like we're really on that moving train, with bumps and hiccups along the way; it's terrific.
5) Noah Racey as Harold Hill, the charismatic con-artist/salesman who awakens a sleepy Midwest town. Harold's the pied piper of the performing arts, a Johnny Appleseed selling hopes and dreams to a dead-end town that needs it. Racey is the real deal, that triple-threat rarity--a Song & Dance Man who can act. But that seems ill-suited a description of what Mr. Racey does here. He owns the stage like few others, and he will tap his way into your heart.
6) "Ya Got Trouble." This is the stunner that it needs to be. It may be sacrilege, but I think Racey out-Prestons the original Harold Hill, Robert Preston, here.
7) Paul McGill's choreography. Is there too much tap dancing in this version? I personally don't think so. It certainly adds to Hill's character at times, and makes Racey's numbers, including his duet with Danny Gardner (as Marcellus), that much more of an adrenaline-rush. My final analysis: The mega-tapping may not always add to the proceedings, but it never detracts. And when it works, it works tremendously well.
8) The song, "Marian the Librarian," has never sounded or looked better. Ever.
9) Britney Coleman as Marian the Librarian. Her performance left me speechless. She has it all--as an actress, she's always in the moment, covering up a lonely heart, heartbreaking yet fearless, and yearning for her own Mr. Right, her white knight, to steal her away, even if, in the end, it turns out to be a confidence man. As a singer, Ms. Coleman brings the show to an altogether new level. The moment she walked on the stage, I wrote the following in my notebook: "The epitome of loveliness."
10) "My White Knight" became the surprising show-stopper of this production. Yes, as good as "Ya Got Trouble" is, nothing holds a candle to Ms. Coleman's rendition of her big solo. It's one of the high points of my theatre-going year so far. I rarely say this about the performers I review, but based on this song alone, if anyone is Broadway bound for stardom in the near future, it's Ms. Coleman. Keep an eye on her.
11) The chemistry between Racey and Coleman. No matter how good the tapping or the singing, without the tug-of-war heat between these two talents, there is no show. But it's there, and then some.
12) Broadway's Lenny Wolpe as the Mayor gives us a lesson in the fine art of stealing a show. The key: flawless timing. He doesn't have to say a thing to get a reaction; he just has to look with those Eye-Ore eyes, adding a perfect pause, to garner a laugh or two (or three) from the audience.
13) Matthew McGee as the Mayor's wife, Eulalie Shinn. McGee is known to Bay Area theatre patrons as perhaps the finest actor around, and in drag, he knows few peers. (His Mame at freefall is still being talked about.) So those of us who make Tampa-St. Petersburg our home have known Mr. McGee's drag alter egos for years, but that knowledge has not yet trickled down into the Sarasota market. Knowing that the Mayor's wife is played by a dude is as startling to some as the Mary Sunshine revelation at the end of Chicago (the play, not the movie). At intermission to THE MUSIC MAN, I overheard a young boy whisper to his friend: "Listen, I got a secret. The mayor's wife. The wife. It's a guy playing it!" It looks like Sarasota will soon be joining Tampa-St. Petersburg with some form of McGee-Mania.
14) Tobin Ost's costumes. This is one strikingly good-looking production costume-wise, as it must be. There would be nothing worse than a drab MUSIC MAN. And don't miss Mr. McGee in his various outfits, one featuring a giant urn on his head (it must be seen to be believed), like something out of the outrageous "Springtime for Hitler" number in The Producers.
15) Eulalie as the Statue of Liberty. In his Lady Liberty garb, Mr. McGee resembles Florence Bates as Brunhilde--an image impossible to get out of our heads.
16) You can't go wrong with a top-flight barbershop quartet, and this MUSIC MAN has a stellar one...
17) Jack Doyle as Ewart Dunlop.
18) Joseph Torello as Olin Britt.
19) Mel Johnson Jr. as Oliver Hix.
20) Branch Woodman as Jacey Squires.
21) In the quartet, nothing beats Branch Woodman's high notes and Joseph Torello's lower-than-low notes. Wow.
22) When did Willson realize that "Pick-A-Little, Talk-A-Little" mixes perfectly with "Goodnight Ladies"?
23) Alison England is ingratiating as Mrs. Paroo.
24) Noah Racey again, jumping on pool tables, dancing like a dynamo. Why can't he be in every musical?
25) The band children are all outstanding and full of life, and each one deserving of his or her own number on my list...
26) Sophia Cavalluzzi.
27) Asher Woomert.
28) Kailani Brianna Maeda as Gracie Shinn.
29) A wide-smiling Henry Mills.
30) 11-year-old Milaan Smith owns the stage as Amaryllis.
31) Charlie Shoemaker is adorable as young Winthrop, the lisping urchin who nails "Gary, Indiana." Imagine a singing and dancing Mulcaulay Culkin mixed with The Brady Bunch's Cousin Oliver, and you have this yon scene-stealer. Even if his lisp sometimes comes and goes, who cares? He was certainly an audience favorite.
32) Even if it didn't quite blow me away, "The Wells Fargo Wagon" is a great closer to Act 1.
33) It's tough playing a party-pooper like Charlie Cowell, but Lamar K. Cheston does an admirable job.
34) I can hear that glorious quartet forever. Their "Ice Cream/Sincere" is still going through my head.
35) Danny Gardner as Marcellus is sensational. He holds his own with Racey, and you sense he could easily become a Junior Varsity version of Harold Hill.
36) The best "Shipoopi" I've ever heard. A song seemingly unnecessary to the show is so good here, you can't imagine it without it.
37) A world-class ensemble of great dancers and singers, so strong as a whole but whose members should be singled out here...
38) John Wilson Bennett as the Constable.
39) Ben Chavez.
40) Blair Ely.
41) Liz Frieidmann.
42) Liam Johnson.
43) Jenny Kim-Godfrey (who is also Ms. Squires).
44) Lizzie Hagstedt (who is also Ethel Toffelmier).
45) Betsy Padamonsky (who is also Alma Hix).
46) Jade Turner (who is also Maud Dunlop).
47) Tanner Pflueger.
48) Sebastiani Romagnolo.
49) Hannah Jean Simmons.
50) Erin Weinberger, whose smile lights up the stage.
51) Lawrence James as the Conductor.
52) Raynor Rubel, a standout dancer, as Tommy.
53) Maria Dinorcia is wonderful in the key role of Zaneeta, but her voice became so affected, like Lina Lamont on helium, that it was sometimes hard to understand her.
54) Ms. Coleman again. Who wouldn't fall in love with her Marian?
55) "Till There Was You" is always an exquisite duet, but here, especially with Ms. Coleman leading the way, it's simply out of this world. It certainly eclipses the Beatles' treatment of the number.
56) Tobin Ost's scene design. Never intrusive, yet always so handsome and time appropriate. The footbridge was an especially nice touch.
57) Michael Gilliam's artful lighting, especially just before the "Marian the Librarian" number, where Harold in silhouette slowly sneaks to the beat into Marian's heart.
58) Michelle Hart's hair and make-up are spot-on, especially when it comes to Mr. McGee.
59) Set, costumes, and lighting all combine to create one gorgeous-looking production.
60) As mentioned earlier, the music direction of Steve Orich is top-flight, but he couldn't do this alone, so special attention must be paid to the musicians who bring Willson's music to life...
61) Aric Brian and Alan Evans on trumpet.
62) Christine Allen Bruno on keyboard.
63) Nick Bruno on drums.
64) Dave A. DeWitt on trombone (just a single one, not a fleet of 76).
65) Tom Ellison and Harley Sommerfeld on reed.
66) Judi Glover on piano.
67) Ally Jenkins on violin.
68) Bill Swartzbaugh on bass.
69) Noah Racey as Harold Hill yet again. He's so charismatic that we understand how he put a spell on River City, and the show lives and breathes with him. I've seen THE MUSIC MAN without a strong Harold, and that's like having a soulless Evita, or a Hamlet without a Danish prince. Harold must take center stage, and Racey does so without making it look like effort. That effortlessness is the key to the role; when he dances, it's like he's gliding on air.
70) But let's not forget Britney Coleman yet again. Without her to anchor Racey's Harold, the show wouldn't work. It would be a show with great scenery, great costumes, amazing vocals...all for naught. We must believe their connection, and that's the heart and soul of this particular production, that's the reason it works so well.
71) God bless Jeff Calhoun.
72) God bless the Asolo for mounting this exquisite production.
73) Who knew that we needed THE MUSIC MAN, this MUSIC MAN, now more than ever?
74) You wouldn't think that a show like this would connect with those of us who like our shows darker and edgier, but Willson's world contains so much infectious energy and life, that it had me at the first note of "76 Trombones" in the Overture. For those of us who always questioned why it won the Tony Award over West Side Story, we may not disagree with those Tony voters after watching the Asolo treatment.
75) This is one hell of a breezy good time at the theatre.
76) It's escapist fun, but with a brain to match its sentimental heart, and I recommend you do yourself a favor and see it yourself. Bring your family, your wide-eyed kids as well as your curmudgeonly in-laws. This MUSIC MAN is a cause for celebration. It would be more than a shame if you missed the party.
THE MUSIC MAN at the Asolo Repertory Theatre runs thru December 29th.