Vonda Shepard To Perform At Feinstein's At The Nikko Next Month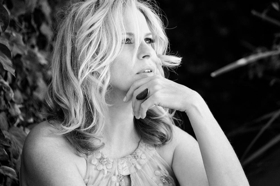 Two-time Golden Globe and Emmy Award winner, Vonda Shepard, will be performing at Feinstein's At The Nikko on Friday, February 2, at 8:00 p.m. and Saturday, February 3, at 8:00 p.m. before she embarks on her 2018 European tour. Shepard will perform a variety of hits from her 14 albums, like "Maryland" and "Baby, Don't You Break My Heart Slow," as well as favorites from the TV series Ally McBeal in celebration of the 20th anniversary of the Golden Globe winning show's premier.
"With the 20th anniversary of Ally McBeal this year, it's so exciting to get back to my roots and play classics, while getting to share my new art with my fans," says Shepard. "I'm beyond grateful to have the opportunity to continue to create and perform new music along with my original work from early in my career."
Shepard is known for dedicating songs and telling intimate stories, all while projecting dynamic charisma to her audience. Shepard released her first hit "Can't We Try" in 1987 and followed it with "Don't Cry Ilene" from her first album with Reprise Records in 1989.
She went on to record three solo albums before rising to prominence in 1997 as the creative force behind the memorable theme song "Searching My Soul" for Ally McBeal. Shepard was integral in writing and producing the music for the soundtrack, and recorded four albums as the show's musical director and appeared in every episode as the resident performer at a bar where the characters would hang out after work.
In the 15 years since the TV hit ended its five-season run, Shepard has released five albums and toured extensively in Europe and at her own international and domestic concerts. Before starting her 2018 tour of Europe, Shepard will kick off the year with her shows at Feinstein's at Hotel Nikko, located at 222 Mason Street San Francisco, Calif., 94102.
Tickets are available for $30-60. To learn more about Shepard's upcoming performances please visit feinsteinsatthenikko.com or vondashepard.com.
About Vonda Shepard
Vonda Shepard is a singer-songwriter and musician, best known for being former musical director of Ally McBeal and recently acting and singing on stage in the New York revival of Randy Newman's "Faust: The Concert" starring Randy Newman. Shepard released her fourteenth album, "Rookie" in July 2015. The album, which was funded through Kickstarter, features a mixture of moods and tempos, with slightly more emphasis on the upbeat than previous albums. For more information on Shepard and her music, visit www.vondashepard.com. Become a fan at Facebook.com/VondaShepard or follow on Twitter @VondaShepard.
More Hot Stories For You