Click Here to Visit the College Center

Blogs are the opinions of the authors and do not necessarily reflect the opinions of BroadwayWorld. BroadwayWorld believes in providing a platform for open and constructive conversation.

Student Blog: In-Person Rehearsal Tips
Some quick tips on how to have a smooth transition to in-person rehearsals!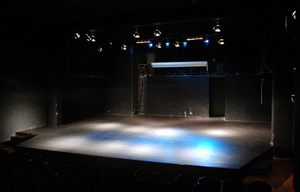 With theatre slowly returning, I know I am not alone when I say I am extremely excited to be back in the rehearsal room for this upcoming school year. From first read-throughs to opening nights, nothing has truly been the same online. But I know that suddenly having everything be in-person isn't going to be the easiest adjustment. So, here are some tips that I am finding to be helpful as I am making the transition to in-person rehearsals.
Pace yourself. It has been a long time since we have been in rooms with so much space. I know for me, I have gotten so used to taking dance classes in my tiny dorm room. Then, when I got to the studio, I found it hard to adjust to how much space I was given. Going slow and easing into everything helped me not push myself too hard. Taking your time as you work your way up to more intense exercises will help make sure you're taking care of yourself.
Drink lots of water.

Even without wearing a mask during rehearsal, it is important to hydrate, hydrate hydrate. For me, I have so many muscles that have not been used in a very long time and my stamina has decreased since quarantine. Masks also affect breath support, making our throats drier. Taking the time for an extra water break here and there has really helped me feel refreshed and energized during long rehearsals.

Don't be too hard on yourself and don't compare yourself to others.

The only thing that matters is you. As long as you are doing your personal best, it doesn't matter what the person next to you is doing. We all have auditions that don't go the way we want and especially after a year and a half of lockdown, it is okay to have a bad day or several bad days. No one is expecting perfection right now. What is important to remember is that those "off" days do not define you as a performer. You can always practice that note you missed or run that dance until you get it, but don't beat yourself up about it.

Rest.

Yes, it is crucial to practice, but that does not mean you should be staying up until 3 am every night rehearsing your 16 bar cut. Rehearsals and shows can be exhausting, long, and stressful. Our minds and bodies need time to recharge so we are fresh and focused for the next day.
This is just a short list of reminders that I am going into next season of rehearsals with. Keeping a clear and focused mind is crucial in order to get the most out of each rehearsal. A positive mindset also helps us ease back into the grove of in-person theatre. This list has helped me a lot already and I hope it helps you too!