IN THE HEIGHTS Hits All the Right Notes at Woodminster Now Thru Sep 9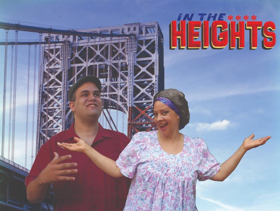 Woodminister Summer Musicals is closing its season with a dynamic production of In the Heights, which won four Tonys (Best Musical, Score, Choreography and Orchestrations) in 2008. The show was conceived in the heart and soul of composer and lyricist Lin-Manuel Miranda who was homesick for his Washington Heights, Manhattan neighborhood when he first began to write. He poured all of that longing into the music and lyrics and the first glimmers of a story, which was later fleshed out by playwright Quiara Alegría Hudes. What emerged was a rap-infused, slice-of-life tale about a modern immigrant community on the cusp of change. Who will stay? Who will go? Whose dreams will thrive and how will the neighborhood survive the gentrification that is slowly beginning to take place?
On opening night, Woodminster's brilliant and diverse cast rapped, hip-hopped and salsa'd their way through the immigrant storylines of angst, hope, community and love - and in the process, danced their way into the hearts of the audience.
Playing now through September 9, In the Heights is one show you don't want to miss.
The fast-paced musical opens with a marvelous introduction to the neighborhood by Usnavi (the delightful Daniel Rubio) against a backdrop of Gary Barton's New York set design of storefronts, apartment stoops, fire escapes and the looming Washington Bridge.
Usnavi is a young Dominican who owns the corner store bodega. It's where the local shop owners, workers and residents come to get their morning cafés con leche, newspapers and lottery tickets. Usnavi, who was named for his parent's pronunciation of "US Navy," the words they saw on a ship upon arriving in the States, was raised by his beloved Abuela Claudia (Linda Dorsey is wonderful in this role) after his parents died.
Enticed by the dreams that Abuela Claudia has shared with him all his life, he sees the two of them returning to their native Dominican Republic - once they have the money, of course. He's also in love with the gorgeous and perhaps unattainable Vanessa (Kat Bautista) who is desperately trying to find a way out of the neighborhood as well. The salon where she works -- which is owned by Daniela (the perfectly cast Ashley Cowl) and coworker Carla (Yuliya Eydelnant) - is closing down soon, so there's nothing for her to stay for. Only Usnavi's little cousin Sonny (an audaciously funny Dominic Dagdagan) wants to stay in Washington Heights.
And then there are the owners of the limousine and cab service, Kevin (Rod Voltaire Edora) and Camila (Charlene Villareal) Rosario, who are doing their best to afford daughter Nina's Stanford education. Nina is played by Katherine De la Cruz whose clear soprano embraces a sweet vulnerability in her introductory song "Breathe," which she sings to help her gain the courage to tell her parents why she's home. And in this tight-knit community, she knows it won't be long before the whole neighborhood knows. When she finally tells her parents that she's lost her scholarship they're heartbroken. Only Bennie (a confident Jonah Price), the young employee that Rosario has mentored all his life, is happy to see that Nina has returned.
The stories of these immigrant, small business owners weave together to create a compelling narrative centered around Usnavi and Abuela Claudia who has helped raise all the neighborhood kids in one way or another. And at the center of her life is Usnavi who was played by a sweet and charismatic Daniel Rubio.
It was a joy to watch Rubio and the entire cast revel in the words and music of Lin-Manuel Miranda. The musical was conducted by an exuberant Carl Danielsen in the orchestra pit. I don't think I've ever seen a conductor enjoying himself quite as much as he did, and it added immeasurably to the energy of the show.
Jody Jaron created some spectacular choreography for this company of talented troupers. Special mention goes to Oscar Tsukayama as Graffiti Pete, whose dance skills were spectacular. Another shout-out goes to Martin Rojas Dietrich as the Piragua Guy. Much like Abuela Claudia, this seller of Latin-styled snow cones belted out numbers and brought the house down every time he was onstage.
Playwright Hudes weaves the character's individual stories together to paint a vivid portrait of a modern immigrant experience. Each in their way is trying to find their way out so they can find their way up. It's the timeless tale of immigrants arriving, settling, then perhaps moving to even new places, all for the chance - the opportunity - to make a better life for themselves and their families.
In The Heights was a first for Broadway in that it offered a diverse cast belting out the American dream in English and Spanish and rap, no less - and it worked brilliantly. If the 1950s encompassed the Golden Age of the American Musical, then the 2000s (foreshadowed by Rent in 1996) absolutely embodies a millennial attitude, diversity and both an inner-city and rock musical signature. Change will come. Neighborhoods change, but the American dream lives on - especially at the Bodega on a corner in Washington Heights.
IN THE HEIGHTS
Now thru September 9, 2018
www.woodminster.com
Dress in layers and call for accessibility (510-531-9597)
Photo courtesy of Kathy Kahn
Note: If you haven't been to the East Bay to see one of Woodminster's summer musicals, then you're missing out on something magical. This hidden gem nestled among the trees and the stars high in the Oakland hills was built in 1941 as a Works Progress Administration project and seats 1500 patrons in its outdoor amphitheater. Come early and enjoy a wine and cheese picnic at one of the many picnic tables surrounding the venue, then sit back and enjoy the amazing cast of In the Heights.
Related Articles View More San Francisco

Stories

Shows
Linda Hodges is a theatre reviewer and playwright who's been covering the vibrant San Francisco Bay Area theater scene since 2009. She got her start (read more...)