California Revels presents SCOTTISH CELEBRATION OF THE SOLSTICE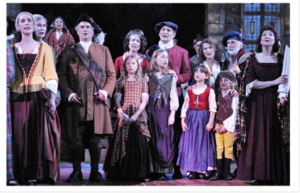 For its 32nd year, the Bay Area's beloved Christmas Revels salutes the season, this time taking audiences to Scotland for "A Scottish Celebration of the Solstice."
With the skirling of pipes and the swirling of kilts, the 2017 Christmas Revels celebrates the turning of the year in Scottish style. Join The Revelers this December in the land of Robbie Burns to pass the shortest day in song, dance, and spirited folk tales. Be there for haggis and Hogmanay, first-footing, wool-waulking, mouth music, and the Scottish custom of Guising - going house to house disguised in fancy dress.
Expect plaids a-plenty, as Scots of all ages gather the clans to observe the return of the sun in the Bay Area's most treasured holiday tradition. This tuneful excitement comes studded with Revels touchstones including The Abbots Bromley Antler Dance, Sussex Mummers' Carol, and The Lord of the Dance. Be prepared to sing and dance along, if you so desire.
Featured performers in A Scottish Celebration of the Solstice are Revels stalwarts singer Susan Rode-Morris, singer and fiddler Anne Goess, dancer Jeri Reed, and Shira Kammen, an expert performer on a variety of medieval musical instruments. Expect surprise guests, too!
About The California Revels
Since 1986, California Revels has brought their unique theatrical, participatory arts form to audiences in the Bay Area. Founded by singer, author and music educator John Langstaff in Cambridge, Massachusetts in 1971, The Christmas Revels crosses religious and ethnic boundaries and appeals to young and old alike. The Christmas Revels blends traditional music, dance, ritual and folk plays from many different cultures, presented by a large volunteer chorus of children and adults drawn from the community, accompanied by highly talented professional actors, musicians, artists, directors, and "bearers of tradition."
Performances run December 8 - 10 and 15 - 17 at the Scottish Rite Theater 1547 Lakeside Drive, Oakland 94612. Show days and times are Fridays at 8:00 PM, Saturdays and Sundays at 1:00 PM and 5:00 PM. Tickets are priced from $65 to $10. All patrons under 25 and groups of 10+ receive a 10% discount. Special opening prices Friday Dec 08 and Saturday Dec 09 range from $45 to $7. The Main Floor is fully accessible for walkers and wheelchairs.
Order tickets at www.californiarevels.org or by calling the box office at 510-452-9334.
The Revels Box Office is located at 337 17th St, Suite 209, Oakland, Ca 94612.
Parking for all 10 performances will be available at ALCO Park Garage, 1220 Jackson Street, Oakland (three blocks from the Scottish Rite Center) at a flat rate of $5.