BWW Review: ROAN @ THE GATES at Berkeley's Central Works Explores Privacy and Personal Responsibility in Our Uneasy World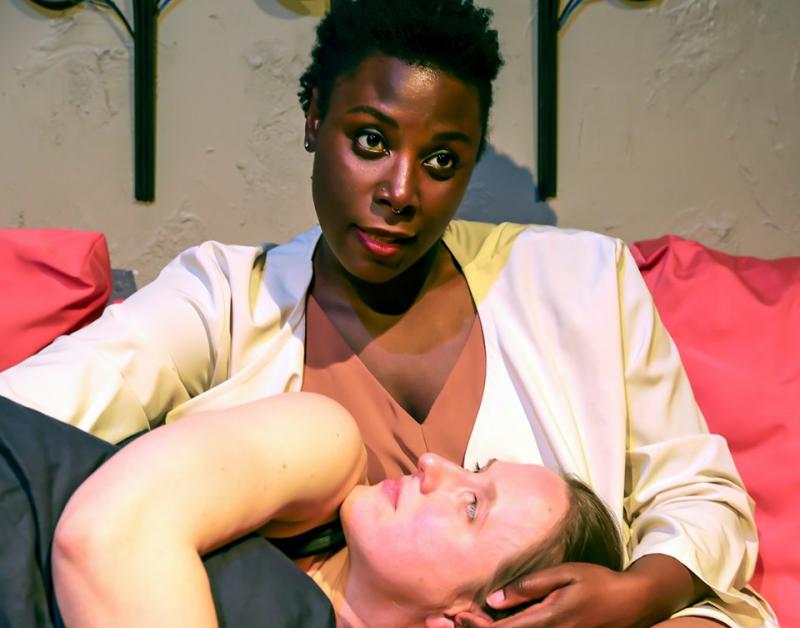 Christina Gorman's "Roan @ The Gates" currently in its world premiere production by Berkeley's Central Works could not be timelier. Lest that sound like a vapid platitude, in this instance it is well deserved. In a taut 70 minutes, it explores themes of online and IRL privacy, pernicious access to personal data, and responsibility to one's partner vs. one's employer vs. the greater good. With an Edward Snowden-like scenario as its jumping off point, the play tells the story of NSA Analyst Roan and her wife, Nat, a civil rights attorney. Roan has the kind of top-secret job that requires frequent travel to far-flung destinations without being allowed to tell Nat her whereabouts. That understandably foments a constant, low-level anxiety in their relationship, but Nat knows what she signed up for and as the play opens has been able to deal. It's when Roan becomes a whistleblower without first informing Nat, thereby seriously jeopardizing their individual and collective security, that things spiral out of control. Even if Roan took this action for all the "right" reasons, did she have the right to do so without even forewarning her wife of the likely drastic consequences to their lives?
This would be downright fascinating if only the writing were as interesting as the central thesis of the play. Gorman's lines too often tend toward the declamatory. For instance, there is a moment when Nat warns Roan about the Russian government's antipathy toward gay people. Surely, anyone in Roan's position would already be all too well aware of that. Thus, this registers as explication from the playwright in case anyone in the audience might not be cognizant of Russia's horrific treatment of the LGBTQ community. As the stakes grow higher, and the consequences significantly more dire, both women ruminate over their responsibility to each other vs. the world at large. The characters baldly spell out that theme rather than letting it emerge obliquely. This lack of nuance hampers our belief in the characters as real people, and thus keeps us at a distance from the nightmare they're going through. Yes, we can all identify with the unease of living in a data-crazed world, but we were already feeling that before the play started.
"Roan @ The Gates" is staged in a bracingly intimate 50-seat space with the audience surrounding the playing area on 3 sides, and just a bare minimum of set pieces. This helps build a visceral bond between audience and performer that feels especially apt for a play that examines how we maintain human connection in our virtual, data-saturated world. Director M. Graham Smith ensures the actors make full use of the space, including various nooks and dark crannies that underscore a sense of foreboding and mystery. I do wish he had guided the actors to be a bit more varied in their physical positioning as there were several instances where I couldn't see either actor's face for an entire scene.
The sound design by Gregory Scharpen provides a vital element for this kind of bare-bones production as it is often only sound that cues us to where a given scene is taking place. At times, the soundscape also provides a subliminal heartbeat that underlines the thriller aspects of the play. Gary Graves' lighting effectively employs varying shades of darkness to contribute to an overall sense of dislocation. Tammy Berlin's contemporary costumes appear to be virtually undesigned in the best possible way. They impart information about the characters, are attractive enough without calling undue attention, and most importantly in a space where we are often just a few feet away from the actors, they fit well and allow the actors to move with ease.
Both performances are solid, if not exactly more than that. To be fair, it would be a tall order for the actors to do more incisive work given the generic quality of the writing. Jeunée Simon as Nat evinces the confidence and poise necessary for us to believe she is an effective attorney. Lauren Hayes as Roan has the trickier role as her character is by nature opaque, and that is a difficult quality for an actor to play in a compelling manner. Both actors are successful at showing the arc from nascent unease to total freak out. In the end, both they and we are left questioning what the right thing to do is in these deeply disturbing times. If only we knew...
Photos by J. Norrena
Central Works' production of "Roan @ The Gates" runs through August 18th at the Berkeley City Club, 2315 Durant Ave., Berkeley, CA. The running time is 70 minutes. Tickets and further information are available at www.centralworks.org or by calling 510-558-1381.
Related Articles View More San Francisco

Stories

Shows