Review: NATIVE GARDENS Sows Mayhem Through Comedy Through 9/16 at TheatreWorks Silicon Valley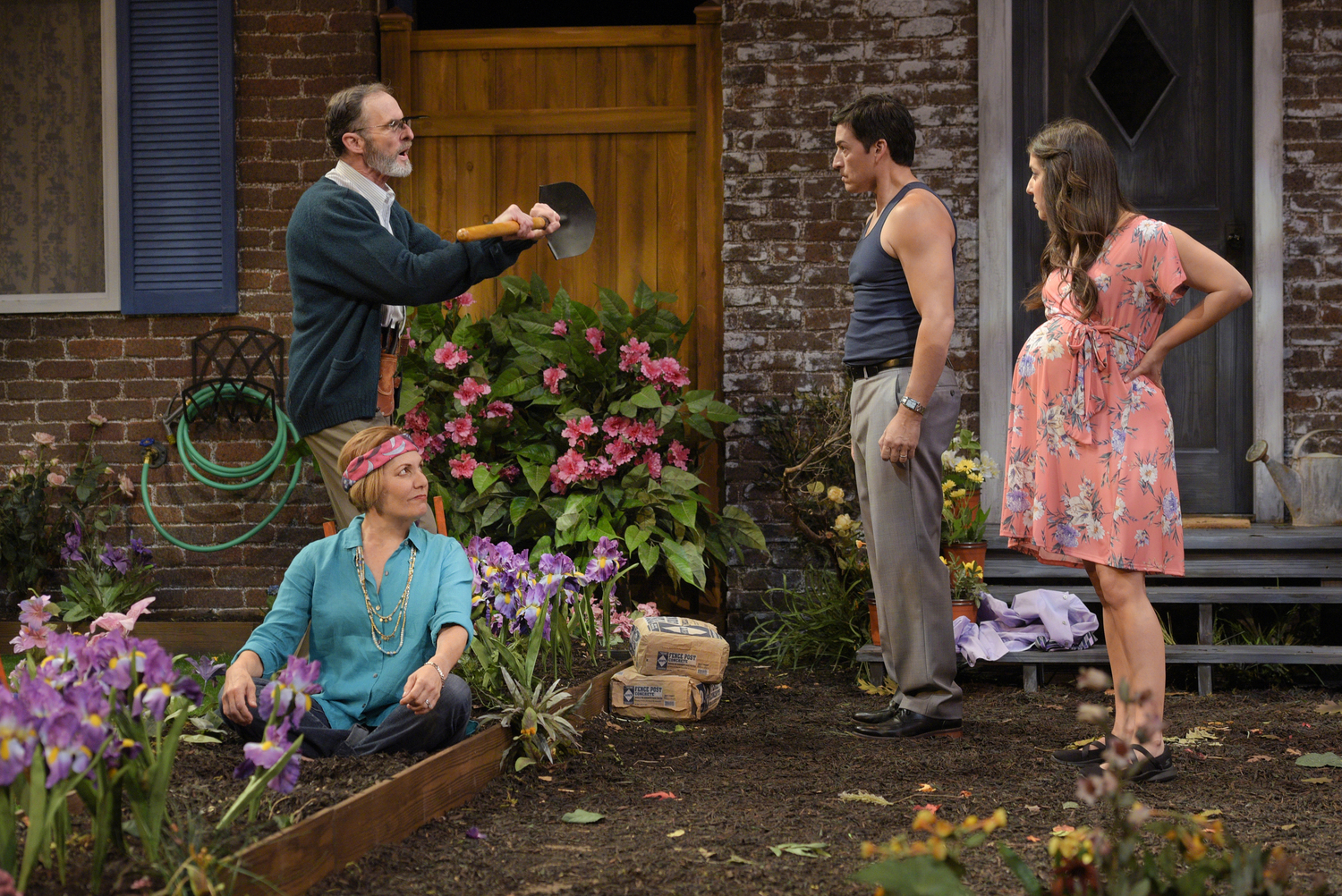 There's a lot to unpack in Karen Zacarías' play Native Gardens, which on the surface is a comedy of clashing neighbors feuding about flora, fauna (in the form of bugs) and backyard boundaries. But dig a little deeper - and you'll unearth racism, ageism, sexism and the shifting plate tectonics of cultural conflict erupting like magma from the core of our collective beings. Okay, that may have been pushing the metaphor a little too far, but metaphor, delivered with humor, is what shakes up the dust in two neighborhood backyards in an upscale area of Washington D.C.
Scenic Designer Andrea Bechert's set gives us two competing backyards: the first is an established, stately and manicured English garden with nary a petal out of place. The second is a weathered fixer-upper, more dirt than lawn, with an ancient tree shading the dilapidated home. The backyards are divided by a three-foot-high chain-link fence that both neighbors are keen to replace.
Zacarías gives us what at first glance seem like stock characters. Frank and Virginia are a wealthy, older and conservative white couple who have lived in their home for over 30 years. Pablo and Tania are a well-off, young and liberal Latinx couple who have just moved into the neighborhood.
Right away you can take a guess at how these characters will act but it's more complex than it seems. Virginia (the wonderful Amy Resnick) is from a Polish working-class Philly family. She's a feminist who fought hard to work her way up in the male-dominated field of engineering. Frank (the delightfully fussy Jackson Davis) is a government employee who earned and saved his way up. He's also the gardener of the two, anxiously, pruning, clipping and spraying his imported plants with insecticide to maintain his perfect rows and hedges.
Pablo (a buttoned-up Michael Evans Lopez) is a Chilean immigrant who recently joined a D.C. law firm and is eager to make his mark there. Unlike his wife, Tania (the "passionately rational" Marlene Martinez), he hails from a wealthy family. She's a pregnant, doctoral student of anthropology who was born in New Mexico. Although she's of Mexican descent, her Spanish is more Spanglish and is limited to curse words and the ubiquitous Spanish phrase, "Ay Dios Mio," (Oh my God!). She's eager to plant a native garden to revitalize the natural biodiversity of the yard - one that will invite the right insects, much to Frank's dismay.
Adding to the complexity is that each of them takes on aspects of protagonists and antagonists, villain and hero as Pablo and Tania discover that their property line is actually two feet into Frank's precious garden. It's a border dispute in the making to be sure.
Zacarías' clever use of humor, slapstick and even farce allows her characters to dispense with the niceties of orderly neighborly conduct in a way that exposes their biases without the audience retreating to their respective corners. As the garden gloves come off, Frank and Virginia sling barbs and insults over the fence, digging in their heels and claiming the two feet of land for themselves. Virginia stages a sit-in! Not to be outdone, Pablo angrily throws the law in their faces while Tania resorts to swearing in Spanish and calling Virginia names.
The fast-moving "crazy" is excitingly directed by Amy Gonzalez who kept the action on equal footing so that neither couple came up smelling like roses, hopefully ensuring that the audience couldn't take sides. Steven B. Mannshardt gave us lighting that mimicked the outdoors, but the black backdrop made it seem like it was always night in the front of the house. Sound Designer Jeff Mockus ably underscores the humor, especially when the Mexican landscapers (Laura Espino and Mauricio Suarez) come in to remove the old fence, along with some of Frank's prized hydrangeas. And though Espino and Suarez have no lines, they manage to garner quite a few laughs from the audience.
It's a wonderfully witty play, though the ending is a bit confusing. After a brief blackout, the lights come up and both couples break the fourth wall to talk directly to the audience. The wrap-up just a little too tidy after all the messy and ground-breaking culture-clashing comedy that took place. That said, I highly recommend this modern-day war of the roses. If Native Gardens is a prognosticator of things to come in this country, then the art of compromise and not the art of the deal is what will be needed to overcome all our border disputes and prejudices.
NATIVE GARDENS
Now Thru Sept. 16
Playwright: Karen Zacarías
Directed by Amy Gonzalez
Presented by TheatreWorks Silicon Valley
Mountain View Center for the Performing Arts, 500 Castro St., Mountain View
www.theatreworks.org
Photos courtesy of Kevin Berne