BWW Review: A.C.T. Takes a Nice WALK ON THE MOON at Geary Theater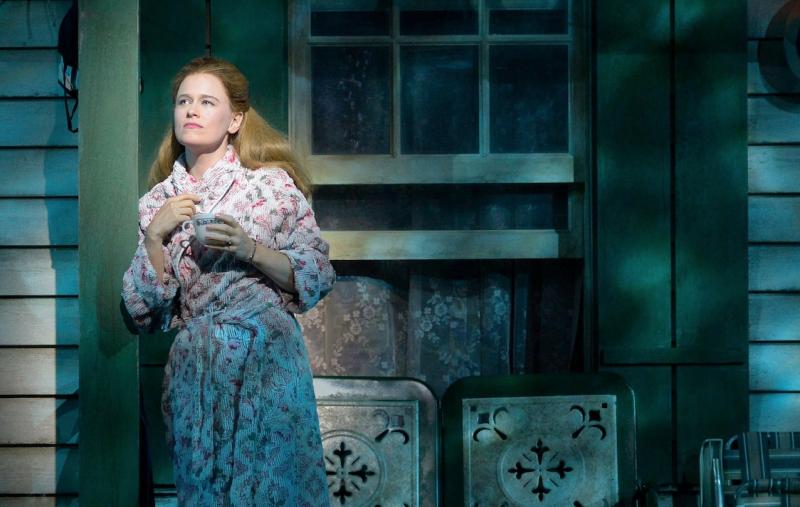 In a theatre zeitgeist of near obligatory standing ovations and grammar defying exclamation mark deployment is it acceptable to just be good? Good enough?
New works in a long-practiced discipline often face the challenge and the risk of being, well, new. The world premiere of A Walk on the Moon, currently wrapping up the 2017-2018 season at American Conservatory Theater, dodges that bullet. It does not advance the form by breaking new ground in structure or technology. Nor does it give voice to an underserved community, unless you think Jews having the time of their lives in the Catskills or disaffected housewives bridging their boredom by sleeping with enigmatic wanderers are voices deprived of a platform.
Still, "A Walk on the Moon" is good. Even quite good. The score by Paul Scott Goodman - with additional lyrics by Pamela Gray - lands easily on the ear with its array of ballads, set pieces, and comic diversions. Gray's book, based on her screenplay for the 1999 source film, is engaging and pleasant. It's all really very nice - another four-letter word in the lexicon of critical assessment.
Before this feels like damning with too much faint praise, let's note the production is blessed with a solid cast led by Katie Brayben, as Pearl Kantrowitz, an erstwhile journalist sidelined by a teenage pregnancy. Pearl feels a void in her life that marriage and motherhood cannot fill.
Her husband, Marty (Jonah Platt) is - dammit - a good, nice - and worse - decent and hard-working guy just trying to provide for his family. His simple pleasures include winning the "who had the shortest drive time?" contest he plays each weekend with his buddies at camp and the occasional round of "Chuck" that he and Pearl manage (as in "Chuck-Chuck-Bo-Buck...") despite his predilection for wearing brown dress socks to bed.
This is the late '60s, so teen daughter Alison, the curve ball in Pearl's life, is unsurprisingly rebellious and righteously protesty, and thus annoying, though perhaps too much so in Brigid O'Brien's often strident delivery. She mellows out - remember, it's the '60s - with the discovery of Ross (Nick Sacks), a guitar strumming junior league McDreamy, who also flutters the heart of her very Orthodox friend Myra (Nina Kissinger).
Rounding out the family unit are impossibly cute kid brother Danny (Elijah Cooper, alternating with Nate Wayne), perpetually wanting to sing a round of "Chuck" more than any other name, and "Bubbe" Lillian (Kerry O'Malley) - that's "Grandma" to the goyim among you - who tells fortunes and sees even more.
Enter Walker (Zak Resnick), the studly "blouse man" vendor, stopping for the summer before heading out to California, who becomes the bit of sand to spark this Pearl's growth.
When nothing is surprising or unexpected in terms of plot during a night of theatre, context and delivery become more critical. "A Walk on the Moon" brackets itself with two major cultural moments from 1969, the titular lunar event and Woodstock a month later. The former is largely incidental though it does provide an engaging confessional motif between Pearl and Neil Armstrong throughout the evening. The latter provides some intersectional forward movement for several of the characters.
Musically, this "Moon" glows brightest in the comic moments of "World without Men" sung by Pearl and her friends over a game of mahjong to clever choreography by Josh Prince, in Lillian's lovingly clear-sighted portrait of Marty in "The Microscope," and in the dramatic cross-currents between Marty, Pearl, and Alison in "We Made You."
It's a handsome physical production with superbly imagined and executed scenic design by Donyale Werle and crisp period fashions by Linda Cho, both recent Tony winners. Sheryl Kaller directs with a steady hand, and the company, including three other camp couples, are solid throughout. So, it's all good looking and good pacing, too.
Since major musicals developed in the West eventually look to the East, the future of "A Walk on the Moon" is as unclear as the future of the Kantrowitz family. Both have a solid foundation. How they adapt will decide what is to come.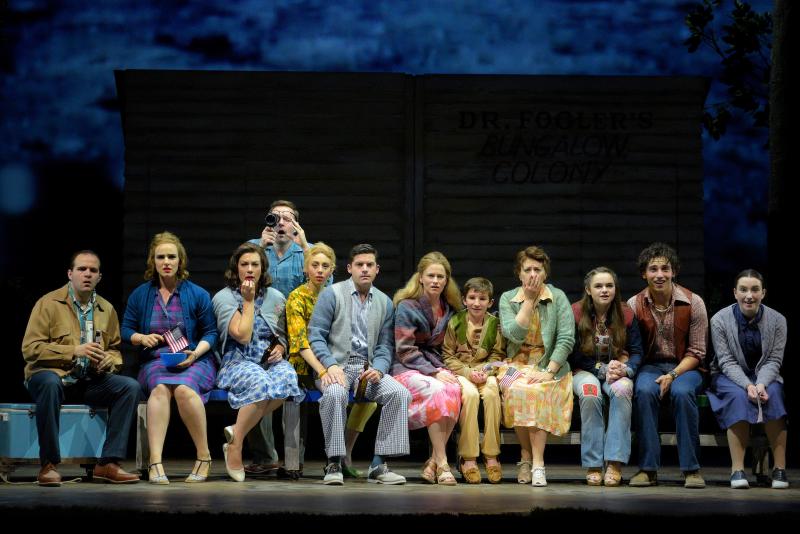 A Walk on the Moon runs through July 1 at American Conservatory Theater.
Images: Kevin Berne (top), Alessandra Mello (bottom)
Related Articles View More San Francisco

Stories

Shows
Robert Sokol is the editor-publisher of BAYSTAGES, the creative director at VIA MEDIA, serves on the executive committee of the American Theatre Critics Association (ATCA), (read more...)