BWW Interview: Andy Meyers of A GENTLEMAN'S GUIDE TO LOVE AND MURDER at The Public Theater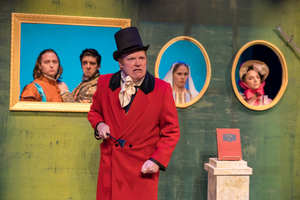 As the Public Theater prepares to wrap up its run of A GENTLEMAN'S GUIDE TO LOVE AND MURDER, it was fun to chat with Andy Meyers who plays the part of...well...of...many characters central to the story. Read below to see just how Meyers keeps up with the high jinx adventures that make A GENTLEMAN'S GUIDE TO LOVE AND MURDER a highly entertaining show that should not be missed. Check out BWW's Ashley Corbaley's review of the show too.
Why don't you start out by telling us a little bit about yourself and how you first got interested in performing?
I was raised in Missoula, Montana which is the home of Missoula Children's Theatre so there's a lot of really great theater. I actually did my first show when I was five. I was in a production of the "Wizard of Oz" and as cliché as it sounds, it was at that moment I knew that's what I was going to do. I just continued on and then I went to school for theater. I went to school in New York at Wagner College on Staten Island. I also have my master's in theater. I did it and I always knew that's what I wanted to do. I've been really fortunate to never have the day job. I worked in my field and I split my time between directing and performing. I tour a lot. I love touring. I also run Fort Peck Summer Theatre so I'm artistic director of a summer theater in Montana. I'm based out of New York still but get home to Montana. The great thing about having that commitment is it frees me up to do anything and everything. When things like this role, to be honest, it's nothing I would ever see myself doing, but George Green had contacted me about auditioning for it. I was just like, "Why not?" That's why we get to do this. As long as someone sees it in you why be scared of it. I would never have done this role. Maybe I would just like to play the priest.
You mentioned that George Green contacted you about it but, tell us more about getting the role in here in San Antonio.
It's cool, actually. So, when I was working up in Montana, one of my best friends was doing "Chicago" in Spokane, Washington. She had recommended me to George Green because he was there as artistic director of the Modern Theater in Spokane. He hired me for "Chicago" up there but then that happened in the transition. I had never actually met him because he had moved down to Texas. Then, he brought me down here two years ago to direct "Little Women." That was the first time I'd actually worked with George. Then about a year and a half ago, he sent me a text and asked if I wanted to come audition. We went through a big round of auditions and callbacks. Once I found out I got the part, it all just sort of happened very quickly. Like I said, I just try to say yes to everything. I think there's so many people in our industry who can tend to be a little picky about work and while I don't want to put myself in any unsafe environment or that is low quality of course. If someone thinks I have that in me why not go for it. That's why I've been very successful in New York because I never stop at anything. If someone wants me to take a train every morning and do a kid's show out in Jersey then why not? I'm not doing anything else and that's made me never have a day job which is very nice and the directing too. It is nice too because then I can get some solid gigs penciled in and then fill in the rest of the fun stuff.
You are playing a lot of roles in A GENTLEMAN'S GUIDE TO LOVE AND MURDER, so tell us about that.
I play the whole family so within the plot, I play an entire line of a family and they're all different genders to all different ages, all different temperaments. Physicality, I use different accents that's why I was a little scared. Some of the characters come in and out quickly and sometimes all have a quick change. I'll just have three lines as one character then I come back to someone else. It's so important with the role to make a broad choice to start with so the audience always knows, "Oh, he's in the red coat this is the one he's playing. He's doing the funny thing with his leg." I have to approach it that way I felt and my work with Tim Hedgepath, our director is awesome. I can't imagine anyone else helping me through this. We want to make a really broad choice but then I also don't want it to feel like a Saturday Night Live sketch. We want to go back in and fill in the hearts and really reexamine the text. It was fun to work on.
What do you think that some of the most challenging parts about getting ready to play all the roles?
I think the biggest thing was what is it actually took up quite a strain on my body. I didn't know it would because I would try to try to carry my weight different for all nine roles. There are muscles that I never use. One of them I was hunching over quite a bit. One of them I'm using my body in very different ways and vocally pushing myself to make a lot of different vocal choices to help differentiate the characters. I feel like it's all healthy but in the rehearsal process, I would get home and take a hot shower and finding the stamina because it doesn't stop. I have an amazing dresser her name is Rachel Graham and she is amazing. She's waiting there with a whole wardrobe that I have to strip out and throw back on. So, it's just as choreographed offstage for me because with all the quick changes, we don't have time to think about it and run back onstage. There's no time to casually get dressed. I'm going through eight water bottles a night. that I'm pouring sweat. Sometimes I'll have three full costumes. Sometimes I'll wear just one. Sometimes we'll have to get a little ahead, so I'll have to wear a few things under it.
What have you like most about doing this role right now being here in San Antonio?
I have to say I love San Antonio. By heart, I'm a traveler and explorer. That's why I love to tour so much. If I'm somewhere, I will make sure I go to every museum, walk the Riverwalk every day, and see every site; rent a bike and see every mission. It's amazing. I love San Antonio. I love the theater too. The staff at the Public Theater is so kind and dedicated to what they do. Every single person is there working towards the same goal and that's such a gift. This is truly a place where every single person on staff seems excited to be there and working towards the same goal. I love this material. It's the first time performing the show. I've seen it a few times, but I never thought that it was going to be something that I did. It's cool to learn new tricks. It's cool to get thrown a curve ball and then have to come into rehearsals having no idea what the finished product is going to be.
What is the last thing you do before you walk out on stage every evening for the very first role you're playing in this show?
I run one verse. I try to just pick one verse of any song and just run it in my head once just as a warm-up and then I down one more bottle of water. But I have to run something. I don't like to just walk down and that be the first time I'm thinking about it. If there's something that maybe I had a mistake on the night before, I try to just run it really quick even if it's not the character I'm entering as just to like get myself in that mode.
Catch Andy Meyers in A GENTLEMAN'S GUIDE TO LOVE AND MURDER playing at the Public Theatre in San Antonio, Texas through February 23, 2020. Check out the Public Theatre's Website to secure tickets.
PHOTO CREDIT: Siggi Ragnar

Related Articles View More San Antonio

Stories

Shows
Kathy Strain grew up outside of Philadelphia and enjoyed listening to many genres of music including Broadway musicals. She also enjoys attending Broadway shows wherever (read more...)