DON PASQUALE Will Be Performed at Bolshoi This Week
Don Pasquale has a libretto by Giovanni Ruffini based on Angelo Anelli's libretto "Ser Marcantonio."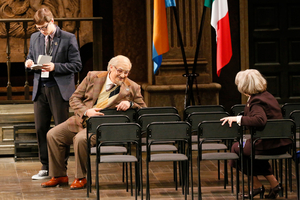 Bolshoi will present Don Pasquale May 28-30, 2021. The production premiered on April 19, 2016. It is presented with two intervals. Running time is 3 hours 10 minutes.
This Donizetti opera had its 1st performance at the Théâtre-Italien, Paris, on 3 January 1843 and was an immediate success. The composer was repeatedly called to take his bows, and many of the numbers were encored. In the same year Don Pasquale was presented in Milan, Turin, Vienna, London, Brussels and Lille. And to this day it continues to be one of Donizetti's most popular repertory works.
But, for all this, the Bolshoi Theatre has done no more than two productions of Don Pasquale - in 1850 and 1872. And now, almost 150 years later, the opera is again to grace our stage. Michal Klauza, artistic director of the Polish Radio Symphony Orchestra, who studied, among other people under the eminent Russian conductor and teacher Ilya Musin, and Timofei Kulyabin, the Director in Chief of the famous Novosibirsk Red Torch Theatre, who worked on the production, suggest we regard the opera's characters not as masks but as real live people. Timofei Kulyabin: "My aim was to ensure that the plot no longer took the form of an abstract theatrical joke, that all the characters acquired the flesh and blood of present-day people, I tried to find accurate prototypes for them in the modern world. I had to equip each personage with profession and biography, and work out his/her social status. ... One of the main problems with the original libretto is that Don Pasquale, who is very well off and advanced in years, is totally naïve in all matters concerning the opposite sex. He is almost like a child. It is very hard to conceive of someone like this in the world today. I had to locate an authentic image for it is the make-up of this strange naivety that acts as the spring to plot developments."
Don Pasquale has a libretto by Pasquale Ruffini based on Angelo Anelli's libretto "Ser Marcantonio."
Music Director: Michał Klauza
Stage Director: Timofey Kulyabin
Set Designer:Oleg Golovko
Costume Designer: Galya Solodovnikova
Lighting Designer: Denis Solntsev
Chief Chorus Master: Valery Borisov
Dramaturge: Ilya Kukharenko
Learn more at https://www.bolshoi.ru/en/performances/914/.