Audra McDonald, Bryce Pinkham, and More Head to Caramoor This Summer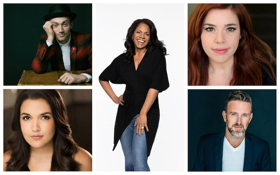 A carefully curated selection of Broadway's best comes to Caramoor this summer, as Westchester's idyllic cultural mecca celebrates its 73rd season (June 16-July 29). The festival opens with superstar vocalist Audra McDonald, performing favorite songs from past and present with the resident Orchestra of St. Luke's conducted by Hello Dolly! Music Director Andy Einhorn (June 16). In honor of the centennial of Leonard Bernstein's birth this coming August, Broadway music director Ted Sperling leads an all-Bernstein program called "Bernstein's Broadway" with Broadway stars Alysha Umphress, Mikaela Bennett, Bryce Pinkham, and Ben Davis (July 14). Earlier that same day is a "Bridge to Broadway" family concert with soprano Natalie Bergeron and baritone Steven Herring, and more Bernstein is on tap in the Fourth of July concert as Curt Ebersole leads the Westchester Symphonic Winds, with soprano Meredith Lustig and tenor Miles Mykkanen.
A versatile vocalist and actor whose every role leaves critics grasping for new superlatives,
Audra McDonald
is the winner of an unprecedented six Tony Awards, two Grammys, and an Emmy. As the New York Times says: "One of Ms. McDonald's greatest gifts is to find the story inside the song and deliver it with immediacy and clarity, in a voice that finds a flexible, intuitive balance between storytelling and singing-a defining voice of our time." She joins the Orchestra of St. Luke's-"one of the most versatile and galvanic ensembles in the U.S." (WQXR)-to open the Caramoor season with an eclectic mix of standards and songs by contemporary songwriters. Conducting the concert is
Andy Einhorn
, who is currently the Music Supervisor and Music Director for the Broadway production of Hello Dolly!, and who has been McDonald's music director since 2011. For the fifth consecutive year, Caramoor partners with WQXR, New York City's only all-classical music station, to broadcast its opening-night gala, live on Classical 105.9 WQXR, Classical 90.3 FM Ossining, and streamed at
www.wqxr.org
. On July 14, some of Broadway's most talked-about names join forces at Caramoor for a tribute to
Leonard Bernstein
's compositions for Broadway. Tony Award-winning Broadway music director and MasterVoices conductor
Ted Sperling
leads an all-Bernstein program to celebrate the composer's centennial, featuring Broadway stars
Mikaela Bennett
, praised in The Golden Apple for singing that "feels like getting out from under the clouds on a night flight over water" (New York Times);
Alysha Umphress
, who was characterized in the recent Broadway revival of On the Town as "a red-hot mama who sings double entendres with a prurience-proof, bebop gusto" (New York Times);
Bryce Pinkham
, who portrayed the serial killer at the heart of A Gentleman's Guide to Love and Murder with "brash innocence lightly sprinkled with arsenic" and whose "firm tenor [was] matched by pleasingly (and necessarily) precise diction" (New York Times); andBen Davis, a Broadway veteran recently seen in Violet who has "a voice as rich and deep as sapphires" (St. Louis Post-Dispatch). The concert features songs from Bernstein musicals West Side Story, Candide, Wonderful Town, 1600 Pennsylvania Avenue, The Skin of Our Teeth (unproduced) and On the Town. Celebrating Independence Day in style, audience favorites Curt Ebersole and his 60-piece Westchester Symphonic Winds offer a family-friendly event steeped in American heritage, with guest vocalists-and Schwab Vocal Rising Stars alums-soprano
Meredith Lustig
and tenor Miles Mykkanen. A medley from Bernstein's West Side Story, commissioned from arranger Matt Podd, who has arranged medleys for this event for four seasons, will be on the program to celebrate the composer's centennial. The evening's festivities conclude with fireworks to celebrate the patriotic holiday (July 4). Finally, the daytime "Bridge to Broadway" family concert on July 14 in the Spanish Courtyard provides an opportunity for all ages to enjoy a program that follows the evolution of musical story-telling with colorful characters and interactive musical games. Hosted by violinist and teaching artist Katie Kresek, with soprano Natalie Bergeron and baritone Steven Herring accompanied by Beata Moon on the piano, the program will explore the music of Schubert, Verdi,
Cole Porter
,
Irving Berlin
,
Leonard Bernstein
, and more.
About Caramoor
Caramoor is a performing arts center located on a unique 90-acre estate with Italianate architecture and gardens in Westchester County, NY. It enriches the lives of its audiences through innovative and diverse musical performances of the highest quality. Its mission also includes mentoring young professional musicians and providing educational programs for young children centered around music. Audiences are invited to come early to explore the beautiful grounds; tour the historic Rosen House, a stunning mansion listed on the National Register of Historic Places; unwind with a pre-concert picnic or concessions with beer and wine; enjoy a delicious Afternoon Tea on Wednesdays and Sundays; and discover beautiful music in the relaxed settings of the Venetian Theater, Spanish Courtyard, Music Room of the Rosen House, and magnificent gardens. Summer concerts take place in two outdoor theaters: the acoustically superb Venetian Theater, which seats approximately 1,500, and the more intimate, romantic Spanish Courtyard, which seats around 470. In the fall and winter, concerts are presented in the splendid Music Room in the Rosen House. Caramoor's gardens, also used for concerts and the sound exhibition Sonic Innovations, are well worth the visit and include nine unique perennial gardens. Among them are a Sense Circle for the visually impaired, the Sunken Garden, a Butterfly Garden, the Tapestry Hedge, and the Iris and Peony Garden.
More Hot Stories For You