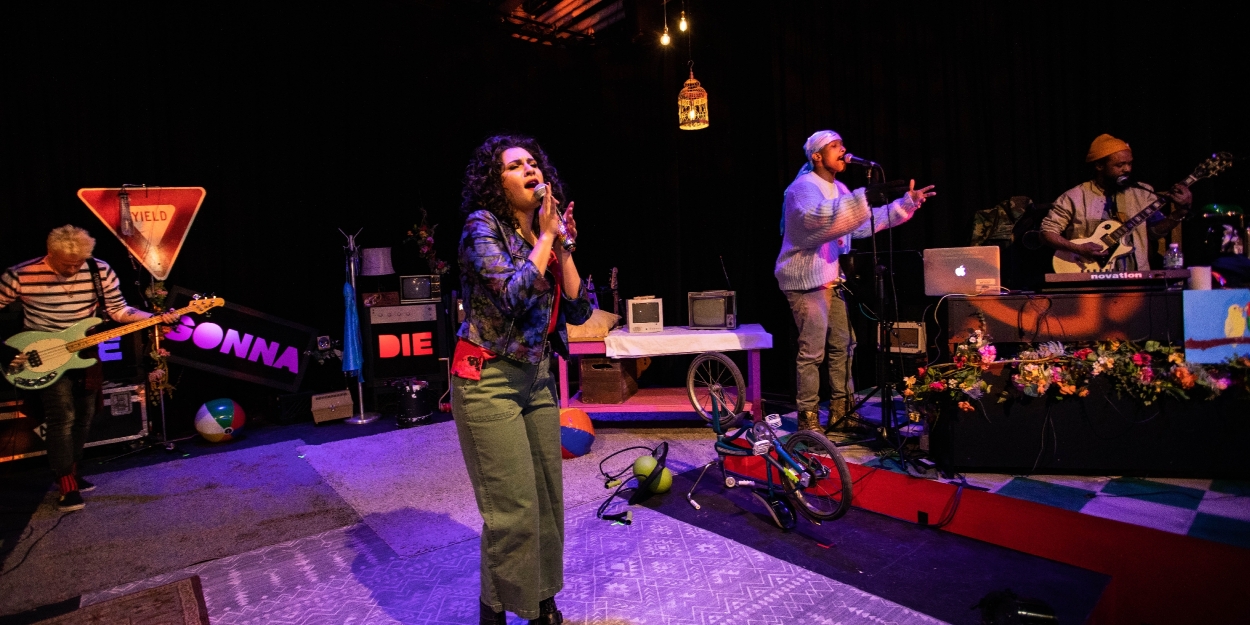 Review: WE'RE GONNA DIE at Wilbury Theatre Group
Wilbury Theatre production of "We're Gonna Die" offers intruiging memento mori
Part monologue, part musical, Young Jean Lee's "We're Gonna Die" is an unabashedly experimental work, and the production at the Wilbury Theatre is not afraid to take it on its own terms. Those who want to see just how avant the garde can get will find this an enjoyable evening.
The Obie-winning show was originally written by Young Jean Lee as a performance piece, done with their band. The loosely thematic script wanders through monologues about shame, alienation, failed romance, and tragedy, all circling the central, repeated theme of our shared mortality.
Wilbury's production features Helena Tafuri as the singer and monologuist, and she does a fine job at telling the stories with personal conviction and selling the songs which weave in and around them. Tafuri's presence and commitment to the role ground the show. Tafuri is engagingly frank and comes as close to making us care as the script allows as it hops among vignettes during its 60-minute run time.
Behind the monologues and songs are the stage band, featuring Chazzgiovanni, who provides slick backing vocals and synth stylings, Teddy Lytle solidly anchoring the bottom end trading off on bass and drums, and Jose Docen whose understated, spot-on guitar work has to carry the bulk of the melodic line--a challenge he meets admirably. Their garage-band ethos is a good fit with the style of the music and the show, though this reviewer wondered if the effect might have been better with both a bassist and drummer throughout.
Marcel A. Mascaro has directed the work with sensitivity and nice creative touches, with Tafuri using the entire stage and sidling right into the audience at points. The band occasionally slips into the action as a presence in the the singer's stories, which works exceedingly well. And the overall tone Mascaro achieves fits perfectly; we might be in a typical band rehearsal garret (suggested by Al Forgione's delightfully decked out set) eavesdropping on storytelling during a rehearsal.
Alexander P. Sprague deserves a special callout for the lighting design, a mix of effective "traditional" theatrical scene setting and loopy moments when the mirror ball gets a workout and the robotic moving-head spots perched at the front of the stage go gleefully wild.
And, without giving anything away, pay attention to the beach ball.
This is a charming, earnest production. If this sounds like the kind of theatrical experience you enjoy, you'll have a fun evening listening to some songs and thinking about death.
We're Gonna Die, directed by Marcel A. Mascaro, Wilbury Theatre Group. Jan 19-Feb 12. All tickets are "pay what you can" with recommended standard admission $35 and access for all $5. Available at the box office, 475 Valley St. Providence, ​(401) 400-7100, online at https://cloud.broadwayworld.com/rec/ticketclick.cfm?fromlink=2221402®id=79&articlelink=https%3A%2F%2Fwww.thewilburygroup.org%2Fwere-gonna-die?utm_source=BWW2022&utm_medium=referral&utm_campaign=article&utm_content=bottombuybutton1.html. Covid protocol: Masks required.
Photo credit: Erin X. Smithers