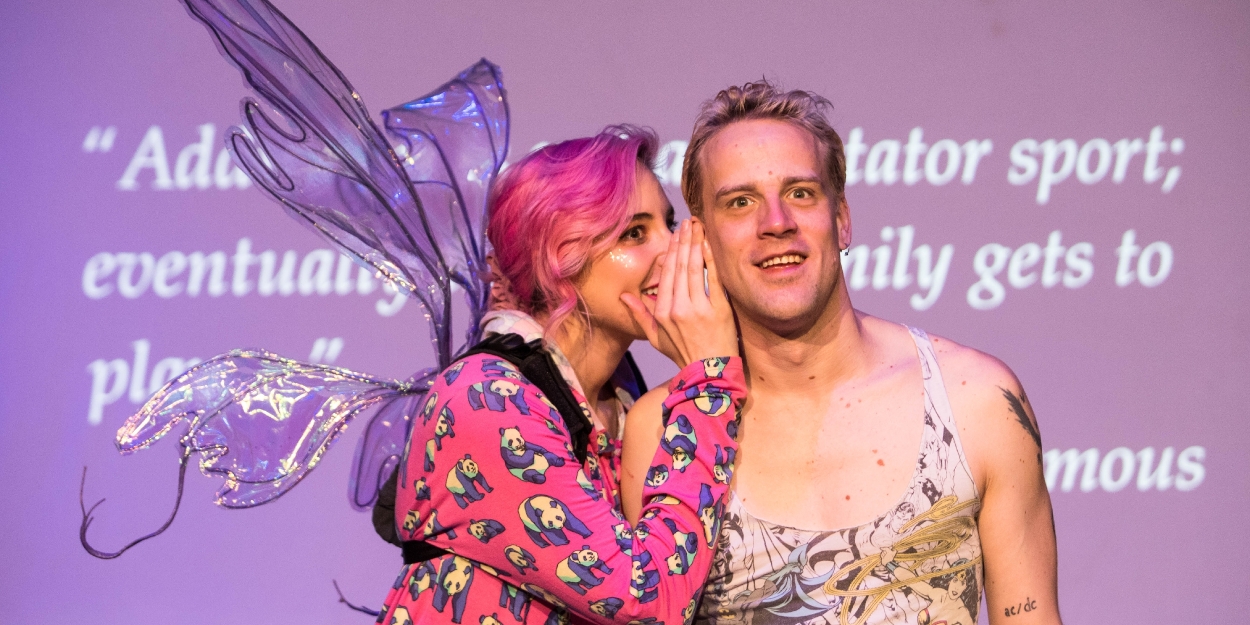 Review: /A.DICK.TED/ at Wilbury Theatre Group
Wilbury mounts trenchant, stylish (mostly) one-man show with music about addiction and recovery
Magical thinking, superhero fantasies, blackouts, remorse, run ins with the law -- yes, you'll want to strap in for this nature hike through addiction and recovery. The mostly one-man show (explanation to follow) is a (gently) in-your-face encounter with the living demons of the author, Teddy Lytle's unhinged id, and the Wilbury has mounted a crisp, stylish production that retains the raw edges while setting this firmly in theatrical tradition.
Playwright Teddy Lytle excavates his own journey through alcoholism and recovery (and recovery, and recovery...) in this one-hour performance piece, directed with sensitivity and style by Harman dot aut. What saves it from being yet another theatrical exercise at "humanizing addiction" is the brutally honest, self-revelatory script and Lytle's earnest, winning performance. It is intensely physical and dialed up to 11 throughout.
The words spill out of Lytle: sometimes a desperately incisive staccato monologue "Addiction doesn't sound like Hitler, it sounds like Sunday morning pancakes," sometimes a jangly guitar tune "It's all just performative/you're killing kids with this narrative," sometimes responding to multimedia and recorded video on a big screen upstage, as when neuroscientist Andrew Huberman stops by in a podcast talking about OCD.
Earlier iterations were mounted at The Wilbury and the PVD Fringe Festival, and it shows; this is a tight, well-burnished monologue, and dot aut's direction is deft. The set is simple: a desk, a couple of mic stands, and a heavily bestickered guitar; the upstage wall taken up by a rear-projection screen that features photos, blown-up quotes, and occasional video. Thrust up to the first row of the audience is a platform on which a garbage can of water sits, waiting for Lytle to--repeatedly, obsessively--submerge his head.
"If he dies," we are laconically informed the first time, "the show is over."
Playing Lytle's interlocutor (and sometime therapist) is Bay McCulloch, who observes and comments from the desk as Lytle bounces around the stage; kudos both to her performance and dot aut's direction here for providing this calm, anchoring presence. Her costume, which perfectly complement's Lytle's red-and-black flannel one-piece, is a pink pajama decorated with pandas, accented with glittery silver boots and a set of diaphanous fairy wings.
Between the near-drownings in the garbage can, Lytle sings a half-dozen songs, some self-accompanied, some with recorded backing tracks. They are deliberately low-rez, punk/folk tunes aiming for truth rather than any musical theater feel. Interspersed among the lyrics are diamond bullets of insight: "We are atoms missing atoms," "my thoughts slip out past curfew," and "what happened to never again?"
In the monologues, Lytle recounts waking up the morning of an important MFA presentation to find an empty bottle next to his bed, not remembering how it got there. "Magic," he concludes. He recalls his grandfather, ground down by Alzheimers to "the core, down to his ability to swallow," an image he then uses to powerful effect to describe his own passage through recovery. At one point, he quotes a scarily relevant passage from AA's Big Book: "Each per­son is like an actor who wants to run the whole show; is forever trying to arrange the lights, the ballet, the scenery and the rest of the players in his own way. If his arrangements would only stay put, if only people would do as he wished, the show would be great."
As if to demonstrate his progress, Lytle inserts an improvised sequence where he takes questions from the audience. Before curtain, attendees are encouraged to write "questions or secrets you promised to take to your grave" on notecards, which end up in a fishbowl on McCulloch's desk. As she hands them over, Lytle both responds and ruminates in real time. It's at once highly theatrical and utterly without pretense. Some of the secrets at the performance this reviewer saw were devastating, handled by Lytle with empathy and insight.
Purely for theatre geeks: the full title of this show, "/A.DICK.TED/ OR, learning to breathe underwater; a ritual of lemons. ​also known as, I love you, I hate you, shut up & tell me everything! [a mostly-true entirely-honest tale of recovery]" is, at 31 words, longer than the uncompressed "Marat/Sade."
Lytle has clearly learned important lessons from his journey, and he is willing to stand up and put them on stage. This is a bracing, absorbing theatrical experience that doesn't shy away from its message, but delivers it with brutal honesty and style. If this sounds like your kind of theater, this show will not disappoint.
/A.DICK.TED/ directed by Harmon dot aut. Wilbury Theatre Group, March 3-4, 7:30 pm. Tickets $35 Standard/$15 Budget friendly/$5 Access for all. All tickets pay what you can, available online at https://thewilburygroup.org/a-dick-ted.html. Box office: 475 Valley Street, Providence, RI 02908. Mask required during performance.
Photo Credit: Erin X. Smithers