BWW Review: SHAKESPEARE IN LOVE Delights at Burbage Theatre Company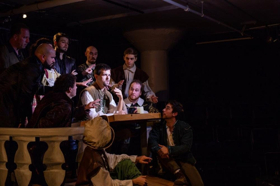 It may seem a bit odd to base a play on a movie, but when one considers that SHAKESPEARE IN LOVE was co-written by Tom Stoppard and won him an Academy Award, it becomes a no-brainer. Under the capable direction of Jeff Church this witty and heart-warming story comes alive in a new way that will make you laugh out loud and also feel awfully smart. The script is chock full of references to other Shakespeare plays/themes and well-known writers of the day, then layered with a tale of two star-crossed lovers portraying star crossed lovers. Set in the round, this production hits all the right notes and is cerebral, fun and perfectly cast.
SHAKESPEARE IN LOVE gives us a glimpse behind the curtain into William Shakespeare's life when he was just a struggling actor trying to bang out scripts to earn a bit of money. He suffers from writer's block and a lack of confidence when confronted with the talents of his friend Christopher Marlowe, played by a delightfully smug, yet helpful Jeff Church. As he's writing his new play--Romeo and Ethel, the Pirate's Daughter, he falls in love with Viola, a noblewoman who is promised to another man.
The story itself is touching, heartbreaking and hysterical, but that's nothing without a good cast, and this production has that. Dillon Medina as Shakespeare is just flawless. You can feel his frustration and stress, but he plays them perfectly deadpan for laughs. He also has outstanding chemistry with Alison Russo, who plays Viola. The drama of the production hinges on the relationship between their two characters, and Medina and Russo light up when they're together in a way that is lovely to watch. There's a lot of energy in this show and a very large cast, but when the two of them are alone on stage together the rest of the play seems to fall away perfectly.
Russo also captures the frustration of a smart, willful woman living in a world that won't let her choose her own destiny, and watching her giddiness at sneaking around and getting to be on the stage is a delight.
The rest of the cast fit together like instruments in an orchestra and all seem to enhance each others' performances. Aaron Blanck is hysterical as Mr. Tilney and Andrew Stigler steals scenes as Fennyman--the financial backer who takes his minor role in the play very seriously. Rae Mancini is every inch the queen as Elizabeth I, and her costume is jaw-dropping. Patrick Keefe oozes charisma as Ned Alleyn, and almost seems like he's going to dominate the scenes he's in, but very cannily pulls back as needed.
Costumes in this production, coordinated by Morgan Clark, also deserve a special mention. Queen Elizabeth's gown is stunning, as previously mentioned, but the rest of the costumes are equally well-curated. They're not all period necessarily, but there are just enough period details and slashed sleeves that they work incredibly well and set the tone without becoming overly fussy or forcing the actors into costumes that are difficult to move around the set.
It's an absolute treat to revisit this much-loved story from 20 (!) years ago. Burbage's production hits all the right notes and is delightfully smart without being exhausting.
SHAKESPEARE IN LOVE runs from August 24 to September 16 (Fridays-Sunday) at TEN31 Productions 249 Roosevelt Avenue, Pawtucket RI 02860.
Tickets are $25 (General admission), $15 (Students); preview performances are $15.
Buy online at www.burbagetheatre.org. For more information, info@burbagetheatre.org or leave a message at (401)484-0355
Photo: Dillon Medina as William Shakespeare and the cast of Shakespeare in Love. Photo by Maggie Hall.