BWW Review: North Carolina Theatre's MAMMA MIA!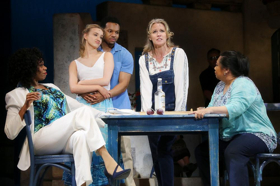 Based on the songs of ABBA, Mamma Mia! is set on a Greek Island where a young woman named Sophie Sheridan is about to get married, and she wants her birth father to give her away. Yet, she has no idea who it is, so she invites three men who were romantically involved with her mother 20 years ago to the wedding. When they arrive to the island, Sophie's mother, Donna Sheridan, is brought back memories of love and heartbreak.
This musical was the brainchild of producer Judy Craymer as the song 'The Winner Takes It All' suggested to her the theatrical potential of the ABBA catalogue. She met songwriters Björn Ulvaeus and Benny Andersson in 1983 when they were working with lyricist Tim Rice on Chess. While they were not enthusiastic, they also weren't completely opposed to the idea. Mamma Mia! opened in London's West End on April 6th, 1999, where it became a huge hit that led to multiple productions all over the world. The musical then opened on Broadway just a month after 9/11 on October 18th, 2001, where it ran for 5,773 performances after closing on September 12th, 2015. Mamma Mia! also managed to spawn a commercially successful film adaptation released in 2008 as well as a sequel titled Here We Go Again released last year.
If you've read my reviews before, you know how I always do my best to critique both the material itself and the production separately. This time is no exception at all because the book by Catherine Johnson is a bit of a mess. I know Mamma Mia! is suppose to be silly fluff, it's not meant to be taken seriously, I get it. Though the plot itself is still pretty ridiculous. We the audience spend two and a half hours watching Sophie struggle to figure out who her real father is, yet that storyline just (SPOILER ALERT) never gets resolved. It pretty much ends with Sophie being OK with not knowing the truth. There's also this big plot hole that I just couldn't get over. The story is supposedly set in the year 1999 because Sophie is said to be 20 years old, and she read in Donna's diary that she met the three men in 1979. From the excerpts Sophie reads of the diary, only the first names were mentioned. It's unknown to the audience if the last names were written in it as well. However, Sophie still manages to find contact information for each of the men, which is very strange given that Donna hasn't been in touch with any of them for 20 years.
What's also worth noting is that there are 22 ABBA songs incorporated into the plot, yet most of them are placed in areas where they have nothing to do with the plot at all. It appears to me that Catherine Johnson only tried to come up with some good excuses for the characters to perform favorites like 'Thank You for the Music', 'Dancing Queen', and 'Take a Chance on Me'. While they are all well performed renditions, the way each of those songs are placed just make it hard for me to get invested in them. For example, when we first meet Donna, she sings about her dreams for a better life with the song, 'Money, Money, Money'. Yet, that storyline never seems to go anywhere. Near the end of Act One, Sophie is having a bachelorette party when her three possible fathers accidentally walk in on it. This then leads to an awkward moment with Sophie's young friends trying to persuade the three older men to stay.
Though with that being said, there are actually some songs that I thought worked quite well with where they were placed. 'Chiquitita' works as a song where Donna's friends, Tanya and Rosie, try asking what her problem is. You can definitely feel that from the actresses, Stephanie Pope and Lulu Picart. 'One of Us' and 'S.O.S.' both work in a subplot involving Donna's previous relationship with Sam Carmichael (who also happens to be the most sane character in the whole show). Charlie Brady not only does a charming job in the role, but he proves to be quite a crooner with the ABBA catalogue (which is refreshing given that he's taking on a character that previously won a certain somebody a Razzie Award). 'Our Last Summer' works as another one of Donna's former lovers, Harry Bright, recalls their time together from when they first met. Gary Milner does a good job selling the emotions in that song. 'Slipping Through My Fingers' probably offers the most heartfelt moment in the whole show as Donna helps Sophie get ready for her own wedding. Through that song, we get to hear the emotions going through Donna's mind as her only child is about to get married. Lauren Kennedy and Mary Mattison (who does give a very sweet performance overall) both share such great on stage chemistry to the point that I was easily able to buy the two of them as mother and daughter. Also getting to watch (and hear) Kennedy perform 'The Winner Takes It All' is an absolute highlight.
Overall, Mamma Mia! is far from being a great musical by any stretch of the imagination, though it definitely has its moments. There's no denying the countless energy (some of which should be credited to choreographer Monica Kapoor) up on stage. I'll also say that the best part of the whole show happens to be the curtain call, and not because it was all over, because of the encore. The entire company performed a megamix consisting of 'Mamma Mia!', 'Dancing Queen', and 'Waterloo'. It would've been real easy to have done a whole show like that instead of trying to create an original story where certain songs would have to fit in, yet this is what we end up with. If you're looking for a great, well-rounded musical, Mamma Mia! isn't quite that. Though if you love ABBA music, you certainly won't be disappointed (at least not with the musical performances).
This production is currently playing at the Raleigh Memorial Auditorium through February 17th. For more information, please visit:
https://nctheatre.com/shows/mamma-mia