BWW Review: LEADING LADIES Drags Up, But Never Drags, at St. Vincent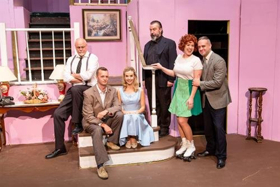 Nothing is quite as synonymous with summer as "a farce at St. Vincent," and if you've come that far you may as well go whole hog and say "a Ken Ludwig farce at St. Vincent." The prolific playwright has a well-earned reputation for being the funniest old-school stage comedy writer since Neil Simon, and hardly a year goes by that St. Vincent Summer Theatre doesn't produce one of his better-known works. Though it may not be his best known, Leading Ladies is undoubtedly one of the smartest, and most surreal, Ludwig comedies. Mix in a cast featuring several of the company's best-beloved performers, all ably directed by Gregg Brandt as per usual, and you've got the recipe for a perfect summer evening.
The plot- delightfully convoluted even by farcical standards- concerns two washed up British actors: passionate and inventive Leo (Jack Lafferty), and resigned hangdog Jack (Cav O'Leary). Finding themselves in the right place at the right time, they decide- long story- to dress as women and impersonate the long-lost British heiresses of a vast fortune. Naturally, complications ensue, as Leo falls in love with the "cousin" he attempts to scam, Jack chafes under the role of a mute- long, LONG story- and the line between reality and Twelfth Night gets blurrier and blurrier.
Our central trio make for an appealing team: Jack Lafferty's Leo is whip-smart, charismatic and masculine, making his immensely camp drag persona even funnier. Simultaneously, Cav O'Leary's intentionally awkward, ham-fisted female impersonation, when combined with his signature air of befuddled bemusement, milks laughs from every moment of physical and verbal comedy. Hearing his strained Miss Piggy falsetto, or watching him galumph up the stairs in high heels, seems like it should have diminishing returns, but never diminishes. Rounding out the group, ERIKA STRASBURG's Meg is witty and spirited, constantly refusing to play straight man as a lesser character or lesser actor would. Her passionate and verbally dexterous performance breathes life into a woman on the verge of giving up both her dream of acting, and her dream of being happy.
The supporting actors are equally colorful, and longtime St. Vincent fans will be pleased to see so many favorites returning. As Reverend Duncan, David Cabot applies his weighty baritone and sly, Grinchy grin to his role as the pretentious, straight-laced minister. Cabot takes the stock character and lets it grow, beginning as a pompous, penny-pinching bore and ending as a gleefully Seinfeldian anti-villain, so intent on proving himself right and everyone else wrong that he perpetually makes a fool of himself. Tim Hartman makes an especially apt foil as the randy Doc, whose medical incompetence is only equaled by his immense lust for life- and for women, of which he is not too particular.
Gael Schaefer pops in and out of the show as aging matriarch Florence, forever poised on the brink of death and seemingly kept alive by pure spite. Her verbal sparring with Hartman's Doc and Cabot's Duncan is a recurring highlight of the show's quirky sense of humor. (See also: a mid-act comic tango dream sequence, choreographed by Renata Marino, which feels straight from a classic season of Frasier.) Finally, Christian Durand Muller and Jenny Malarkey lend comic relief- yes, even all-out farces have comic relief- as two young townies, none too bright and both maddened by hormones.
Ludwig's play leans none-too-subtly on allusions to Twelfth Night, whose situation it mirrors. As Ken Ludwig farces typically end, Marvel-style, with a "post-credits scene" to send the audience out laughing after the final bows, I was slightly disappointed to see that Brandt's production omitted the final sketch, where the cast of amateur actors assembled by Leo and Jack perform a breakneck, scattershot version of Shakespeare's comedy. Nonetheless, I can't say I went home disappointed- this production is already stuffed enough with comic joy.