BWW Review: Crime Only Sometimes Pays in Split Stage's BONNIE AND CLYDE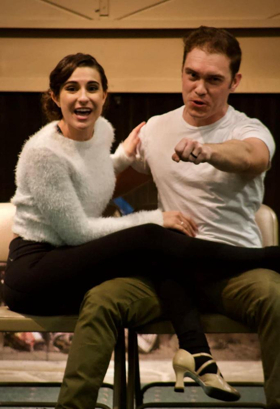 Let me begin by saying this: Bonnie and Clyde is a weird show. Stuck halfway between a star-crossed romance and a pitch-black crime comedy, the book by Ivan Menchell veers back and forth between satiric sequences and dead-serious melodrama. There's no way to entirely split the difference; any production ultimately has to decide if this story is a comedy or a tragedy at heart. The Broadway production of this Frank Wildhorn/Don Black musical decided (somewhat against the tone of the script and most of the songs) that it was a tragedy, and critics seemed to disagree. The Split Stage production, as directed and choreographed by Laura Wurzell, decided to try it as a comedy. Does it work completely? Not quite, but Bonnie and Clyde plays better as cautionary Coen-brothers satire than as a period weepie.
"We rob banks," says no one in this version of the story, but the Depression-era tale is the one you remember from history class or folklore: Bonnie Parker (Victoria Buchtan), unhappily married to an absentee husband, falls head-over-heels in love with perpetual recidivist Clyde Barrow (Brendan Conaway), just before he is sent back to the jail he recently escaped from. When a stage-managed prison rape designed to break Clyde's spirit leads him to kill for the first time, he breaks out again with Bonnie's help and begins a series of bank robberies across the American heartland that gradually metamorphose into a killing spree. This being one of the most famous true-crime stories in American history, you already know how they wind up: dead in a vintage car, shot up by machine guns. (The image of Bonnie and Clyde's demise is so well known in pop culture that the original Broadway production began with a tableau of the corpses still smoking and bloodied.)
The casting of the central duo is especially on point. As Clyde, Brendan Conaway- perhaps better known as a craftsman par excellence these days- returns to the stage with panache, lending a confident and self-assured physicality to the role. This Clyde is not Warren Beatty's suave gangster, or even Jeremy Jordan's brooding, romantic bruise. Rather, Conaway and director Wurzell have given us a deconstruction of the bad-boy stereotype: Clyde may be charming, but he's cowardly and dumb as bricks, more of a redneck car nerd than a master criminal. Even as his plan spirals out of control and he is forced to kill and kill again, Conaway manages to play up the absurdity of this little nobody living an Al Capone daydream in his own head. It's Bonnie who is the true brains of the act, and the show belongs to her just as much as this production belongs to Victoria Buchtan. A mainstay of just about every non-Equity theatre in Western Pennsylvania, rarely has Buchtan had the chance to carry a show with as large a role as this one, and she carries it off with aplomb. Bonnie is a difficult character, even more so than Clyde. She must remain sympathetic, but never appear to be either a victim or a tragic heroine. She is a clear-cut case of Stockholm Syndrome, with a whirlwind romance transforming her from child bride to flirty waitress to gun-toting psychopath over the course of a single show. When Laura Osnes sang "Dying Ain't So Bad," it was a tear-jerker. When Buchtan sings it, cradling her machine gun as if ready for murder or suicide any moment, it's terrifying. (The recurring presence of child versions of Bonnie and Clyde, played by Antolena Damico and Simon Nigam, sometimes feels gratuitous and overused, but in the more intense scenes, these child doppelgangers cradling their toy weapons obsessively as they pantomime their adult selves' violent deeds is effective, though it is unclear whether this was intended as simply a haunting image or as a critique of gun culture or violence as entertainment.)
Conaway and Buchtan manage the tragicomic tone of the piece seemingly effortlessly. The rest of the cast seem to veer more towards the comic side of the show- but this is probably because the material for everyone but the title characters is broader and more comedic than their central pairing. Mike Hamilla's Buck Barrow is a broader characterization than Conaway's as his brother Clyde, but Clyde doesn't have as many pratfalls or sitcom double-takes as Buck does. Lending genial warmth to the god-natured repeat offender, Hamilla- a naturally colorful performer- is well paired with Rori Aiello Mull as his wife, the long-suffering hairdresser Blanche. Aiello Mull's performance is underplayed almost to the point of being beige, but her accent work is on point; her soft Texas accent is the best in the cast, and rivals Zoe Perry's on Young Sheldon (which is already the only good representation of a Texas accent seen on TV for at least twenty years). Splitting the distance between the backwoods caricature of Hamilla's Buck and the almost out-of-place earthiness of Aiello Mull's Blanche is Ryan Hadbavny, playing local cop Ted Hinton, who carries a torch for Bonnie since her childhood years. Played ever-so-slightly larger than life, Hadbavny's Ted is sympathetic while also being a slightly exaggerated look at the entitled "nice guy" who feels entitled to get the girl and save the day. This is complicated, of course, by the fact that the person he must save the day from just so happens to be the girl he means to get. Hadbavny sings beautifully, though the peculiar character arc he is forced to inhabit renders his song a comic tension I don't believe Wildhorn and Black intended- the masters of heartfelt, booming love triangle ballads seem a little out of sorts writing for the absurd, almost sadomasochistic love plot here.
Even broader character turns are played, often to great effect, by the tertiary cast. Split Stage regulars Courtney Harkins and Matthew Mlynarski both chew scenery in the comic roles of beauty shop regular Trish and the Sheriff, respectively. Harkins's wide-ranging voice and hyper-expressive face make her showpiece in "Going Back to Jail" a highlight; similarly Mlynarski wields a uniquely sharp-toned and commanding speaking voice, as well as his not-inconsiderable bulk, into making the somewhat inept Sheriff both an imposing and absurd figure in the mode of the late character actor Glen Shadix. (Mlynarski's additional cameo as dandyish out-of-towner Archie may be cartoonish, but I'd be lying if I said it wasn't the sequence that got the biggest applause in the entire show.) Also seen in a number of roles as local authority figures is Josh Reardon, who frequent Split Stage attendees will likely remember from many past roles with the company, including that of the preshow Emcee in Rocky Horror. (Though I attended their Rocky Horror this past summer, I did not publish my review as I was quickly drafted more or less into the show as leader of the audience participation section, and was too busy improvising and interacting with the show to take good notes.)
As I mentioned at the top, I wasn't always sure what to make of this version of the story of Bonnie and Clyde, especially when presented as a musical, and struggled to separate the vagaries of the book from the directorial choices. Ultimately (with the help of YouTube's bootleg community) I was able to grasp what Wildhorn and company had originally intended for the show, and was able to appreciate the way Wurzell's production deviated from some of the original staging's missteps. This is not a perfect production- I'm not sure you can DO a perfect production of this show- but it is entertaining, extremely well-performed, and refuses to fall into melodramatic cliché. And even if you hate musicals (and if so, why are you reading this article?), it's still a better Joker and Harley Quinn story than Suicide Squad.