Phoenix Boys Choir Announces Events Lineup To Celebrate Its 75th Season
The PBC has an impressive history of achievements it is celebrating this season through concerts and special events.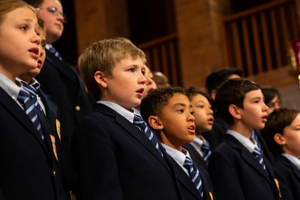 The 2022/23 Season marks the 75th Anniversary of the Phoenix Boys Choir (PBC).
Since 1947, the PBC has provided thousands of boys with an experience of a lifetime by offering a youth development program that fosters leadership, self-respect, creativity and global citizenship through the power of music.
The PBC has an impressive history of achievements it is celebrating this season through concerts and special events.
PHOENIX BOYS CHOIR 75th ANNIVERSARY EVENTS
75th Anniversary Gala
Saturday February 25, 2023
6:00 - 9:00 pm
Heard Museum
2301 N. Central Ave
Tickets: $400/$300
Phoenix Suns star Cedric Ceballos will host the Phoenix Boys Choir 75th Anniversary Gala at the Heard Museum. This fun-filled evening will feature live musical performances, a visual history showcasing the pivotal and memorable moments from the past 75 years, silent and live auctions and delicious cuisine to raise funds for this beloved organization.
Harmonious Journey Concert
Saturday March 25, 2023 at 2 pm
Desert Hills Presbyterian Church, North Scottsdale
Sunday, March 26, 2023 at 3 pm
First United Methodist Church, Central Phoenix
Tickets: $25/$30 ($15 students)
Phoenix Boys Choir celebrates its 75th Anniversary with an unforgettable concert of choral masterpieces, including the powerful masterpiece with organ, the sacred choral piece Te Deum in C by Benjamin Britten as its centerpiece. The program will also include music for our 75th Anniversary Summer Tour to the British Isles with classics such as Loch Lomond and Danny Boy, along with Leonard Bernstein's Gloria Tibi from MASS.
PBC Playlist - 75 Years of Song Concert
Friday May 12, 2023 at 7 pm
Mesa Arts Center, 1 E. Main St
Sunday May 14, 2023 at 1 pm
Orpheum Theatre, 203 W. Adams
Tickets: $25/$35 ($15 students)
The Phoenix Boys Choir celebrates with a retrospective pops concert of the key musical memories of the Phoenix Boys Choir history, including Broadway and pop favorites such as Edelweiss, Consider Yourself, My Favorite Things, Hallelujah, and Route 66. The concert will also include pieces composed by the winners of the 2022 New Works Rising Choral Composition Competition.
75th Anniversary Summer Tour to the British Isles
June 3 - 12, 2023
As part of its 75th Season, The Phoenix Boys Choir will tour to the British Isles, with performances in Scotland and Ireland. Since 1972 the PBC has toured internationally, providing eye-opening experiences as the boys explore the world, while serving as cultural ambassadors for Arizona and the U.S.
The Grammy-award winning Phoenix Boys Choir's mission is to develop and support boys and young men of character through musical excellence. Throughout its history, the PBC has sung for dignitaries, celebrities and at major events. It has performed at Carnegie Hall, St. Paul's Cathedral and the Royal Albert Hall in London, St. Peter's Basilica in Rome and the Cathedral of Notre-Dame in France. In the past 20 years alone, the choir has toured to twenty countries in four different continents and throughout the United States.



From performing for Presidents Gerald Ford, Ronald Reagan, Jimmy Carter and George H.W. Bush to singing at the US Supreme Court for Justice Sandra Day O'Connor and US Capital for Senator John McCain; or with name entertainers including Bobby McFerrin, Doc Severinson, Stevie Wonder and the Boston Pops Orchestra, the Phoenix Boys Choir has performed for high-profile events and with renowned musicians for many years.
Memorable appearances in the Macy's Day Parade, Alice Cooper's Christmas Pudding and for Pope John Paul II, have given PBC choristers singular experiences at a very young age.
In addition to winning a Grammy Award for best choral performance in 2001, honors include winning 1st place in the international "Summa Cum Laude Youth Music Competition" at Vienna's Musikverein, (the home of the famed Vienna Boys Choir) recognition as one of the City of Phoenix's Honorary Points of Pride and being named "Cultural Ambassador" to the European Union.
Countless PBC alumni have gone on to significant positions of leadership, in the business, government, law, medical and arts sectors. Most critically, they have become our community leaders, with a special commitment to supporting arts and culture.
ÔĽŅAlumni of particular note include current Artistic Director Herbert Washington, who credits the Phoenix Boys Choir as "life-changing, opening my eyes to a whole world that I did not know existed." From discovering new cultures in Japan, to "the feelings of self-respect, self-confidence and competence that the choir helped me develop so I could grow into a young man of integrity and strength; I feel that it's my calling to lead this organization, fostering the same self-improvement and empowerment for today's young people." - Herbert Washington
The Phoenix Boys Choir provides choral music training, education, performance opportunities and learning experiences that instill excellent musicianship and critical values in young people. Our program develops responsible, caring, creative young people who will be our future leaders and citizens endowed with a passion for the performing arts and community.
Each year, Phoenix Boys Choir offers a full season of concert performances offering a wide repertoire from classical to popular selections. The Choir tours domestically and internationally, participate in music festivals, and sing with other professional groups.
Phoenix Boys Choir has a rich 75-year history that has been a source of community pride for the region. It has performed with the Phoenix Symphony, Arizona Opera, Phoenix Chorale, and Orpheus Male Chorus of Phoenix and for four U.S. presidents. Phoenix Boys Choir has been honored to participate in many iconic local and national events including Alice Cooper's Christmas Pudding and Macy's Thanksgiving Day Parade. It has won a GRAMMY Award and its recording of "Somewhere over the Rainbow" was featured in the trailer for the 75th Anniversary re-release of "The Wizard of Oz."