Yuval Sharon's Bold New LA BOHÈME Told In Flashback Makes Philly Premiere In April
This bold new staging of Puccini's La bohème that gives audiences a fresh appreciation for one of the most frequently performed pieces in opera.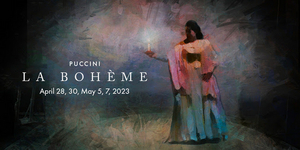 Opera Philadelphia's 2022-2023 Season closes in spectacular fashion this spring with a bold new staging of Puccini's La bohème that gives audiences a fresh appreciation for one of the most frequently performed pieces in opera.

This visionary new production from director and MacArthur "Genius" Yuval Sharon is presented in reverse order-starting with Act IV and ending with Act I-taking opera's beloved bohemians on a new journey from tragedy to hope, death to life, loneliness to love. This bold take on Puccini's opus is itself a bohemian work of art, dazzling audiences in Detroit, Charleston, and Boston.

"It's not just a gimmick-it works," says the Wall Street Journal. "We leave the performance with the memory of Act 1's explosion of hope and promise, rather than the story's sad conclusion."

A MacArthur Fellow and one of the most innovative names in opera today, Sharon is widely known for city-spanning operas and immersive site-specific works, staging operas in moving vehicles and parking garages, amongst many other non-traditional performance spaces.

"Reordering a performance of La bohème-to begin with the end and end with the beginning-means working back from devastation towards hope and love," Sharon says. "It means listening with fresh ears to a piece that falls often into predictability. Reemerging from the pandemic and returning indoors to see live opera requires all of us to transform our habits, and I believe this is precisely the moment to reexamine our connection to these masterpieces. For those who know La bohème so deeply, this may open a new door to experiencing the work in a new way. And for people who are unfamiliar, it will be a beautiful entry point."

Conducted by Jack Mulroney Music Director Corrado Rovaris, La bohème stars British American tenor Joshua Blue in his role debut as Rodolfo and Philadelphia-born soprano Kara Goodrich as Mimì. Blue made his company and role debuts as the Duke of Mantua in Opera Philadelphia's 2022 production of Rigoletto, where his performance was called "pleasingly robust" (Philadelphia Inquirer) and ended with an on-stage marriage proposal. Goodrich is a recent graduate of Philadelphia's Academy of Vocal Arts, where she took first prize in the 2020 Giargiari Competition.

Haitian American soprano Melissa Joseph, a native of Bristol, PA, makes her company debut as Musetta, bringing her "effortless" vocal technique (Boston Musical Intelligencer) and gorgeous tone to the Academy stage opposite a fellow Bucks County native, baritone Troy Cook, in a return engagement as Musetta's love, the artist Marcello. In past performances with Opera Philadelphia, Cook was praised for his "strong, well-rounded portrayal of Marcello" (Opera News).

Joining the band of bohemians and making their company debuts are baritone Benjamin Taylor as Schaunard and bass Adam Lau as Colline, with bass Frank Mitchell as Alcindoro.
---
Join Team BroadwayWorld
Are you an avid theatergoer in Philadelphia? We're looking for people like you to share your thoughts and insights with our readers. Team BroadwayWorld members get access to shows to review, conduct interviews with artists, and the opportunity to meet and network with fellow theatre lovers and arts workers.
Interested? Learn more here.
---