Walnut Street Theatre Announces Its 2018-2019 Mainstage Season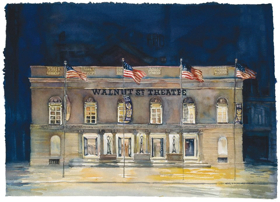 Walnut Street Theatre, America's oldest theatre and a National Historic Landmark, is pleased to announce its landmark 210th season of live entertainment, and its 36th season as a not-for-profit producing theatre company. The line-up includes three stunning musicals, a hilarious comedic romp by Walnut favorite Ken Ludwig, and an exciting Tony Award-winning Best Play. As a self-producing regional theatre, the Walnut has become not only the most popular theatre company in Philadelphia, but also the most subscribed theatre company in the world.
President and Producing Artistic Director Bernard Havard is proud to announce the 2018-19 Mainstage season noting, "I'm looking forward to sharing these Broadway hits, award-winning plays, and hilarious comedies. I'm so thrilled to announce our 210th Anniversary Season, which is one of the most exciting seasons we've ever had. We'll showcase Philadelphia's sensational artistic talent, both on stage and behind the scenes, in Tony Award-winning plays and musicals. Our productions are created right here in the city of brotherly love and sisterly affection. They are incredible professional productions that can only be seen in Philadelphia at America's oldest theatre."
Audiences will be treated to the Pennsylvania premiere of a new romantic musical comedy filled with Irving Berlin's greatest hits, Holiday Inn; the musical retelling of Roald Dahl's magical classic, Matilda; a brilliantly over-the-top comedy by Ken Ludwig, A Comedy of Tenors; and the innovative, insightful, and award-winning play, The Curious Incident of the Dog in the Night-Time. This season will end with Harvard's favorite blonde taking the stage in a pink storm with Broadway's Legally Blonde the Musical!
THE SEASON
The Walnut opens its 210th season with Broadway's tribute to "America's Songwriter," Irving Berlin's HOLIDAY INN. Broadway veteran Jim leaves the bright lights of show business for the quiet of a country farm. But life just isn't the same without song and dance, so Jim turns his farmhouse into a fabulous inn with dazzling performances to celebrate each holiday, from Thanksgiving to the Fourth of July. But can Jim also work the same magic on his love life? Based on the classic film, Irving Berlin's Holiday Inn features a parade of hit Berlin standards, including "Blue Skies," "Easter Parade," "White Christmas," "Steppin' Out With My Baby," "Heat Wave," "Cheek to Cheek," and many more, along with laugh-out-loud comedy and thrilling dance numbers, all wrapped in a heartwarming story. (September 4 - October 21, 2018)
Next, the holiday season becomes even more magical with a clever retelling of a beloved Roald Dahl novel. MATILDA THE MUSICAL is the inspiring story of an extraordinary little girl with an unbounded imagination and incredible courage. She proves that despite the odds, you can do anything you put your mind to-and change your destiny. Packed with high-energy dance and catchy songs, children and adults alike will be thrilled and delighted by this captivating musical. Celebrate the holiday season with this stupendously fun winner of over 85 international awards, including 16 for Best Musical! (November 6, 2018 - January 6, 2019)
Next up, audiences should brace themselves for comic chaos and unbridled laughter with Ken Ludwig's A COMEDY OF TENORS. One hotel suite, two wives, three girlfriends, four tenors, and a soccer stadium filled with screaming fans. What could possibly go wrong? It's 1930's Paris and just hours away from "The Concert of the Century!" But love affairs, bedroom hijinks, mistaken identities, and opening-night chaos have producer Henry Saunders desperate to try just about anything for the show to go on. From comic genius Ken Ludwig, and starring Walnut favorite Frank Ferrante, get ready for A Comedy of Tenors, an uproarious comedy filled with slamming doors, unbridled passion, and madcap hilarity on an operatic scale! (January 15 - March 3, 2019)
The season will continue with the Tony and Olivier Award-winning Best Play, THE CURIOUS INCIDENT OF THE DOG IN THE NIGHT-TIME. Fifteen-year-old Christopher is on a mission. After the untimely death of his neighbor's dog, the brilliant but unique boy is compelled to investigate the crime. See the world through Christopher's eyes as he embarks on an extraordinary journey where he challenges assumed truths and discovers life-changing secrets. Based on Mark Haddon's best-selling novel, The Curious Incident of the Dog in the Night-Time is a thrilling, heartwarming, and uplifting adventure story for every one of us. (March 12 - April 28, 2019)
Finally, practice your best "bend-and-snap" and get ready for the fabulously-fun, award-winning LEGALLY BLONDE: THE MUSICAL. Based on the smash hit movie, Legally Blonde: The Musical follows the transformation of Elle Woods from a pink-loving SoCal sorority girl to a Harvard law student, all on her own terms. In this new production of the Broadway musical, our blonde heroine tackles all obstacles, and educates us all on staying true to our dreams through rousing songs and dynamic show-stopping dance numbers. This feel-good musical comedy will be the most fashionable ticket in town and is so much fun, it should be illegal! (May 14 - June 30, 2019)
TICKETS
The only way to guarantee seats is to subscribe. 5- show subscriptions are available now for as little as $100 - up to a 75% savings off regular ticket prices! Individual tickets go on sale in early August.
All show titles, dates and subscription prices are subject to change. For information on season subscriptions, call the Walnut at 215-574-3550 ext. 6 (10AM - 10PM) or visit our website at www.WalnutStreetTheatre.org.