Sondheim's INTO THE WOODS Meets The Moment At Temple Theaters
INTO THE WOODS, with music and lyrics by Stephen Sondheim and book by James Lapine, will be performed live and in person from February 23 to March 2, 2023.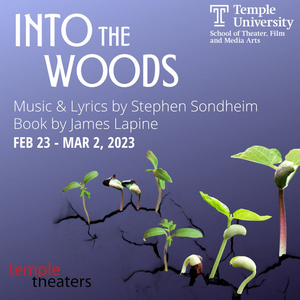 Happily ever after... and then what? That's the initial premise of Sondheim's musical parable, INTO THE WOODS. But there's much more darkness and light to be found on the journey.
INTO THE WOODS, with music and lyrics by Stephen Sondheim and book by James Lapine, will be performed live and in person from February 23 to March 2, 2023 at Tomlinson Theater, 1301 W. Norris St, Philadelphia, PA. Tickets can be purchased THROUGH THIS LINK.  
At one point in the evocative musical, the characters are at the mercy of a seemingly unstoppable Giant, a creature that can strike at any moment and forever change the lives it touches. First produced in 1986, INTO THE WOODS is often seen at as an allegory for the AIDS epidemic (though Sondheim is quoted as saying there's much more to it than that). In Temple Theaters' production of INTO THE WOODS, there's no escaping the shadow of the real-world "giant" of COVID that has crossed our path. And director Brandon McShaffrey says that's exactly the point.
"It is the most relevant show right now," says McShaffrey. "As we're coming out of a pandemic, there is nothing more parallel to the big, invisible giant that is slowly taking away all of the characters than a pandemic that we don't know how to beat."
Filled with wry humor and pathos, INTO THE WOODS teleports audiences back to childhood by brilliantly folding multiple classic fairy tales into one contemporary musical. Initially focused on the characters' journey to achieve their wishes, it develops to explore the harsh realities of living up to expectations, generational trauma, and whether the ends can ever truly justify the means. Throughout the show, audiences can expect to see a darker side of their favorite fairy tale characters, including Cinderella, Little Red Riding Hood, Jack (of the Beanstalk), and more.
While INTO THE WOODS takes place in a forest, McShaffrey and scenic designer Fred Duer (Temple Theaters chair) will present audiences with a modernized set, with stylized trees and vines inspired by intricate pop-up books and illuminated manuscripts.
McShaffrey believes all of the characters are truly relatable, and audiences can expect to see themselves in almost all of them. "These stories are so universal that you can be pulled in by a different story depending on your mood that day."
ABOUT THE DIRECTOR: Brandon McShaffrey is a Philadelphia freelance director/choreographer. He serves as the Producing Director at Mauckingbird Theatre Company. Locally, he has also worked at Drexel University, Villanova University and the Boyer College of Music as well as Hedgerow Theater, Act II Playhouse, and BCKSEET Productions. He holds a BFA in Musical Theater Performance from Roosevelt University's Chicago Conservatory of Performing Arts, and an MFA in Directing from Temple University.
Stephen Sondheim (March 22, 1930 - November 26, 2021) was an American musical theater composer and lyricist. Sondheim spent over 50 years in the business, composing 16 full-length musicals as well as contributing to other works. Sondheim has won eight Tony awards, multiple Grammy awards, and even a Pulitzer Prize. He is credited to be one of the most influential and innovative figures on Broadway.
Temple University is currently hosting events in compliance with regional, city-wide and CDC guidelines, and is following the city of Philadelphia's Aug. 13, 2021 mandate requiring full vaccination at higher education institutions for all students, staff, faculty and contractors (unless specifically exempt). We encourage audience members to be masked, and recommend audiences be prepared for the possibility of mandatory masking if protocols change. Visit the university's COVID-19 Resource Hub, or check Temple Theaters' website or social media accounts for updates before attending your performance.
---
Join Team BroadwayWorld
Are you an avid theatergoer in Philadelphia? We're looking for people like you to share your thoughts and insights with our readers. Team BroadwayWorld members get access to shows to review, conduct interviews with artists, and the opportunity to meet and network with fellow theatre lovers and arts workers.
Interested? Learn more here.
---