MATILDA THE MUSICAL Sparks A Revolution On The Star Of The Day Stage
Based on the book by Roald Dahl, and featuring Music & Lyrics by Tim Minchin, Book by Dennis Kelly.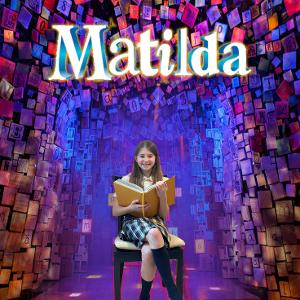 Star of the Day's 2023 Season Opener is all about kids becoming superheroes. Based on the popular children's book, Matilda by Roald Dahl, is zany fun. The musical, which garnered a Tony Award, is heartwarming and sometimes heartbreaking but always inspiring. A little girl leads this roller-coaster of a musical with the power of her imagination and determination to find justice for those who are treated unfairly and oftentimes silenced. Matilda learns her "little" voice can make a "big" difference-a relevant topic in 2023.
"Matilda the Musical sends a timely message to young people that it's ok to speak out against wrongdoings and, in turn, demand justice for all." ~ Kirsten Almeida, Managing Artistic Director at Star of the Day.
The show, which is recommended for ages six and older stars 11 year old Emmaus resident Mia Moyer as the title character Matilda. Mia made her Star of the Day debut in 2021 in Descendants as Cruella DeVille. She has also been since at Pines Dinner Theatre and DeSales University. Mia attends St. Anne's School in Emmaus where she also participates in their performing arts programs.
Also starring in the show are Benjamin Ruth and Andrea Cartagena who will share the role of the terrifying Trunchbull, Jillian Petrie as Miss Honey, Katie Suratt as Mrs. Wormwood, and Julisa Trinidad as Mr. Wormwood. Rounding out the cast are nearly 25 local actors who will bring this timeless classic to life April 21-30 at St. John's UCC in Emmaus, PA.
The director, Will Windsor Erwin, is a native Lehigh Valley resident and has been performing, directing, and teaching in the valley for over a decade. Joining him on the creative staff is Bekah Eichelberger as assistant director, Phillip Wallens as Musical Director, Kirsten Almeida as choreographer, and Alexis Leon as Stage Manager.
Matilda the Musical Performances:
Friday, April 21, 2023 at 7:30PM
Saturday, April 22, 2023 at 7:30PM
Sunday, April 23, 2023 at 3:00PM
Friday, April 28, 2023 at 7:30PM
Saturday, April 29, 2023 at 7:30PM
Sunday, April 30, 2023 at 3:00PM
Adult Tickets $21, Seniors (65+) $18, Students $16
Performances take place at St. John's UCC, 139 N. 4th Street, Emmaus, PA 18049 (Free Parking and Accessible) Masks are optional.
Purchase tickets online at www.StaroftheDay.org or at the door the day of the show. Box Office opens 30 minutes prior to showtime.
No Photography or Videorecording allowed.
---
Join Team BroadwayWorld
Are you an avid theatergoer in Philadelphia? We're looking for people like you to share your thoughts and insights with our readers. Team BroadwayWorld members get access to shows to review, conduct interviews with artists, and the opportunity to meet and network with fellow theatre lovers and arts workers.
Interested? Learn more here.
---