Lyric Fest to Present World Premiere of COTTON at the Philadelphia Episcopal Cathedral in February
This gripping new work brings together a wealth of artistic mediums, with John Dowell's extraordinary cotton photography at the fore.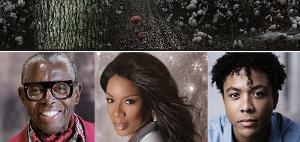 In celebration of the organization's 20th anniversary, Lyric Fest has commissioned COTTON, a new multimedia work combining photography, poetry, and song that is inspired by the cotton photography of Philadelphia artist John Dowell. Slated to have its world premiere performance on Saturday, February 25, 2023 at 7:30 p.m. at the Philadelphia Episcopal Cathedral, this ambitious and highly anticipated project will be performed again on Tuesday, February 28, 2023 at 7:30 p.m. at the Kennedy Center Terrace Theater in Washington, D.C. as part of their first annual Ruth Bader Ginsburg Memorial Recital, presented by Washington Performing Arts.
This gripping new work brings together a wealth of artistic mediums, with John Dowell's extraordinary cotton photography at the fore. Urged by his grandmother in a dream to visit the cotton fields of South Carolina where his ancestors were likely enslaved, Dowell commenced a profound journey deep into the history of cotton, taking over 15,000 images over a few years. Seeing cotton as both subject and metaphor, he began to create arresting, superimposed images that place "cotton" into modern, rural, urban, and surreal settings. The work depicts ancestral strength, helps make the very real connection between the skewed wealth of this nation to slavery, and speaks to the historic, generational experiences of being Black in America. "Black people still struggling," Dowell has said, "that's what cotton is."
Dowell's work evokes centuries of injustice, the greed that fueled the cotton industry, and both the struggle and resilience of African-Americans that continues to this day. In 2018, his exhibition - entitled "Cotton - The soft, dangerous beauty of the past" - at the African American Museum in Philadelphia impacted Lyric Fest co-founding artistic director Suzanne DuPlantis, who said of it, "The exhibition was intense, beautiful - and resonant. It called out to us to be amplified."
Lyric Fest went on to commission new verse from eight nationally-renowned, African American voices, asking them to respond to Dowell's unique images. New poems were written by Nikki Giovanni, Marc Bamuthi Joseph, Afaa Michael Weaver, Lauren Alleyne, Charlotte Blake Alston, Glenis Redmond, Alora Young, and Trapeta Mayson. These artists - a group of poets' laureate, award-winning speakers, and best-selling authors who Lyric Fest is honored to work with - will all be presented in video reading their own poems, interspersed into a newly commissioned song cycle by composer Damien Geter and against a backdrop of evolving images of Dowell's cotton. Performing this song cycle of intense vocal beauty, power, and poignance are Washington Performing Arts' 2016 Ambassador for the Arts mezzo-soprano Denyce Graves, alongside baritone Justin Austin (who made his Metropolitan Opera debut in the 2021-2022 Season), and co-founding artistic director of Lyric Fest and pianist Laura Ward.
DuPlantis writes, "The past few years have seen Americans engaging in complex work - that of reconciling the ideals of this country with the reality of our history. COTTON, a multimedia project combining photography, poetry, and song, is Lyric Fest's earnest contribution to this dialog, this need for clarity, truth, inspiration, and ultimately, healing." She adds about the immersive experience of the multimedia work, "The goal throughout has been to tell this story in a pan-sensory experience, one that might speak profoundly to the mind and heart of the audience."
Lyric Fest's 2022-2023 season continues with the rescheduled dates of Ode to the Lost Song: Arne Dørumsgaard on Tuesday, March 28 at 7pm at the Moorestown Community House in Moorestown, New Jersey, and Wednesday, March 29 at 7pm at the Academy of Vocal Arts in Philadelphia, Pennsylvania.
Performance Details

COTTON (World Premiere)
Saturday, February 25, 2023 at 7:30 p.m.
Philadelphia Episcopal Cathedral | 23 S 38th St. | Philadelphia, PA 19104
Tickets: $25
Link: https://cloud.broadwayworld.com/rec/ticketclick.cfm?fromlink=2220436®id=3&articlelink=https%3A%2F%2Flyricfest.org%2Fconcerts%2Fcotton%2F?utm_source=BWW2022&utm_medium=referral&utm_campaign=article&utm_content=bottombuybutton1
COTTON
Tuesday, February 28, 2023 at 7:30 p.m.
Kennedy Center Terrace Theater | 2700 F St NW | Washington, DC 20566
Tickets: $30 - $75
Link: https://www.washingtonperformingarts.org/seasontickets/2022-23-season/cotton/
Presented by Washington Performing Arts
Program:
COTTON
Artists:
John E. Dowel, photographer
Damien Geter, composer
Denyce Graves, mezzo-soprano
Justin Austin, baritone
Laura Ward, piano
Poets
Nikki Giovanni
Marc Bamuthi Joseph
Afaa Michael Weaver
Lauren Alleyne
Charlotte Blake Alston
Glenis Redmond
Alora Young
Trapeta Mayson
About Lyric Fest

Lyric Fest has been hailed in the press as "An irresistible mix of high art and humane feeling... As entertaining as a well-managed party" (Broad Street Review). Founded in 2003 with the goal of celebrating and revitalizing the art song tradition, it is the only performing arts organization in the Mid-Atlantic region with a primary focus on song in all its varied expression.
Lyric Fest has produced and presented over 100 distinctly crafted and curated concert programs. Each has featured multiple artists of national and international stature sharing song through theme and story, together with the spoken word. The organization has defined commissioning new works as an integral part of its mission and programming philosophy. To date, Lyric Fest has commissioned an impressive body of more than 200 new American songs from many of the nation's preeminent composers.
Lyric Fest is run by two of its founders, artistic directors Suzanne DuPlantis and Laura Ward. Known for their excellence and innovation in creating rich, thematic, accessible concerts, Lyric Fest performs throughout the Philadelphia region, and has brought programs to Washington DC; Moorestown, NJ; Wilmington, DE; New Orleans, LA; Pittsburgh, PA; Brooklyn and New York City, NY; and San Jose, CA. Learn more about Lyric Fest at lyricfest.org.
About Washington Performing Arts

One of the most established and honored performing arts institutions in America, Washington Performing Arts has engaged for more than half a century with artists, audiences, students, and civic life. The city is truly our stage: for decades, in venues ranging from concert halls and clubs to public parks, we have presented a tremendous range of artists and art forms, from the most distinguished symphony orchestras to both renowned and emerging artists in classical music, gospel music, jazz, international genres, and more. Washington Performing Arts also have an ever-expanding artistic and educational presence on the internet, addressing the programming challenges of this time of pandemic while envisioning ongoing opportunities for online connection and community in a post-COVID world.
Washington Performing Arts deeply values its partnerships with local organizations and other arts institutions. Through events online and in myriad performance venues and neighborhoods, Washington Performing Arts engages international visiting artists in community programs and introduce local artists to wider audiences. We place a premium on establishing artists as a continuing presence in the lives of both young people and adults through residencies and education programs.
For its achievements, Washington Performing Arts has been recognized with a National Medal of Arts and with three Mayor's Arts Awards from the DC Government. We have now embarked upon our second halfcentury, ever inspired by the motto of our founder, Patrick Hayes: "Everybody in, nobody out."
---
Join Team BroadwayWorld
Are you an avid theatergoer in Philadelphia? We're looking for people like you to share your thoughts and insights with our readers. Team BroadwayWorld members get access to shows to review, conduct interviews with artists, and the opportunity to meet and network with fellow theatre lovers and arts workers.
Interested? Learn more here.
---