FringeArts Announces Full Details For 2020 Fringe Festival
The 24th annual Fringe Festival will run from September 10 through October 4.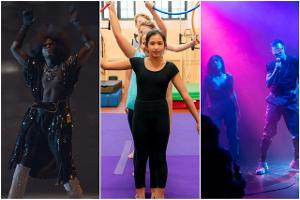 FringeArts in Philadelphia has announced details for their 24th annual Fringe Festival, which runs September 10 through October 4. The previously announced roster of over 100 artists will present work that takes place largely online, with select works taking place outdoors with appropriate social distancing and safety measures, ensuring that audience members, artists, and staff/crew are safe and healthy.
"We are pleased to offer audience members and artists the opportunity to safely enjoy the cutting edge art that they've come to expect from FringeArts," said President and Producing Director Nick Stuccio. "Although this year's Festival may look different, we are proud of our 2020 Festival artists who are dedicated to presenting world-class experiences to patrons in Philadelphia and around the globe."
In light of the COVID-19 health pandemic, FringeArts waived artist registration fees for this year's festival, and is providing additional support to the independent artist community to assist in guidance around safely presenting works and the transition to virtual platforms. Also, this summer, the FringeArts Production Department repurposed the theater to set up a SoundStage to pre-record seven works Looks Like Sounds Like, SEX TAPE, Fun with Dick and Jane, CROSSOVER: A New Pop Musical, Expansions Presents: Connecting The Distance, Untitled Bizzarro Bill Show, and The Bodice Ripper Project by independent artists, and stream one piece "Bon Appétit!" an Opera by Julia Child and Lee Hoiby (During a Pandemic!) live during the festival.
Digital Focus
The Philadelphia Fringe Festival has featured a Digital Fringe component since 2015. However, due to the current health pandemic this year, digital shows make up over 80% of the 2020 lineup. The majority of these works will be presented virtually via Zoom, YouTube, Discord, and Twitch, among others. Some will be available to watch throughout the festival, while others will have specific viewing times and involve a degree of interactivity between performers and audiences, like the interactive TrailOff app, developed by SwimPony, which allows audiences to explore one of 10 Philadelphia area trails while experiencing an original audio drama that takes place on one of said trails in real time. Families can look forward to Circus Midway, an all-day virtual event on October 4. This digital event features activities for kids of all ages.
Safety Measures
There are currently fifteen shows in the 2020 Fringe Festival scheduled to take place with in-person, outdoor components. There will be no indoor performances, as directed by the Philadelphia Department of Health. Audience size for all outdoor shows will be extremely limited, and ticket reservations must be made in advance to maintain capacity and ensure hands-free transactions. Attendees will be required to wear masks and observe social distancing regulations.
The FringeArts team is in close contact with local health officials and participating artists to ensure all in-person works are presented in a manner that is safe and in accordance with the latest public health guidelines. Staff will monitor the local outbreak numbers daily, and are prepared to adjust or cancel in-person presentations should health conditions worsen and Philadelphia shift or change its guidelines.
Additionally, FringeArts will host a virtual town hall via Zoom on Friday, August 14 at 5pm to review the many changes to this year's festival, including health and safety practices, how best to engage with the festival, access digital content, and more, as well as answer any questions.
Curated Productions
FringeArts will present twelve productions as part of this year's curated slate, including works by The Bearded Ladies Cabareta??; a??Nichole Canuso Dance Companya??; a??David Gordon;a?? a??Jaamil Olawale Kosokoa??; a??Trey Lyford, Geoff Sobelle, and Steve Cuiffoa??; and a??Swim Pony, the Philadelphia Environmental Council, Toasterlab, and Mike Kileya??.
Also participating in this year's festival are the artists from FringeArts' 2020 High Pressure Fire Service series-a??Nell Bang-Jensena??, a??Emily Batea??, a??Kyle Dacuyan + Antigravity Performance Projecta??, a??James Allister Spranga??, and a??Alexandra Tatarskya??-whose spring performances were not able to be presented as scheduled due to the pandemic. a??The Philadelphia School of Circus Arts, a??originally scheduled to participate in FringeArts' 2020 Hand to Hand Circus Festival, completes the lineup for this year's Curated Fringe. The Fringe Festival Bookstorea?? will return this year in a virtual capacity, featuring talks with artists and community partners to provide context for the works in the curated slate, and reflect on the current moment in the arts and society at large. All talks will take place online and will be free of charge.
Being/With: Home
Nichole Canuso Dance Company
Sep 10-Oct 3
Dance
A guided performance experience connecting two solo audience members via Zoom, Being/With: Home is an embodied exploration of separation, connection, and the power of listening.
NCDC artistic director Nichole Canuso and Spiral Q co-director Jennifer Turnbull will also lead four free interactive virtual workshops on Sep 13, 15, 20, and 22 for audiences interested in exploring the themes of the work in a group setting.
TrailOff
Swim Pony, The Pennsylvania Environmental Council, Toasterlab, and Michael Kiley
Sep 10-Oct 4 and beyond the Fringe Festival
Storytelling/Theater/Self-Guided Walk
An immersive augmented reality audio performance that presents ten original audio narratives, each connected to paths within the Philadelphia region's expansive Circuit Trail network. Accessed via mobile app, listeners will hear original dramas by local authors while walking each route. Featuring stories by afaq, ari, Jacob Camacho, Eppchez!, donia salem harhoor, Carmen Maria Machado, Erin T. McMillon, Li Sumpter, Denise Valentine, and Jacob Winterstein.
FringeArts will host a virtual launch event for each story, details to be announced.
Elephant Room: Dust from the Stars
Trey Lyford, Geoff Sobelle, Steve Cuiffo
Theater/Magic
Magicians turned astro-nots Daryl Hannah, Dennis Diamond, and Louie Magic float on through bent time and collapsed space in an interactive sci-fi sequel to Fringe favorite Elephant Room (2011 Fringe Festival; FringeArts 2013). Magic, adventure, dance numbers and mayhem ensue as the Elephant Room punches the Zoom button and blows the dust from the stars.
The Philadelphia Matter - 1972/2020
Premiere performance Thursday, Sep 10 at 7pm
Sep 11-Oct 4 available for free streaming online
Dance
Celebrated choreographer/director/writer David Gordon premieres his first new screen work in two decades with a "virtual" performance company of 30+ Philadelphia artists working remotely to record video material on everything from iPhones to professional cameras. Co-presented by Christ Church Neighborhood House.
Late Night Snacks
The Bearded Ladies Cabaret
Dates & Times TBA
CABARET
The Bearded Ladies reprise last year's Fringe Festival favorite for this year's festival with socially distanced queer cabaret for the covid era. Hosted by John Jarboe and featuring a roster of local and international performers. Details to be announced in September.
American Chameleon: The Living Installments
Jaamil Olawale Kosoko
Monday, September 21 at 2pm
Dance/Multimedia
Nigerian-American artist Jaamil Olawale Kosoko and collaborators lead audiences through a digital archive of video performance, conversation, and meditation in this hybrid multimedia living artwork that explores how digitality intersects with the fugitive realities and shapeshifting principles that Black queer people employ to survive and heal.
There will also be a reading group and live talk to collectively discuss Kosoko's development process and the thematics of the work as outlined in a syllabus developed by Kosoko.
Circus Midway
Philadelphia School of Circus Arts
Circus/Family-friendly
A series of free live circus classes and workshops in juggling, clowning, dance, acrobatics, and hula hoop via Zoom for children of all ages and abilities. Plus a performance by the Philadelphia School of Circus Arts' Youth & Teen Troupe and Circadium School of Contemporary Circus at 3pm.
The Making of BOY PROJECT
Tuesday, September 15 at 7pm + Saturday, September 19 at 1pm
Theater/Talk
Over the past year, acclaimed local director Nell Bang-Jensen has brought together Philadelphia teens aged 12-15 to imagine their futures in an era where gender is fluid and masculinity is being re-examined. The professional team of theater artists and designers and youth from a variety of backgrounds lead two participatory discussions that consider how gender is manifesting in our behavior now.
Legal Tender
Kyle Dacuyan + Antigravity Performance Project
Digital Salons on Thursday, September 17 at 7pm + Sunday, September 20 at 3pm
Theater/Poetry/Multimedia
Originally conceived as an episodic duet of movement and poetry, this performance work was created exploring the relationships between information, consumer culture, labor, and borders-drawing attention to our eroding news and media environments, and the places where fact, opinion, and falsehood settle unconsciously. Postponed due to the COVID-19 pandemic, an expanded field of poetry reading, video pieces, movement, and sound work has been created, deepening these themes against the backdrop of shifting and uncertain time.
Nothing to Show
Alexandra Tatarsky
Installation
Alexandra Tatarsky was to premiere the latest episode of their ongoing SIGN FELT project this spring as part of High Pressure Fire Service, postponed due to COVID-19. In its place, they share collected and ongoing notes on nothing, collaging narratives of art-making and despair into a deranged meditation on derangement, situated in a public window display in Old City.
Aquifer of the Ducts
James Allister Sprang
Tuesday, September 29 + Thursday, October 1 at 7pm
MUSIC
Multidisciplinary artist James Allister Sprang's exercise in deep listening-a 40-minute soundscape of layered tape recordings and modulated synths meant to be experienced with headphones in the comfort and safety of your home.
The Wig Wag Workshop: Exploring Voice
Emily Bate
Tuesday, September 22 + Thursday, September 24: 6:30-8:30pm
Music/Workshop
Composer, theater-maker, and choral music conductor Emily Bate leads an interactive virtual workshop that explores the anatomy of the voice through communal singing practices featuring singing mad-libs, vocal warm-ups, free improvisation, group discussion, and experiential anatomy lessons. No singing experience required.
Independently Produced Productions
This year's independently-produced slate includes a robust lineup of 114 shows across genres and platforms.
#AllLivesDontMatter by Kaleidoscope Cultural Arts Collective
#Quarantineksvkhvkhkdvhai by ARTIST HOUSE / Asya Zlatina + Dancers
#txtshow (on the internet) by Brian Feldman Projects
11 Years at the Fringe by Linda Dubin Garfield
154 Revisited by Revolution Shakespeare
4 AM/The Magic Hour by MyVision Theater Ensemble
7 Unsolved Sketches by XY Players
A Ceremony of Tangling and Untangling by Them Heavy Sabbat
A Month of Sundays by Take It Away Dance
A Patchwork of Stories for GrownUps by Patchwork: A Storytelling Guild
A Sign Of The Times by Da Vinci Art Alliance
A/B Machines by Philip Wesley Gates
Alice Light + Dark by Alice Light + Dark
Alice's Adventures in Analog by UgLy Duchess
allowed|aloud by Britt Fishel and Artists
Alternative Theatre Festival 2020 by iNtuitons Experimental Theatre
An Encounter by Irina Varina
Ants on a Log Virtual Concert by Ants on a Log
Baby Whale and the Plastic Ocean by RMayFlowers and Kai's At-Home Theater for Kids and Grown-Ups
Blood by Evalina "Wally" Carbonell and Weiwei Ma, with Ajibola Rivers
BlueBeard: A Socially Distant Talegate by Manayunk Theatre Company
Bon Appétit! By Julia Child and Lee Hoiby (During a Pandemic!) by Aurora Classical
Business As Usual by brain-head
Class of One: A Comedy Show about Homeschooling by Christine Ann Olivas | Paul E. Reese | Tina Marie | Steve Bickel | Will Gardiner | Kayleigh Liggitt
Coffee and a Play Presents: DigiREP! by Coffee and a Play
Colors of Hope by Da Vinci Art Alliance
Correspondence by Katy Dammers
CRAFT! by Da Vinci Art Alliance
Crossover: A New Pop Musical by Green Light Group Productions (Producers: Chelsea Cylinder and Danielle Moore)
Currency by TONGUE
Dancefusion Back to Now by Dancefusion
Dawn States Company by Dawn States Company
Dis/Jointed by Kalila Kingsford Smith
Dislocada/Dislocated by Dissident Bodies and BDG
Do mirrors burn? by OhOK Performance Group (Whitney Casal, Britt Davis)
duende at home by duende
Ennui by Susan DiPronio & Salomé Cosmique
Eurydice by Sarah Ruhl by Allens Lane Theater
Expansions Presents: Connecting the Distance by Expansions by Contemporary Dance Ensemble LLC
Field Calls by Lupine Performance Cooperative
First Person Arts StorySlam by First Person Arts
fun with dick & jane: Working Title by Rhonda Moore and Ben Grinberg
Healthcare Heroes - A Radioplay by Marc Hem Lee
How to Shave in Six Easy Steps by Collin Spangler
I <3 SNOOTY: a manatee rhapsody on life and death by Raychel Ceciro & Logan Gabriel Schulman
I Hear a Distant Song by Steve Pacek
Illimitable Dominion by Forgotten Lore Theatre
Incredible Dreamz Presents: Friendship Movie Club by INCREDIBLE DREAMZ
Into the Absurd: A Virtually Existential Dinner Conversation by The Idiopathic Ridiculopathy Consortium
JADA Dance presents...Be The Rhythm by Jaye Allison's JADA Dance
Kangaroo Zulu Dancers by Kangaroo Zulu Dancers
KCBC x Collective Consciousness by KCBC x Collective Consciousness
KCBC: an·ec·dote by Klassic Contemporary Ballet Company
Lilith and Her Demons by Apartment 20
Liminal Qualia - Experiential Light & Sound by Liminal Qualia
Looks Like Sounds Like by stb x at
Michele Haines Storytelling by Michele Haines & Annabelle Buck
Mosaic of Modern Opera by Alter Ego Chamber Opera
MUSICALS WITH FRIENDS by Juniper Productions in association with Manayunk Theatre Company
New World Rising! by Linnea Bond
One Rain Full of Grace by The Highland Lakes Players
OZ.ORG by Amber Kusching
Packing and Cracking by Rachel Gita Karp and Joseph Amodei
Philadelphia Fabulist by Da Vinci Art Alliance
phillyAV by PhillyAV
Piano for Pets by Barbara Browne
Play/Paint/Pass by It Gets Worse But Then.... Theatre Company
Pompeii by Sewer Rats Productions
portal perspective by Megan Mazarick
Project Management for Producers by Liz Zimmerman, Producer
Puppet-Delphia Fringe Slam by Pantea productions
Reclamation by Da Vinci Art Alliance
Schmaltz Lightning by Tribe 12
SECRETS by Tongue & Groove Spontaneous Theater
Send News by Ellen Duong
Series of 2-Week Love Stories Cabaret by Daisy Royce
Sevillana Get Togethers 2020 by Pasion y Arte
SEX TAPE by Gabrielle Revlock
Silk Choke Ripple Pyre by Jamison Edgar
States of Desire: Tom of Finland in the Queer Imagination by Casa de Duende
Stories Aplenty with Denise McCormack
Study Hall: Comedy Inspired By Lectures by Study Hall
Taiko and Dance by Casual Fifth Taiko and Dance
Talk Show by LG Productions, with Eric Singel and Harry Watermeier
Temporary Occupancy by Die-Cast
The Bikes Live in the Basement by Ed Roth
The Bodice Ripper Project by Maren Montalbano
The Celebrity Guide to Mental Health and Wellness by The Antidote
The Fred Show: Magic from Home by Fred Siegel/Fred's Magic World
The Orlando Project by Penn Theatre Ensemble
The Other Side of the Window Screen by JCWK Dance Lab
The Telelibrary by Yannick Trapman-O'Brien
The Way Out by Tangle Movement Arts
Trashbot by Trashbot (Aysha Hamouda, Sarah Finn + Garvis-Giovanni Deval)
Untitled Bizzarro Bill Project by Bizzarro Bill
Vandershtok: a (web)site-specific journey by Dylan Seders Hoffman
Villager by The Void
Vonzy Hall by Evelyn Swift Shuker
Walk Around Philadelphia - a perimeter pilgrimage by JJ Tiziou
Walking with Charles: stand-up en-route by Charles Blyzniuk
Watershed by Watershed Collective
We're Here Because You Are by Anastassia Vertjanova
Welcome to the Shiva House by Benjamin Behrend and Logan Gabriel Schulman
Wicked Gay Ways by Wicked Gay Ways
You Listen To Me, Earth! by LG Productions, with Eric Singel and Harry Watermeier
Zoom Reality TV by Suso Phizer
Preview the Festival During Scratch Nights
Media and audience members are invited to preview the 2020 Festival virtually during two upcoming Scratch Nights. These works-in-progress preview performances can be streamed on August 17 and August 24 at 7pm. Details and registration at FringeArts.com.
Special note: Due to the shifting day-to-day realities of the COVID-19 health pandemic, please check FringeArts.com to review any updates to the Festival schedule, artists, and presentations.