Celebrated Cabaret & Jazz Artists Gabrielle Stravelli & Billy Stritch Appear At The RRazz Room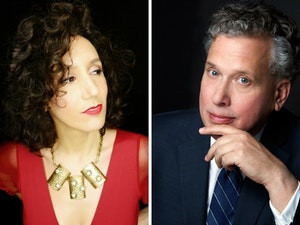 This winter 2018, the talent performing at New Hope's RRazz Room at The Clarion is a diverse mix of world class artists. From Las Vegas Entertainer Of The Year and Grammy Nominee Clint Holmes, the always hilarious Judy Gold, Tony Nominated Broadway Star & American Idol Finalist Constantine Maroulis, TV's Carson Kressley along with Dance Music Artist Kristine W, and show business royalty Marty Allen (Celebrating His 96th Birthday), there is something for all entertainment tastes at the intimate and comfortable Rrazz Room New Hope, located within the newly refurbished Clarion Hotel & Suites. There is nothing quite like the connection between the performers and their audience in an up close and personal cabaret setting.
Since opening the Rrazz Room space in New Hope in November of 2013, the venue has presented legendary artists who have brought patrons to their feet nightly. The impressive list of performers who have graced The RRazz Room stage to date include Dick Gregory, Andrea Marcovicci, Adam Pascal, Donna McKechnie, Deana Martin, Lainie Kazan, Clint Holmes, Tom Wopat, Lisa Lampanelli, Leslie Jordan, Well-Strung, Tony DeSare, Linda Lavin, Michele Lee, Rhonda Ross, Sarah Dash and countless other world class artists.
The RRazz Room New Hope, PA6426 Lower York RoadNew Hope, PA 18938(located within The Clarion Inn & Suites)
FOR TICKETS and INFORMATION:www.TheRRazzRoom.com or 888-596-1027or
Click HERE for Gabrielle Stravelli & Billy Stritch Tickets
Saturday, February 17, 2017 at 8pm
$30.00 General Admission/ $40.00 Ltd VIP Up-Close Seating
Gabrielle Stravelli & Billy Stritch "Down For Double"
Gabrielle Stravelli and Billy Stritch are delighted to make their first appearance together at The RRazz Room New Hope in "Down For Double". The pair met at the Birdland Jazz Club Cast Party in 2012 and have since collaborated on two shows at the 92nd Street Y, headlined a concert with the Santa Rosa Symphony and spent many spontaneous Monday evenings making music together in the "jazz capital of the world". For "Down for Double" Stravelli and Stritch have mined the Great American Songbook for beloved classics like "I Wish I Were in Love Again" and "Goody Goody" and more than a few lesser-known gems. The show features the pair's seamless vocal blend, tight harmonies, scat singing and playful banter and promises to be an unforgettable musical evening.
Gabrielle Stravelli has garnered critical acclaim and a loyal following through her original songs and her unique take on material from the new American songbook as well as classic standards. Most recently Gabrielle toured Pakistan and Azerbaijan as a United States Department of State "Jazz Ambassador" in addition to touring the midwest US promoting her new album, "Dream Ago" which has received rave reviews from Downbeat Magazine, The Huffington Post and LA Jazz Scene among others. She headlined the 2016 Eleuthera Jazz Festival, a four-country US State Department-sponsored international tour in the American Music Abroad Program and premiered Rooms of Light, a new song cycle by renowned jazz pianist Fred Hersch. She has toured the US with the Jazz at Lincoln Center Orchestra performing Wynton Marsalis's Abyssinian: A Gospel Celebration, has been featured in 92Y's Lyrics and Lyricists Series, at the Caramoor Festival, with the Nelson Riddle Orchestra and the Cincinnati Pops.
Billy Stritch is one of the premier singer-pianists on the New York and national jazz and cabaret scenes. He began his career in Houston, Texas, where he formed the vocal trio Montgomery, Plant and Stritch. The trio performed all over New York and Europe from 1983 until they disbanded in 1990. A chance meeting with Liza Minnelli in March of 1991 resulted in her asking him to create vocal arrangements for the record-breaking extravaganza Liza Stepping Out at Radio City Music Hall. In addition to his 25-year collaboration with Liza, Billy has served as musical director for Marilyn Maye, Christine Ebersole and Linda Lavin and he recently completed a year on the road as pianist for the legendary Tony Bennett. A solo entertainer in his own right, he has performed his own shows (including tributes to Mel Tormé and Cy Coleman) in concert halls and nightclubs across the country and in the UK. When he's not on the road, he is the pianist for Jim Caruso's Cast Party open mic variety show every Monday at Birdland and he and Jim hold forth on Sunday nights at Bemelmans Bar in Manhattan's fabled Carlyle Hotel.
website: http://www.gabriellestravelli.com/
facebook: https://www.facebook.com/GabrielleStravellimusic/
youtube: https://www.youtube.com/gabriellestravellimusic/