Latest News on Eisenberg/Beans Casting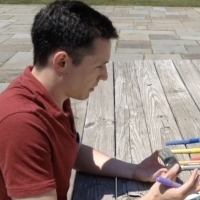 BWW TV Exclusive: Konversations with Keeme: A Chat with Jeremy Sickles
by Konversations with Keeme - Jul 23, 2019
Fourteen year old Ajibola Tajudeen, better known as Keeme, is the host of New Paradigm Theatre's web series now in it's third season here on BroadwayWorld. 'Konversations with Keeme' is show where Keeme interviews seasoned television and film professionals like Tamara Tunie of Law and Order: Special Victims Unit and Renee Lawless of Tyler Perry's The Have and the Have Nots, as well as Broadway veterans such as Emmy and Grammy winner, Paul Bogaev, and Broadway pros Christine Dwyer, Kelly Grant, Juwan Crawley and more.

VIDEO: Find Out What's in Store from GETTIN' THE BAND BACK TOGETHER
by Stage Tube - May 14, 2018
With tongue firmly planted in cheek, the upcoming new Broadway musical comedy, Gettin' The Band Back Together, today released a new teaser trailer for the show which heads to Broadway this July. Check it out below!

BWW TV: Meet the Rockin' Company of GETTIN' THE BAND BACK TOGETHER
by BroadwayWorld TV - May 8, 2018
The band is gettin' back together and Broadway is going to bear witness. Meet the company and get a preview of the show below!