Latest News on Rich Ridenour
Rich Ridenour News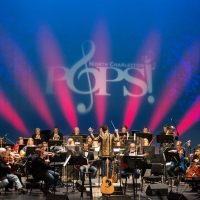 North Charleston POPS 2022-2023 Season Tickets On Sale Today
by Stephi Wild - May 9, 2022
Season tickets for the 2022-2023 North Charleston POPS! season are on sale NOW. Concerts for the North Charleston POPS! 2022-2023 season previously announced in April. The season features something for everyone.
North Charleston Pops! Announces 2022-2023
by Marissa Tomeo - Apr 11, 2022
Concerts for the North Charleston POPS! 2022-2023 season were announced today. The season features something for everyone. The shows are: LAKISHA JONES: QUEENS OF ROCK & SOUL on Saturday, September 24; STAR SPANGLED EVENING on Saturday, November 12; DANCE PARTY on Saturday, January 28; MAESTRO NICK'S PICKS on Saturday, March 25; and SUPER HEROES on Saturday, April 29. All performances are at the North Charleston Performing Arts Center. Show time for all concerts is 7:30 PM. The season is sponsored by The Boeing Company.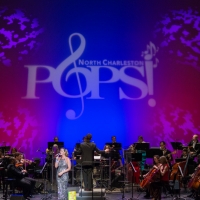 North Charleston POPS 2019-2020 Single Tickets On Sale Monday
by A.A. Cristi - Aug 13, 2019
Single tickets for the North Charleston POPS! 2019-2020 season concerts will go on sale Monday, August 19 at 10 AM. The 2019-2020 season features something for everyone. The concerts for the eighth season include: GREAT AMERICAN SOULBOOK (featuring guest artist Melinda Dolittle) on Saturday, September 21; GREAT MOVIES, GRAND PIANO (featuring guest pianist Rich Ridenour) on Saturday, November 2; SONGS & STORIES OF NEIL DIAMOND (featuring guest artist Jack Wright) on January 25; POPS! IN SPACE (celebrating the music of John Williams) on Saturday, March 14; and CARPENTERS REMEMBERED (featuring guest artist Michelle Berting Brett) on Saturday, April 18. All shows will be performed at the North Charleston Performing Arts Center.
BWW Review: PICNIC POPS SALUTE TO AMERICA! at Grand Rapids Symphony
by Brian Hilbrand - Jul 15, 2019
Twenty-five years ago in Grand Rapids, the Van Andel Arena still was on the drawing board. Meijer Gardens had opened just three months earlier, but it would be many years before an outdoor amphitheater would be built as a venue for summer concerts.   At Cannonsburg Ski Area, on a steamy evening in mid-July, the Grand Rapids Symphony launched a brand new, outdoor concert experience called the Picnic Pops.   This season The Grand Rapids Symphony celebrates its 25th Anniversary of its D&W Fresh Market Picnic Pops with a series of three shows that are all time favorites with Picnic Pops audiences plus a special event capping off four weeks of concerts at Cannonsburg.
Grand Rapids Symphony Celebrates 25 Years of D&W Fresh Market Picnic Pops
by Rebecca Russo - Jun 27, 2019
Twenty-five years ago, the Grand Rapids Symphony's Picnic Pops debuted with an explosion of symphonic sound echoing across the hills of Cannonsburg Ski Area topped off with a pyrotechnic display that lit up the sky above.
GR Symphony Unveils 25th Anniversary Picnic Pops Season
by Stephi Wild - Mar 15, 2019
Before the opening of the Van Andel Arena, before Meijer Gardens launched its summer concert series, the Grand Rapids Symphony began making music in the great outdoors in July and August.

Brevard Symphony Announces 65th Anniversary Season
by A.A. Cristi - Apr 18, 2018
Brevard Symphony Orchestra Music Director and Principal Conductor, Christopher Confessore has officially announced programming for the BSO's 2018/19 season - the Orchestra's 65th anniversary. The BSO will celebrate by bringing spectacular performances of symphonic music to Central Florida audiences with a thrilling collection of repertoire.
Brandon Ridenour to Perform at the Center For The Arts
by Julie Musbach - Dec 20, 2017
Trumpeter Brandon Ridenour comes to Pepperdine University's Raitt Recital Hall at 2 p.m. on Sunday, February 11, 2018 at the Lisa Smith Wengler Center for the Arts as the first artist of the New Year in the 2017-2018 Recital Series.
Tickets Go On Sale 7/15 for Artist Series Concerts' 2017-2018 Season
by A.A. Cristi - Jul 10, 2017
Tickets for Artist Series Concerts of Sarasota's 22nd season will be available online beginning July 15 at www.artistseriesconcerts.org. The season, which features a dynamic line-up of established and emerging classical, cabaret, jazz and pops artists, runs September 2017 through May 2018.  The performances will be held at a variety of venues throughout Sarasota County.