Latest News on Milt Larsen
Milt Larsen News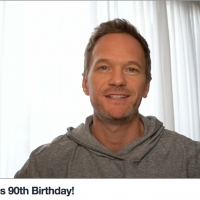 VIDEO: Neil Patrick Harris, Leonard Maltin, David Copperfield and More Take Part in Milt Larsen's 90th Birthday Celebration
by Chloe Rabinowitz - Apr 16, 2021
This week a who's who of magic lovers and master of the mystifying themselves gathered, from New York to Nashville and Los Angeles as well as Hawaii, virtually to celebrate the patriarch of illusion, Milt Larsen's, 90th.
Extraoridnary Magicians, Illusionists And Variety Acts Make Uo The 63rd Edition Of IT'S MAGIC At The McCallum
by David Green - Feb 26, 2020
The McCallum Theatre will welcome some of the world's biggest stars in magic for the 63rd annual edition of It's Magic!, at 3:00 pm, Sunday, March 22. Producers Milt Larsen and Terry Hill have put together an entirely new lineup of extraordinary magicians featuring illusionists, comedy magicians, expert manipulators and variety acts from America's Got Talent, headliners from Las Vegas and international magic award winners! This year's lineup includes Henrik Bothe, David and Dania, Chuck Jones and Co., Ray Pierce and Co., and Nick Diffatte.

IT'S MAGIC! America's Greatest Magicians Join. Forces At The McCallum To Boggle The Mind
by David Green - Jan 24, 2019
The McCallum Theatre presents the all new annual edition of "It's Magic!" on Sunday, February 17, at 3:00pm. For this year's "It's Magic!", producers Milt Larsen and Terry Hill have gathered stars of magic who are international magic award winners, headliners in Las Vegas, and who have performed on television and internationally.

China's NOVAEX Group And Magic Castles Incorporated Enter Magical Partnership
by Julie Musbach - May 30, 2018
NOVAEX Group (NOVAEX) www.novaex.com.cn and Magic Castles Incorporated (MCI) www.magiccastle.com have partnered to create a technically forward magic experience for Chinese audiences, blending the iconic Hollywood institution The Magic Castle with the rich tradition of magic in China, the announcement was made today by MCI founder Milt Larsen and NOVAEX CEO Jeson Zheng.
Photo Flash: Carol Channing Leads 'HALF-CHRISTMAS' Fundraiser at the Magic Castle
by BWW News Desk - Jun 30, 2015
'Hello Magic Castle! And a happy half season's greetings to you!' declared stage legend, Carol Channing, as she took her seat center stage, where she belongs, at the world famous Magic Castle. The Magic Castle was honored and proud to present the iconic Carol Channing for a public Q&A, to a sold out crowd, on Thursday, June 25th. Scroll down for photos!
IT'S MAGIC! Coming to Harris Center, 3/29
by Tyler Peterson - Mar 4, 2015
Harris Center for the Arts audiences have fallen in love with It's Magic!, proven by consecutive years of sold-out performances and added performances. Now this show returns to Folsom with an exciting all-new lineup!
IT'S MAGIC! Returning to Cerritos Center, 3/15
by Tyler Peterson - Feb 27, 2015
The Los Angeles Times calls It's Magic! 'A must for magic buffs of all ages.' The show lineup changes each season and it has been seen regularly throughout the USA including Hawaii, Washington, California, Arizona and Connecticut.
Photo Flash: Inside Hollywood Arts Council's 28th Annual Charlie Awards Luncheon
by Tyler Peterson - Apr 29, 2014
The Hollywood Arts Council presented their 28th Annual Charlie Awards Luncheon in theBlossom Room of the Hollywood Roosevelt Hotel, home of the first Academy Awards ceremony, at a Sold Out event on Friday, April 25, 2014. Shauna McClure, Executive Director of the Hollywood Arts Council said: "This was the record breaking year of all time in the Hollywood Arts Council's 36-year history. We raised $110,000 at this year's luncheon. Our Online Auction is still open atwww.biddingforgood.com/hollywoodartscouncil. The auction items include one-of-a-kind items, tickets to shows, art and the like. Bidding will close at 12-Midnight on Wednesday, April 30, 2014."
Milt Larsen Videos
BWW TV: Mary Poppins Composer Richard Sherman's Pazzazz!
by James Sims - May 12, 2008
BroadwayWorld's James Sims sat down with Pazzazz! creators Richard Sherman and Milt Larsen at Hollywood's Magic Castle to talk about this brand-new musical and hear a few of the songs, accompanied by Erma, the ghost pianist in residence...
Milt Larsen Frequently Asked Questions
How many shows has Milt Larsen written?
Milt Larsen has written 2 shows including Dawgs! (Bookwriter), Charlie Sent Me! (Composer/Lyricist).