Latest News on Jeramiah Peay
Stage Credits
Productions
[Off-Broadway, 2010]
Production Manager
[Off-Broadway, 2009]
Assistant Stage Manager
Stage
Productions
[Off-Broadway, 2010]
Production Manager
[Off-Broadway, 2009]
Assistant Stage Manager
Jeramiah Peay News
Photos: First Look at SISTER MARY INGNATIUS EXPLAINS IT ALL FOR YOU at Hollywood Fringe
by Stephi Wild - Jun 14, 2022
All new production photos have been released for Sister Mary Ignatius Explains It All for You, written by Christopher Durang and directed by Jeramiah Peay.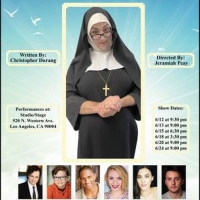 SISTER MARY IGNATIUS EXPLAINS IT ALL FOR YOU Comes to the Hollywood Fringe Festival
by Stephi Wild - Jun 2, 2022
Mmmkay Productions has announced a Hollywood Fringe Festival production of Sister Mary Ignatius Explains It All for You, written by Christopher Durang and directed by Jeramiah Peay. The cast will feature (in alphabetical order) Shayna Gabrielle, Lea Madda, Michael Mullen, Will Potter, Chris Ramirez, and Liam Risinger.
Photo Flash: RUTHLESS Celebrates Closing Night!
by Liz Cearns - Sep 15, 2016
Off-Broadway's RUTHLESS! THE MUSICAL concluded its run last Saturday, September 10th. Following the sold-out final performance, the Entire company partied into the wee hours at Philippe. RUTHLESS! opened July 13, 2015.
Photo FLASH: Cast of RUTHLESS! Celebrates One-Year Anniversary
by Rebecca Russo - Jul 18, 2016
The Off-Broadway smash, RUTHLESS! The Musical, marked its one-year anniversary on July 13th and the cast celebrated into the wee hours at Becco. RUTHLESS! opened July 13, 2015 to unanimous rave reviews led by Rex Reed who called the show, 'Malicious & Delicious...A Total Joy!' Just some of the celebrities who have been spotted in the audience so far include Ron Howard, Regis & Joy Philbin, Bernadette Peters, Lynn Cohen, Chelsie Hightower, Mario Cantone, Dmitry Chaplin, Laura Bell Bundy, Barbara Eden, Jan Maxwell, Legacy, Larry Thomas (The Soup Nazi), Jackie Hoffman, Sierra Boggess, and Dame Gillian Lynne. The original cast recording, produced by Robert Sher, is set for release later this summer.
BWW Interview: Meet Broadway's Youngest Star in the Making, Tori Murray
by Marissa Sblendorio - Jul 11, 2016
Tori Murray is Broadway's biggest star in the making. She's had show's at Feinstein's/54 Below, worked with Sutton Foster, and she's only 12 years old! To celebrate her return to Feinstein's/54 Below, in which she will be the youngest solo act to ever appear at venue, we decided to catch up with her to talk about READY OR NOT, HERE I COME, RUTHLESS! THE MUSICAL, and her appearance with Sutton Foster on Nickelodeon's  ALL IN WITH CAM NEWTON.
BWW Reviews: Jim Brochu's CHARACTER MAN is a Triumphant, Tour de Force Tribute To Iconic Musical Theater Stars
by Stephen Hanks - Jul 12, 2013
About halfway through Jim Brochu's Saturday, June 29 performance at the Metropolitan Room of his new show Character Man, I realized I was witnessing what was probably the best cabaret show I'd seen this year, and perhaps was one of the best in my almost three years of reviewing cabaret. By the time the show ended, I had changed my mind. Not because the show fell apart in the second half, but because what Jim Brochu had created (and is opening tonight at the Broward Stage Door Theatre in Coral Springs, Florida, where it will be performed until August 11) was more than a cabaret show. Character Man is a delightful, extremely well-crafted Off-Broadway theater piece that is destined for a run that might rival his critically-acclaimed one-man Zero Mostel tribute show, Zero Hour, which played throughout the country between 2006-2012 and earned Brochu 2010 Drama Desk and Helen Hayes Awards.
Jim Brochu Brings CHARACTER MAN to the Triad, 10/1
by BWW News Desk - Aug 19, 2012
Drama Desk and Helen Hayes Award winner Jim Brochu ("Zero Hour," "The Big Voice: God or Merman?") will debut his new solo show "Character Man" at the Triad Theatre on Monday, October 1st at 9pm.