Latest News on Frank Stancati
Frank Stancati News
Winning Plays Announced For THE 11TH ANNUAL PLAYERS THEATRE SHORT PLAY FESTIVAL
by Blair Ingenthron - Jan 8, 2023
Ushering in 2023, the love-themed festival marks the beginning of the 12th year of the tri-annual festival. Fifteen playwrights from New Zealand to New York will be premiering their original short plays, chosen by the SPF TEAM from a record-breaking number of submissions. Each week, five of the short plays will appear onstage, and a 'Best of the Week' production will be selected by audience vote.
BOO Selected as Week Three Winner of Players Theatre's Boo! Short Play Festival
by A.A. Cristi - Oct 28, 2022
West Village audiences continued to embrace the Halloween spirit last weekend during the third and final weekend of the Players Theatre Boo! Short Play Festival.
APARTMENT 666 Selected as Week Two Winner of Players Theatre's Boo! Short Play Festival
by Chloe Rabinowitz - Oct 21, 2022
The Players Theatre Boo! Short Play Festival is now taking place. Each weekend for three weeks this month, a new selection of spooky 15 minute original plays premieres to West Village audiences. Last weekend's audience-selected winner was 'Apartment 666', written by Danielle Boss and directed by Keyla Mata.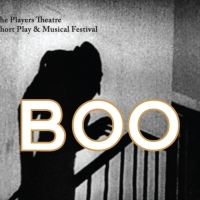 11th Annual BOO! FESTIVAL Announced At The Players Theatre
by A.A. Cristi - Sep 27, 2022
The bone-like crunch of crisp fallen leaves alongside an eerie feeling of something supernatural in the air can only mean one thing: it's time for this year's Boo! Short Play and Music Festival at the Players Theatre.
Alex Brightman, Tom Kitt, James Monroe Iglehart, Chris Jackson And More to Perform Next Week At 54 Below
by Grace Cutler - Jul 23, 2022
Next week, 54 BELOW, Broadway's Supper Club & Private Event Destination, presents some of the brightest stars from Broadway, cabaret, jazz, and beyond.
Liz McCartney, Stearns Matthews & More Set for Beautiful Soup's James Horan Benefit
by Tyler Peterson - Jan 13, 2015
For one night only, Beautiful Soup Theater celebrates the songs of James Horan with a line-up of wonderful performers. For years, Horan has arranged for and accompanied performers across the tri-state area, working with artists like Natalie Douglas, Annaleigh Ashford, Lisa Brescia and the New York City Gay Men's Chorus. On February 22nd at 3:00pm, Jimmy takes center stage with his own original music.