Latest News on Eric Ferring
Eric Ferring News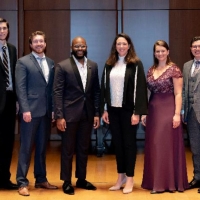 Finalists Announced For the George and Nora London Foundation Competition
by Stephi Wild - Feb 16, 2023
Following is the program of the George and Nora London Foundation Competition Finals, which will be livestreamed free of charge from The Morgan Library Museum's Gilder Lehrman Hall on Friday, February 17, at 4:00 pm ET.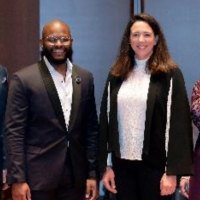 George And Nora London Foundation Competition For Opera Singers Holds Final Round On February 17
by A.A. Cristi - Jan 12, 2023
The George and Nora London Foundation Competition for Opera Singers Holds its Final Round on Friday, February 17, 2023, at The Morgan Library and Museum for In-Person and Online Audiences.
Michael Mayer's Staging of Verdi's LA TRAVIATA Returns to the Met This Month
by Chloe Rabinowitz - Oct 13, 2022
Verdi's La Traviata will return to the Metropolitan Opera with eight performances October 25–November 19, 2022; five performances January 5–26, 2023; and five more March 4–18, 2023.
Tenor Eric Ferring to Release 'No Choice But Love: Songs of the LGBTQ+ Community'
by Michael Major - Sep 19, 2022
The two-CD length album seeks to highlight diverse LGBTQIA+ voices and perspectives, through revelatory performances of important songs by some of today's leading composers, including the world premiere recording of Ben Moore's Love Remained in a new version for tenor, and the commissioned title work, No Choice but Love.
George London Foundation For Singers Announced 2022-23 Season
by A.A. Cristi - Jun 15, 2022
The George London Foundation for Singers presents three events at The Morgan Library & Museum in the 2022-23 season: the 51st annual George London Foundation Competition for American and Canadian opera singers, one of the opera world's most prestigious competitions, and two recitals showcasing recent winners: rising stars mezzo-soprano Raehann Bryce-Davis and baritone Benjamin Taylor, who both won their George London Awards in 2018.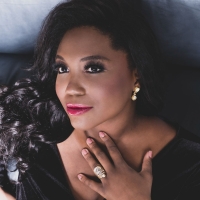 Richard Tucker Music Foundation Announces 2022 Award Winner And Grant Recipients
by A.A. Cristi - May 6, 2022
The Richard Tucker Music Foundation today announces the 2022 recipients of its prestigious Richard Tucker Award, Richard Tucker Career Grant, and Sara Tucker Study Grant.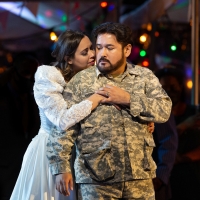 BWW Review: Soprano Nadine Sierra Makes a Splash â€" and a Splat â€" in Bloody New Simon Stone LUCIA at the Met
by Richard Sasanow - Apr 27, 2022
Well, no one can say that the Met doesn't have guts. After the tepid response that subscribers gave its Las Vegas version of Verdi's RIGOLETTO by Michael Mayer, no one would have suspected that they'd come up with a version of Donizetti's LUCIA DI LAMMERMOOR that made anything else it's produced look tame. And while the new LUCIA isn't something that will send every Met attendee into quivers of excitement--I don't think I've ever heard so many pros and cons discussed at an intermission before--it also won't send them to sleep either.
George London Foundation Presents Tenor Aaron Blake In Recital, April 24
by A.A. Cristi - Mar 22, 2022
The George London Foundation for Singers concludes its 2021-22 season of events with a recital by tenor Aaron Blake, a 2017 George London Award winner who has received acclaim in some of opera's most prominent recent productions, with pianist Ken Noda.
George London Award Winners Announced
by Marissa Tomeo - Feb 26, 2022
The winners of the 50th George London Foundation Competition for young American and Canadian opera singers were announced at the conclusion of the competition's final round this evening, which took place at Gilder Lehrman Hall at The Morgan Library & Museum in New York City. While the event is usually held with in-person audience, this year's audience was virtual. Susanna Phillips, international opera star and 2005 George London Award winner, was the livestream host. 
Debut Album From Sidney Outlaw and Warren Jones Reaches #2 on Billboard Classical
by Chloe Rabinowitz - Feb 9, 2022
EMITHA STUDIOS today announced that the debut album LAMENT - Live from Brevard Music Center featuring baritone Sidney Outlaw and pianist Warren Jones has reached the number two spot on the traditional classical album chart.