Latest News on Emily Levey
Stage Credits
  [Arlington, VA (Regional)]
Kander & Ebb Celebration Production, 2008
Ensemble
Emily Levey News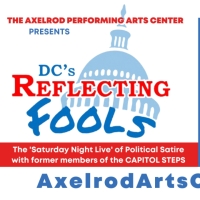 DC's Reflecting Fools Bring Political Parody To Bell Works
by Stephi Wild - Sep 8, 2022
Political discourse has raised the blood pressure of many Americans in recent years. But four out of five doctors will tell you when politics negatively affects your health, laughter really is the best medicine! 
DC's Reflecting Fools Bring Political Parody To The Jersey Shore
by A.A. Cristi - Feb 10, 2022
The cast of DC's Reflecting Fools will have you rolling in the aisles with their unique brand of political satire at 8 p.m. Saturday, February 19 at the Axelrod Performing Arts Center in Deal Park and 2 p.m. Sunday, February 20 at Bell Works in Holmdel.
BWW Review: THE TOXIC AVENGER: THE MUSICAL at Rorschach Theatre
by Elliot Lanes - Feb 12, 2020
With very few exceptions stage musicals based off of comic books and horror movies are never truly successful. You're a Good Man Charlie Brown and Little Shop of Horrors are two very rare examples where those genres succeeded commercially.
Rorschach Theatre Presents THE TOXIC AVENGER: THE MUSICAL
by Chloe Rabinowitz - Dec 18, 2019
Rorschach Theatre's first musical follows Melvin Ferd the Third, who wants to clean up Tromaville, the most polluted town in New Jersey (just off Exit 13B on the Turnpike). Foiled by the mayor's bullies, Melvin is dumped into a vat of radioactive toxic waste, only to reemerge as The Toxic Avenger, New Jersey's first superhero. Affectionately known as Toxie, our new hero is a seven-foot mutant freak with superhuman strength and a heart as big as Newark. He's out to save New Jersey, end global warming, woo the blind librarian in town, and save the world.

Montalvo Arts Center Presents THE CAPITOL STEPS: MAKE AMERICA GRIN AGAIN
by Rebecca Russo - Feb 19, 2019
The Capitol Congressional staffers turned comedians,  famed comedy troupe composed ofSteps, will perform Make America Grin Again at the Montalvo Arts Center. Called 'an oasis of good-natured ribbing in a fiercely partisan world' by The Washington Post, the Capitol Steps have slayed the country with their hilarious send-up of the people and institutions that once employed them. Their sketch and improvisational comedy offers a mix of song and standup, lampooning modern political leaders, and tackling major current issues. No issue or public figure, Democrat or Republican, can escape this satire. The Capitol Steps will be performing Make America Grin Again 3:00pm & 7:00pm, Sunday, April 14 at the Montalvo Arts Center, 15400 Montalvo Rd., Saratoga. For tickets ($55 Reserved, $60 Premier) or more information, the public may visit www.montalvoarts.org or call 408-961-5858.

BWW Review: JEFFREY at Rainbow Theatre Project
by Rachael Goldberg - Jan 21, 2019
Jeffrey manages to be funny, heartbreaking, and incredibly profound, with its core message of embracing life radiating throughout. It's a wonderful show produced by a wonderful team.
Rainbow Theatre Project to Present Paul Rudnick's JEFFREY
by Stephi Wild - Jan 10, 2019
Rainbow Theatre Project will continue its sixth season with Paul Rudnick's Jeffrey. Performances will begin January 17, 2019 and run through February 10, 2019 at the District of Columbia Arts Center.

BWW Review: UNNECESSARY FARCE is a Riot at The Keegan Theatre
by Evann Normandin - Jan 29, 2018
Keegan Theatre's UNNECESSARY FARCE is the comedy we all need in these troubling times. Written by Paul Slade Smith and adroitly directed by Ray Ficca, this D.C. premiere will make you really, truly, laugh.

Keegan Theatre Presents DC Premiere of UNNECESSARY FARCE
by Stephi Wild - Jan 6, 2018
The Keegan Theatre opens 2018 with the Washington, DC premiere of Paul Slade Smith's award-winning stage comedy, UNNECESSARY FARCE. Opening on January 23, this delightfully hilarious comedy is directed by Ray Ficca and features actors Jon Townson, Noah Shaefer, Mario Baldessari, Karen Novack, Emily Levey, Jenna Lawrence and Christopher Herring. Ray Ficca most recently appeared on the Keegan stage as Flan in SIX DEGREES OF SEPARATION. 'We're thrilled to have Ray back at Keegan, this time in the director's seat,' says Susan Marie Rhea, Keegan's artistic director and Ficca's co-star in SIX DEGREES. 'He brings a deep familiarity with this piece and its playwright, a natural sense of the rhythm and energy that farce requires, and an approach to directing that perfectly suits Keegan's aesthetic and collaborative culture. We're eager for UNNECESSARY FARCE to open, so that we can delight and uplift our Keegan audiences during this cold and often dreary season!'
Time to Give Thanks for THE CAPITOL STEPS
by A.A. Cristi - Oct 16, 2017
Returning for their annual Thanksgiving weekend pilgrimage to Scottsdale, The Capitol Steps plan to bring down the House and Senate with their blend of sharp political satire set to popular music. The irreverent D.C.-based troupe will take the stage at the Scottsdale Center for the Performing Arts on Friday and Saturday, Nov. 24 and 25.